.
Magic Moments > 2004 > The 2004 Season Finale/Paul's Return Episode 4630

Written by Ben Marshall, Directed by Tony Osicka

Episode Title: The End of an Era

Gus grabs Izzy and tells her she's his, no matter what, then forces a kiss on her. Susan discovers Izzy abandoning Karl on their wedding day and tells her to keep on driving and never come back

At Lassiters, Karl, Max, Harold and Boyd speculate over Izzy's whereabouts and consider the possibility that Gus is involved in her disappearance. Steph leaves to care for Charlie, and Susan arrives and informs Karl that Izzy has done a runner.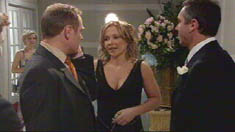 ..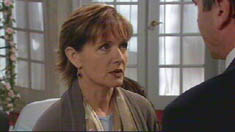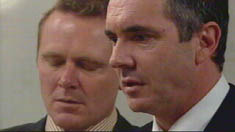 ..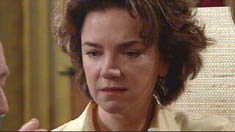 Steph, Charlie, Lyn and Doreen discuss Michael – Lyn's half brother and Charlie's son – who is on his way to visit. Steph hands Charlie a bottle of beer and Lyn looks uncomfortable at this.
Back at Lassiters, Karl tries to blame Susan for Izzy's disappearance and demands to know what she said to her. Susan insists that nothing she said would have made any difference – Izzy was not going to be stopped. Toadie and Lou convince Karl to retire the wedding guests to the pub.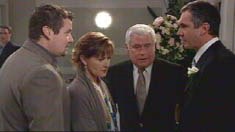 ..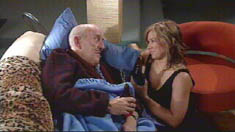 At no. 26, Charlie quizzes Steph about her attempts to become pregnant, and she tells him she's hopeful it will happen this time. He tells her he has a gift for her after he's gone and she asks him to change the subject.
Izzy returns to Karl and tells him she couldn't go through with running away and that she'd panicked because Gus had told her that she didn't deserve him. But she stresses that she came back, even knowing how much he would hate her. She asks Karl if he loves her and he shouts her name in despair. "Look at me, would you. Look at this. How could you possibly ask me if I love you?"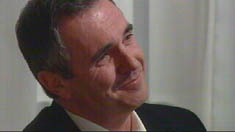 ..
..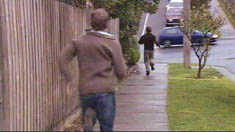 Gus appears in Ramsay Street. Boyd runs over and tells him to stay away from his family. Max appears and tries to dampen the situation by talking calmly to Gus, and asks Boyd to leave them alone. Gus sees Sindi and Stuart approaching, and makes a run for it. Stuart chases him down the street.
Karl asks Izzy if she wants forgiveness and if that's why she came back. She says she came back because she'd miss him and because she loves sharing her life with him, and she asks for a second chance.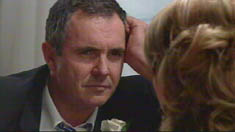 ..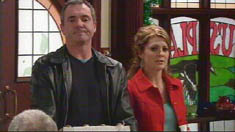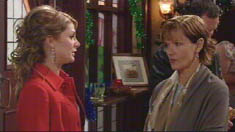 ..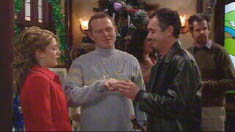 At Lou's Place, the neighbours discuss the non-wedding, until Karl and Izzy show up together. Izzy apologises to Karl and all their friends and offers drinks and cake. They ask for their friends' forgiveness and Izzy declares that whilst the wedding is off, they are most certainly not. As Susan goes to leave, Izzy stops her and thanks her for making her see what was important. Susan walks out without speaking, and Max brings some glasses and asks Karl and Izzy what the blazes is going on...
Charlie dreams of Valda until he is woken up by a coughing fit. He asks Steph and Doreen to assist him in writing a letter to Valda. He tells Steph he's sad to be "checking out" and she offers him more painkillers. He tells her that he's dying, but that he's happy to be escaping his tired, old body.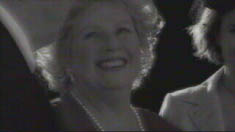 ..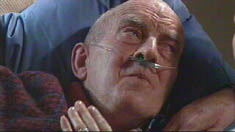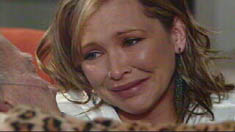 ..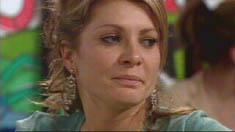 Back at Lou's Place, Izzy passes around cake and makes a point of telling Max that she loves Karl. Lil receives a phone call telling her that Luka's missing. Izzy then asks Max what's up with Boyd, and he mentions that he's annoyed about not catching Gus. Izzy hopes that they've seen the last of Gus…
A figure dressed all in black douses the pub storeroom and sets fire to it.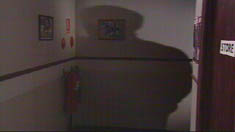 ..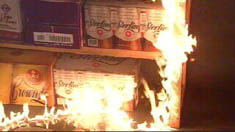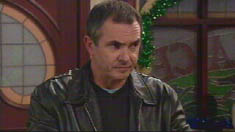 ..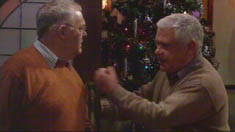 ..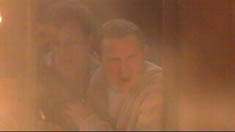 Karl receives a phone call informing him that Darcy's coma has deepened. Harold smells smoke and the fire alarm goes off. Max and Lou evacuate the customers. Harold is last to leave and Lou tells him not to let anyone disappear as there is still plenty of drink to be sold. Max and Stuart go to assess the situation and are shocked by the extent of the fire. Stuart tells Max that it's too far gone and to leave it. Lou attempts to put it out but is dragged away.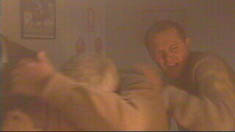 ..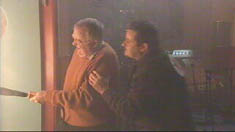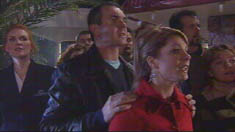 ..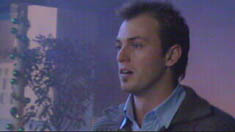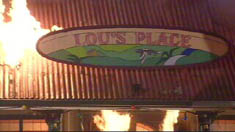 ..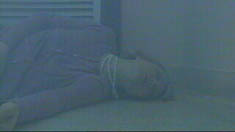 Harold enters the Coffee Shop and also attempts to put the fire out – Toadie tries to take him outside. Harold grabs Madge's recipe book but, in the rush to get away from the fire, he drops it on the floor outside. Stuart asks where Sindi is and, on hearing that she was last seen in the pub, he goes back to get her. Putting a wet cloth over his mouth, he heads towards the bathroom where he finds Sindi and picks her up.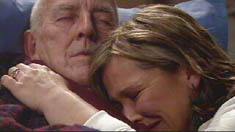 ..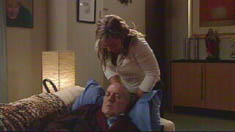 At no. 26, Charlie has passed away. Steph kisses his cheek and gently removes the pillow from under his head. At that moment, Lyn and Michael arrive at the house and Steph tells them he's gone. Seeing Steph with a pillow in her hands, Michael asks what she's done to his father.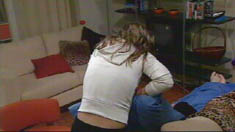 ..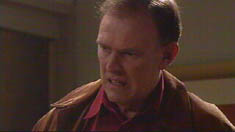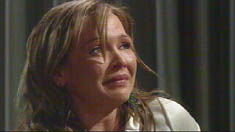 ..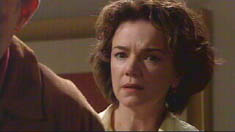 Flames continue to engulf the Lassiters complex and Stuart and Sindi try to escape the pub. Harold realises he's dropped Madge's recipe book and Max goes to retrieve it. There's an explosion and Max is thrown back.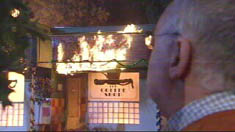 ..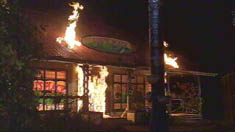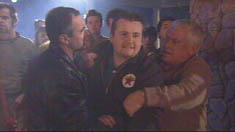 ..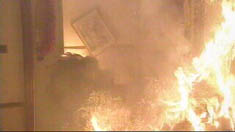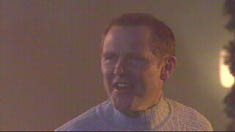 ..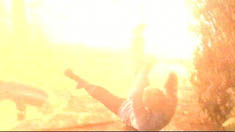 ..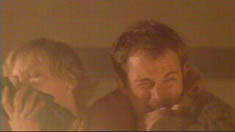 Stuart and Sindi find there is no way out of the pub as they are surrounded by flames.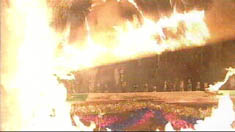 ..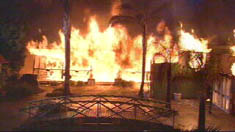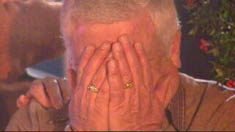 ..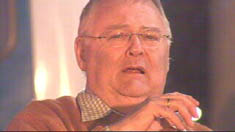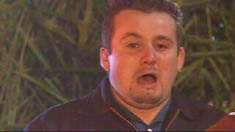 ..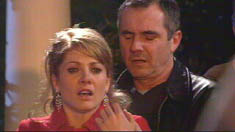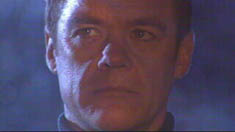 ..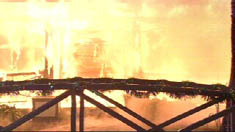 An ambulance arrives and takes Max away, leaving Izzy very distressed. The pub collapses as the residents look on, knowing that Stuart and Sindi are still inside. Behind the crowd, an old face appears. It's Paul Robinson.
Read the next episode in this sequence, Episode 4631
Summary by Kate