.
Magic Moments > 2005 > Steph's Trial Episode 4645

Written by Katrina Foster, Directed by Grant Brown

Episode Title: The Quality Of Mercy

Steph is shocked to find out she's received 70% of Charlie's will and Michael says that she'll be hearing from his solicitors. Sky and Boyd are shocked as the police search number 32 for evidence. Steph is worried that the judge is going to be hard on her, since Charlie's will has now given her a motive…

At number 28, Sindi finds Stuart chopping tomatoes, and he assures her that he'll manage fine. He tells her that Toadie's on his way over for a chat…
..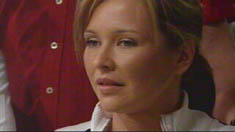 At number 32, the family are preparing dinner, and Summer and Max are wondering why everything's been moved around. Toadie then arrives for a last-minute conference with Steph about the court case. He warns her to think before she speaks and to dress formally, as Judge Evans likes that and they need any edge they can get. Steph is concerned when Toadie tells her that a crucifix might also come in useful.
Sindi and Stu sit down for dinner, wondering what Toadie wants to talk to them about. Stu isn't worried, but Sindi says that he hates both of them. Toadie then arrives and starts making small talk with them about Steph and her case. He then tells them that the reason he called in is because he's asked to have his mortgage extended, so he can buy Stuart out of number 30.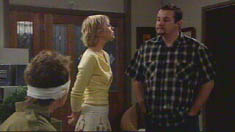 ..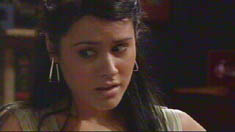 At number 30, Carmella is excited that she and Connor are living together, but he tells her that they need to have a chat about something. He tells her that Toadie wants her to try and keep the house a bit tidier. She is hurt, so he points out all of her piles of make up and soft toys everywhere, and she is unimpressed.
Toadie tells Stuart that they can't go on like this and that Stu and Sindi will want a place of their own sooner or later. He says that he'll get a valuation and give Stu back his deposit. Stu gets annoyed and Toadie tells him that he wants him out of his house and out of his life.
..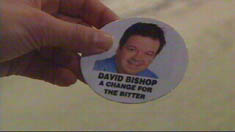 At number 24, David arrives back with his campaign badges. He then remembers an important meeting and rushes off, arranging to meet Lil at the wrestling later. She spots his phone on the table, then sees one of the badges with the message – 'David Bishop A Change For The Bitter', so she rushes after him.
Carmella is pointing out the hypocrisy of the house of trouser, and Connor manages to justify everything having a purpose and claims that her stuff just sits in a pile. She asks him if he really wants her to tidy up…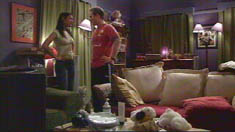 ..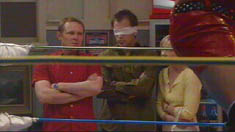 At the Community Hall, Max is acting as mc for the wrestling, when Stu and Sindi come in. Max isn't happy with the whole event and wonders why Lou hasn't turned up. David then arrives and gives them badges to wear…
Connor comes out of the shower to find the house has been completely cleaned and tidied by Carmella. He tells her that she needn't have gone all weird on him, as he only wanted her to be a little tidier.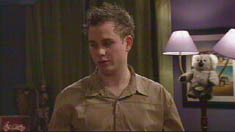 ..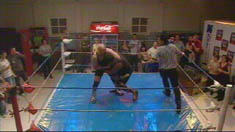 Back at the wrestling, Sindi is trying to give Stu a running commentary, but she's sugar-coating it all and he's not happy about it. Lil suddenly runs in and tells David to stop, pointing out the mistake. He rushes off, trying to get back all of the badges, while Connor and Carmella come in. Connor takes over as mc, accusing Max of being useless at it. Toadie then walks in and he's really thrilled to see the wrestling, but Sindi is less happy to see him…
Later on, Toadie tells Stu that he came down to have a break from preparing Steph's case. Meanwhile, Carmella is making a point about everything being neat and tidy, so that Toadie can hear. David is still trying to get his badges back, while Connor announces his name to everyone and he climbs into the ring so they can all see him. The wrestlers then grab him and spin him round and Lil screams at them to stop and Stu screams at them to slam him.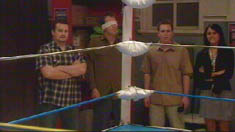 ..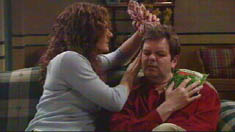 Back at number 24, David's got ice packs on his head and shoulder and is thinking about giving it all up. Lil tells him that she's still got his vote, and seeing him up there with those wrestlers was actually quite the turn on.
At the court house the next morning, Toadie arrives, telling Steph that she's dressed perfectly. The press see them all coming and Toadie warns them to keep walking and say nothing. Meanwhile, Michael arrives and tells the press that he wants justice. The press continue to push them until they get inside the building.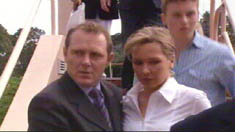 ..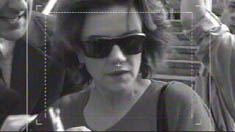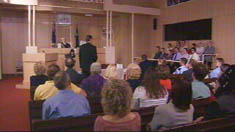 ..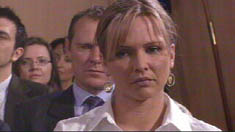 Inside, the prosecution, James Clement, is putting his side across to the jury, explaining that Steph stood to gain from Charlie's death by receiving 70% of his will. Clement continues, while Toadie assures Steph that they'll get their say.
Toadie begins his defence, saying that the evidence is entirely circumstantial and the whole thing is fabricated by Charlie's family.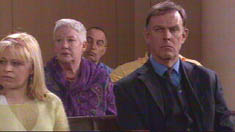 ..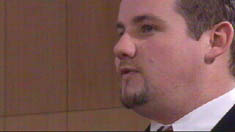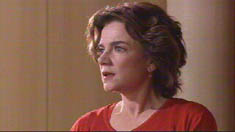 ..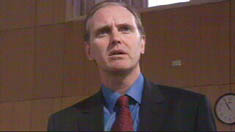 Lyn is being questioned by Clement and she explains that Charlie had spoken about a pain-free death. She says that Steph is a caring woman and they found it hard to watch Charlie is so much pain and suffering. Clement asks Lyn if she knew that Steph gave Charlie two extra painkillers just prior to his death and that the family knew that these tablets might make Charlie stop breathing. Lyn is forced to agree and Clement then asks if she saw Steph with a pillow above Charlie's face and Lyn has to admit that she did.
Clement is questioning Steph, who says that she wanted to make Charlie comfortable. She explains that she found herself moving the pillow because his neck was all crooked. Clement picks up on this and asks if this was when her mother walked in, and Steph says that it was.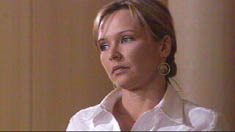 ..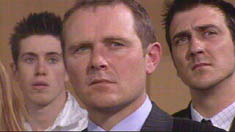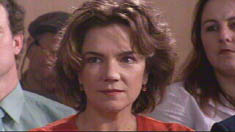 ..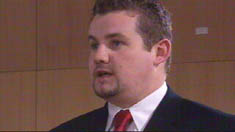 Toadie is making his closing statement and says that all of the evidence is simply circumstantial and that if the jurors have even the slightest doubts, they must return a verdict of not guilty.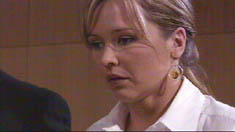 ..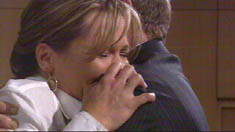 Later on, the verdict is in and the jury return to the courtroom. The judge tells Steph to stand and asks the foreman for the verdict. He says that they find her guilty and Steph breaks down in Max's arms.

Summary by Steve