.
Magic Moments > 2005 > Ned's Arrival Episode 4799

Written by Peter Mattessi, Directed by Chris Adshead

Episode Title: The Naked And The Ned

Serena and Connor tell her parents that theyíre in love. At the end of their first date, Alex turns down Susanís offer of a lift home from the hospital. Toadie and Lou try to tell Stu that what Sindi is doing is for the best, but he rips up the annulment papers anywayÖ

At number 26, Rachel and Zeke are confused as they watch Janelle calling in sick to work with a sore arm, when thereís clearly nothing wrong with her. They are further shocked when Janelle gives Bree a note to get out of sport, and then sends the kids off to school so she can relax.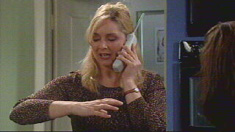 ..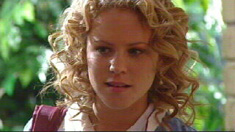 At number 30, Connor kisses Serena as she prepares to go to school, although he wants her to pull a sickie. Connor happily sits down next to an unimpressed Toadie, who asks him if he remembers 1987, as thatís the year that Serena was born. Connor isnít happy with what his housemate is saying and, as Lou comes in and starts talking about his crush on Sandra Dee, Connor jokes that maybe he should open up a creche instead of working at the bikini shop. At the same moment, Serena walks in with number 30ís mail and overhears only the end of the conversation. Stu then walks in, still clearly depressed and takes Bob out for a run.
At the school, Bree is showing Susan her note to excuse her from P.E. and Rachel and Zeke tell her that sheís going to get caught. Alex arrives to apologise to Susan for the disaster of their first date and the way he spoke to her, so he asks her for dinner that night. She suggests that he goes to her place and she can cook. As Susan leaves, Bree asks Alex if Rachel and Zeke can spend the evening at her place. Alex isnít sure, but the kids talk him into it. Once heís gone, Bree says that they can watch M-rated movies and what Alex doesnít know wonít hurt him. She tries to tell Rachel and Zeke that lying is easy, itís just telling the truth thatís hard, so Zeke agrees to lie to his dad if Bree can tell the truth for a day.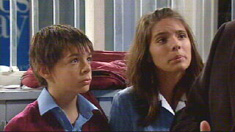 ..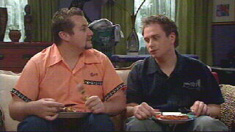 At number 30, Connor and Toadie are eating the breakfast that Lou has cooked for them. Lou then complains about the cupboard heís been sleeping in, with the leaky pipe, and so he asks if he can sleep on the couch. They agree, as long as he goes and makes them some more eggs. Stu then returns from walking Bob and Toadie reminds him that theyíre there for him if he needs them, but Stu just wants to have a shower.
Outside Lassiterís Hotel, a car pulls up and Ned gets out. The woman who gave him a lift, Jillian, offers to take him to his brotherís place, but Ned says that heíd prefer to walk. She offers him her business card and he says that heíll call her if he needs a management consultant. He asks if she can read the smudged house number on a piece of paper and she suggests 26.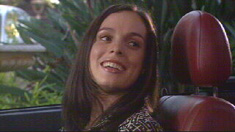 ..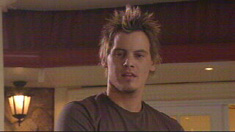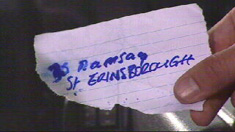 ..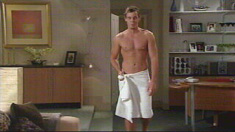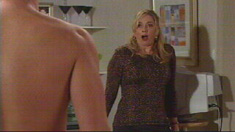 ..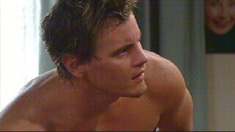 At number 26, Ned walks into the lounge room, dressed in only a towel, singing and introduces himself to Harvey, thinking that itís Bob. Janelle then walks in and drops her drink as she sees the man standing there. Ned drops his towel as a shocked Janelle screams for help.
Moments later, Janelle is trying to use a broom to get Ned out of the house and is shouting for help, as he tries to tell her that they met at Stuís wedding. As Janelle opens the front door Bree and Rachel run in, closely followed by Susan and Harold, whoíve all heard the commotion from the street. Susan recognises Ned from the wedding, as Ned also remembers Susan and Harold. Ned explains that heís come to surprise Stu with a visit. Harold offers him a welcome to Ramsay Street by shaking his hand, which results in Ned dropping his towel for a second time and everyone is shocked.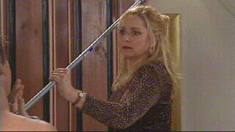 ..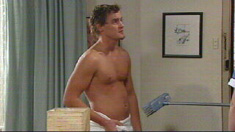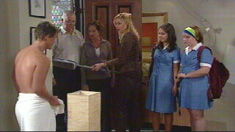 ..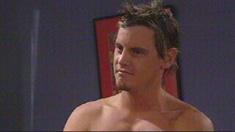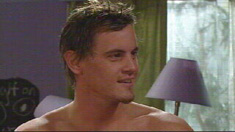 ..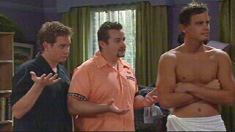 At number 30, Ned, still in his towel, has finally made it to number 30, but Stu doesnít seem too pleased by his brotherís arrival. Connor jokes with Ned that he canít stay, as the house is full, but Toadie tells him that itís fine and he can stay for as long as he likes. Ned explains that heís come to check out some bulls at the Melbourne Show, as Stu says that heís off to the station to do some paperwork. Janelle, who has been standing in the hallway perving on Ned, is asked to leave. Ned then seems surprised to hear that Stu is depressed, as he seemed fine to him.
At the General Store, Rachel and Zeke lie to their dad about the rating of Mean Girls and he says itís fine for them to see it. Alex thanks Janelle for watching the kids and she explains that itís fine as sheís keeping a low profile so Lyn doesnít see that her arm is fine. Alex then leaves to get some wine as Bree reminds Rachel and Zeke that lying wasnít too hard for them. Janelle then asks Bree where Janae is. Bree lies that her sister is at the library, before the Kinski siblings glare at her, so she changes her story and tells her mother that she has no idea where Janae is. She then admits that Janae is avoiding Janelle. Janelle wants to know why, as Bree looks awkward.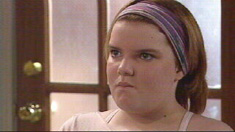 ..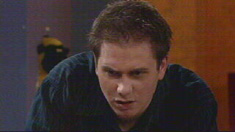 At number 30, Serena gives Ned some board shorts from the bikini shop. Ned is about to put them on in full view of Connor and Serena, when heís pointed in the direction of the bathroom to get changed. Connor then confides in Serena that Ned doesnít seem to think that thereís anything wrong with Stu, as Serena asks him why heíd want to be telling a schoolgirl. He realises that she overheard his earlier conversation and tells her that he doesnít think heís too old for her. Ned then calls Serena to ask if she has anything bigger and she leaves, telling Connor that they might as well not bother if he canít take their relationship seriously.
At the General Store, Bree has explained to Janelle about the plastic surgery and then blurts out that Janae is also trying to contact their dad. Janelle wants to know why and Bree explains that Janae needs someone to talk to and has been confiding in Karl. Bree goes on to tell Janelle that sheís sometimes difficult to talk to. Bree apologises as Janelle runs out of the shop, obviously upset and Bree tells Rachel and Zeke that sometimes the truth hurts.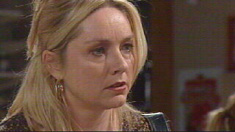 ..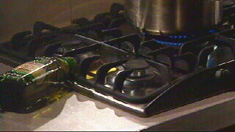 At number 28, Susan is preparing dinner and chatting on the phone to Libby. As Susan picks up a bowl of salad and tells Libby she has to go and get changed, she knocks a bottle of oil onto the stove and it starts trickling towards the flame.
At number 26, Janelle is telling Bree that it seems that Kim is being treated as a hero for walking out on his family, and she gets turned on for sticking around. Janelle suggests that Bree goes to live with her dad, but Bree just tells her mum that sometimes sheís hard to talk to, as she gets so angry. Janelle tells Bree that she shouldnít waste her breath talking to Kim, but Bree says that they still love their dad, even if Janelle doesnít. This upsets Janelle, who goes to the kitchen to prepare dinner. The Kinski family then arrive and the kids narrowly stop Alex for checking out their DVD choices. As Alex is leaving, Zeke stops him and says that the movie is M-rated. Alex smiles and tells them to analyse the aspects that make it M-rated before he goes. Bree is furious with Zeke for backing out of their deal and tells him that now her mum is really upset for nothing.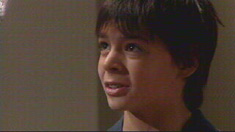 ..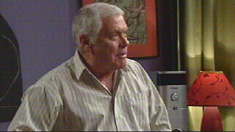 At number 30, Lou is preparing his bedding to sleep on the sofa, as Ned says that he doesnít mind sleeping on the floor. Connor is on the phone apologising to Serena, then he and Toadie argue, because itís Toadieís fault that she overheard them. Lou remembers his relationship with Annalise and tells Connor that he needs to find some common ground with Serena. Connor isnít convinced. Stu then walks in and is annoyed to find the lounge room looking like a hostel. The others make themselves scarce, giving Ned the chance to chat to an unwilling Stuart.
At number 28, the stove is on fire and Susan races over to get the fire extinguisher, as Alex walks in. He runs over and takes control, putting the fire out and checking that a shocked Susan is ok.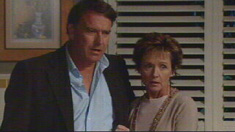 ..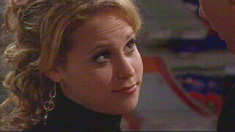 At the General Store, Connor has found some common ground and gives Serena a couple of tickets for an Australian Idol concert that night. She is touched and they share a hug.
At number 28, having eaten takeaway pizza together, Susan tries to get closer to Alex, but heís clearly very nervous about their first kiss. He says that he should leave, but as he stands up, he elbows Susan in the face. He apologises and asks if he can do anything, but she insists that sheís fine, as she clutches her bloody nose.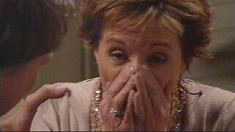 ..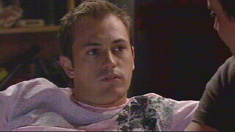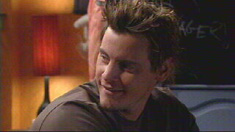 ..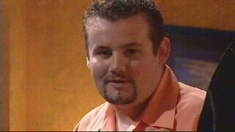 At number 30, Toadie drags Ned from the lounge room and checks to see if Stu is talking. Ned says that he hasnít mentioned Sindi, but he isnít sure if thatís a problem. Toadie tells him that it is, and pushes him back in for another try. Stu warns Ned not to start on him, but Ned decides to ask his brother how he is. Stu gets annoyed and says that Ned can pass on a message to their parents Ė heís fine and he has moved on. Ned seems pleased with this and smiles back at Toadie, who is amazed that Ned actually believes him.
Summary by Steve