.
Magic Moments > 2005 > Kim's Arrival Episode 4841

Written by Graham Hartley, Directed by Gary Conway

Episode Title: Welcome Back, Bludger

Susan tells Alex that they should get married and he agrees. Paul, Janae and Boyd make a toast to Dylan. Connor finds Dylan on the beach and they believe that they're the only ones to survive the crash.

As Dylan tries to spear a fish on the edge of a lake, Connor is trying to start a fire to cook it, until he realises that it's run out of lighter fluid. Dylan is thrilled when he manages to get a fish and he runs to show Connor and tells him to get the fire started so they can eat. Connor complains that he can't light it, so Dylan tells him to go and find some dry grass and twigs. Connor remains negative as Dylan sends him off to look.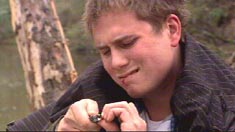 ..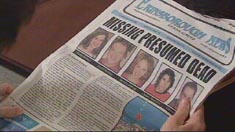 At number 28, Susan and Harold are looking at the new edition of the Erinsborough News, which has pictures of the five plane passengers still missing – Liljana, David, Serena, Dylan and Connor. Harold complains that they've spelt Lil's name with an 'i' instead of a 'j', then starts to wonder if she'll be back in time for Susan's wedding. He offers to do the catering, as a wedding present, as Susan realises how deep in denial her friend is. He starts to talk to Susan about the crash and then mentions that he's just filling in time until his family comes back.
At number 26, Lyn is chatting to Janelle, who's still searching in Tasmania, as Bree tries to get Janae to eat something before they leave for school. Janae doesn't really want to go, but Lyn thinks that it's a good idea to take their mind off things. As the girls leave, Lyn and Joe begin to wonder where Kim is, and why he wouldn't come and visit at such a terrible time.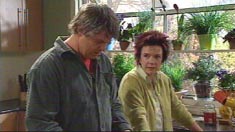 ..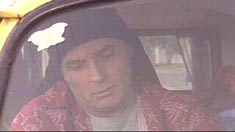 By a beach, a man hangs up his wetsuit in the back of his van, then starts looking around for enough loose change to buy a drink.
At number 28, Harold is still asking Susan about the crash – where everyone was sitting, whether they had life jackets on, and she's becoming upset by it all. She tells Harold that they've been missing for three days and the chances of them returning must be quite slim. Harold points out to Susan that she survived, just as everyone was giving up hope, and he will be blessed by the same miracle.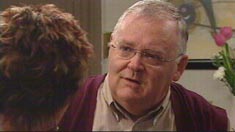 ..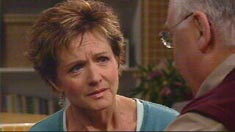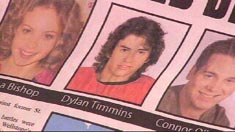 ..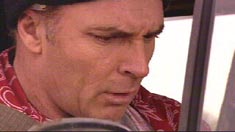 The man heads back to his van, picking up a copy of the Erinsborough News, left behind on a table, as he goes. He gets into the van and starts looking at some jobs, before looking at the front page and noticing the photo of Dylan. He suddenly starts up the van and drives off.
At number 32, Boyd is trying to study when Janae arrives at the door. She couldn't face going into school and tells Boyd about the nightmares she's been having since the plane crash. Janae sits in Boyd's arms on the couch and he tells her not to worry, before they start kissing.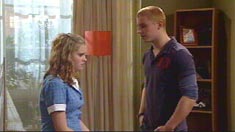 ..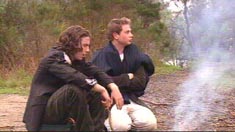 Back at their camp, Connor thinks he's heard a helicopter, but Dylan says that it might just be a snake. Connor then starts to panic, but Dylan tells him to pull himself together and in a couple of weeks they'll hopefully find some labouring work on a farm somewhere. He says that then, they can go and see his mate in Hobart, who'll get them fake IDs so that they can make a fresh start up north. Dylan then starts to eat the cooked fish, but Connor says that he doesn't want any. Dylan tells him to go and catch one of the rabbits from a nearby burrow.
At number 32, Janae is still sitting in Boyd's arms and she tells him that she never really got the 'love thing' as all of the boys she's been with before weren't really right for her. Boyd tells her that she can let her guard down with him, as he loves her for who she really is. She tells him that she should go so that he can study, but he tells her that he's enjoying the distraction and they start to kiss once again.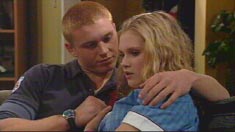 ..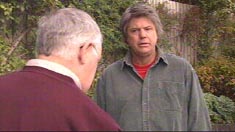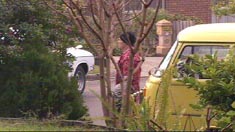 ..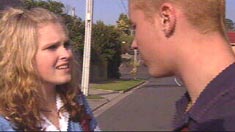 Outside number 24, Harold is busy gardening when Joe approaches him to see how he is, in wake of the news that they've called off the search for more survivors. Just then, the yellow van pulls into the street, stops outside number 26 and the man gets out. Joe and Harold wonder who he is, as Janae and Boyd come out of number 32. When she spots the man, she suddenly stops and says that she feels sick, dragging Boyd back into the house.
At number 26, Bree is sitting on the couch, reading, when there's a knock at the door. Bree is thrilled to find that it's her dad, Kim, and he calls her "Princess" and hugs her.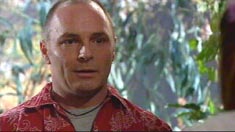 ..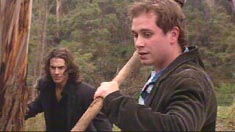 ..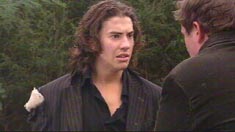 Connor is preparing himself to kill a rabbit, as Dylan urges him on, but he can't go through with it. He says that he's going to be no use to Dylan – he can't make fires or catch food – so he might as well go and turn himself in. Dylan tells him that they've stopped searching and Connor says he'll just have to stay and starve to death. Dylan jokes that if Connor does die, he'll just have to eat the body. Connor isn't amused and Dylan drags him off to catch a rabbit.
At number 26, Bree wonders if there's any hope of Dylan returning alive. Kim tries to reassure her, but he isn't that certain himself. He admits that he had a bad feeling recently and couldn't work out what it was, until now. Kim sees Janelle arriving home with Joe and Lyn and is worried about how she'll react. Bree asks her dad if he's going to stay this time and he says that he will, if Janelle doesn't throw him out. He says that, although it's too late for Dwayne, Brandon and now Dylan, he wants to be there for Bree, Janae and Scott. Janelle then bursts in, saying nothing, but looking furious. She walks up to Kim and slaps him. "Welcome home" says Kim.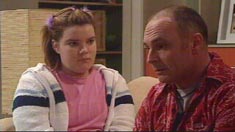 ..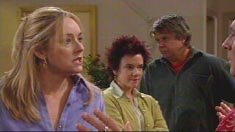 ..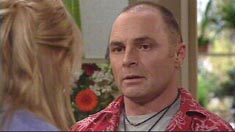 Janelle tells Kim that they don't need him to come crawling back now and that he should just go. She says that she's been coping for three days before he turned up and she storms out of the room. Kim apologises, as Joe introduces himself and Lyn. Bree suggests that her dad leaves for a while, so Janelle can calm down. In the kitchen, Lyn tells Joe to follow Kim and have a chat, try to work him out. Joe suggests taking a notebook, but Lyn isn't amused and practically shoves him out of the house. Bree doesn't seem too concerned, telling Lyn that she's used to this sort of thing happening.
At the General Store, Harold is chatting to Boyd and Janae, who are picking up an order for Steph. They're slightly confused by how upbeat and chatty he is, especially when he mentions talking to the school about delaying Serena's exams. Susan then walks in and tells Janae that it was best for her not to come to school. Janae doesn't appreciate the sympathy and leaves, with Boyd close behind. Susan then asks Harold if he's heard about the search being called off, but he tells her to have faith and be positive.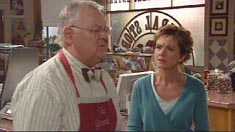 ..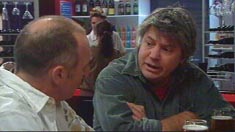 At the Scarlet Bar, Joe and Kim have a drink together, and Joe mentions his dead wife, Kerry, before apologising. Kim thinks that Joe's a decent bloke, but Joe believes that Kim's a bludger. Kim says that it's fair enough to think that, but he also loves his wife and kids. He sadly says that he's already lost a child and things can't get much worse. Joe agrees, mentioning that he almost lost Sky.
At number 26, Janelle, fresh out of the bath, tells Bree not to believe anything Kim says. Bree says that, when they were camping on the way to Canberra, Janelle said that she really loved Kim. Janelle claims that it was all lies to make Bree feel better. Bree says that if Janelle doesn't let Kim stay, she's going to move out and go to live with him.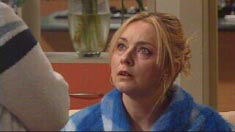 ..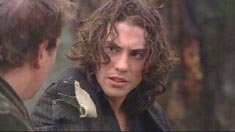 Connor brings back some water and berries to the campfire, as Dylan cooks the rabbit. Connor decides that he doesn't want to risk the berries being poisonous, so he'll just have meat. However, as he goes to get some, Dylan stops him and tells him that he'll have to get his own food. Connor thinks that Dylan is losing the plot. Dylan tells a concerned Connor that there's nothing normal about their lives now and they're going to have to make up the rules as they go along.
Summary by Steve