.
Magic Moments > 2005 > The Bishops' Memorial Episode 4854

Written by Drew Profitt, Directed by Tony Osicka

Episode Title: Living Memory

Karl has to postpone his date as both Izzy and Paul are in hospital. Joe tells Max and Bree that he won't be marrying Lyn and she'll just have to cope with that. Stingray is sentenced to four years in Warrinor, whilst Dylan gets ten years.

At number 26, Sky and Boyd are concerned for Stingray and Dylan's futures and their chances of going to university now, but Janae isn't impressed and reminds them that her brothers aren't dead. Lyn comes out from the bedrooms and says that Janelle's just got off to sleep and was extremely upset, so she asks the kids to keep the noise down. She goes into the kitchen, where Joe and Oscar are playing together. Joe decides to go home, but Lyn asks him to stay, as, what with the court case and the memorial service the next day, things are getting a bit emotional.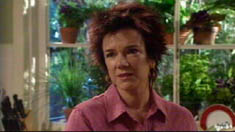 ..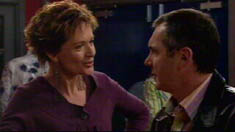 At the bar, Karl is waiting for his date, Jenny, to arrive when Susan comes in to buy some wine. As Max leaves to get her a bottle, Susan is amused to notice how dressed up Karl is and she comments that it must be a special evening. Steph and Max come over and they discuss how awful the outcome of the court case was, before Susan leaves, wishing Karl luck with his date as she goes.
At the General Store, Lou is cleaning up and about to start preparing food when Harold comes in, wanting to help. Lou tells him to go home, but Harold is insistent, and they're soon joined by Susan. Harold asks her to say a few words about Liljana, since Svetlanka is unable to come. Joe and Lyn then arrive too and she asks Lou and Harold back to number 26 for some food. Harold turns them down, so Joe, Lyn and Susan decide that they'll all stay and help with the food, then go back to Lyn's for a meal.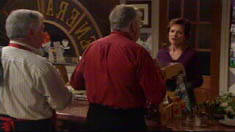 ..
At number 26, Sky is on the phone to Kim, and she reports back to Janae that he's taken Bree out to get some food as she's quite upset. Janae is annoyed with Sky for answering the phone and asks her why she's still hanging around the house when she didn't give a damn about Dylan the week before. Sky walks out and Boyd is annoyed with Janae and goes after Sky.
At the General Store, Lyn, Susan, Joe, Lou and Harold are at work in the kitchen. Joe mentions that Lou is sounding as meticulous as David and Harold smiles. They all remember David's obsession with the wheelie bins and Lil's temper when she thought David was cheating on her with Lee Thomas. Susan mentions that things will be much quieter without them around and Harold looks sad.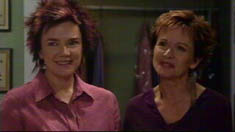 ..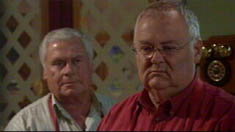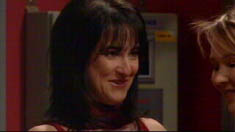 ..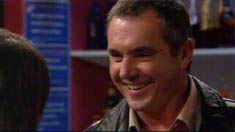 At the Scarlet Bar, Karl is hiding in the office, worried that his date isn't going to turn up. Max thinks that she's just stuck in traffic, but Karl says that the traffic in Erinsborough is never that bad. Meanwhile, Steph is approached near the door by a woman, Jenny, who asks if she's seen a dark, handsome guy around, who she hopes won't be a serial killer. Steph points out Karl, who has already spotted his date, Jenny, approaching and is very pleased. She apologises for being late, blaming the traffic, which Karl agrees can get pretty bad. They shake hands and both admit to being nervous, before sitting down to order.
On the city streets, Connor sits amongst a group of homeless people and he is staring at a newspaper cutting with a picture of him and Serena.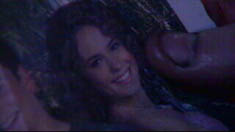 ..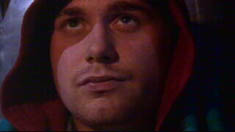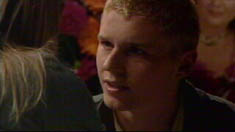 ..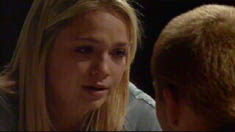 At the Community Hall, Sky is sitting looking at the pictures of Lil, David and Serena, in tears, when Boyd walks in. He apologises for what Janae said. He then tells Sky that her caricature of Serena is great and she says that she drew it completely from memory. He asks her if she's heard about the interview for art school, but she hasn't and isn't sure that she wants to. Boyd tells her not to waste her amazing talent and they share a hug.
Back at the bar, Karl and Jenny seem to be getting along well and Steph points out to Max that this could be the one for Karl. She says that it's nice to see him happy after everything he's been through. Max gives her a strange look and she says that she wishes the baby would come, as her girly hormones are all over the place. Meanwhile, Karl and Jenny chat about her work as a government advisor and he says that the government are doing a great job. He asks her if it's like being on Yes Minister and she says that it is, but without the 70s fashions. They briefly talk about the political leanings of Karl's ex-wife, before he compliments her on her clothes.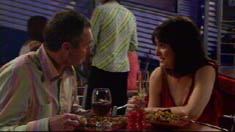 ..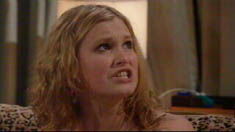 At number 26, Janae answers the door to Boyd, before slamming it in his face. He comes in and asks Janae what she's playing at. She says that she knows what's going on – now that Sky is single again, he doesn't want to be with the bogan chick any more and wants to go back to his ex. Boyd says that Sky's grieving and she has hardly any friends left to turn to, so he isn't going to bail on her. Janae comments that he seems perfectly happy to bail on her instead and Boyd tells her to grow up.
At the bar, Karl wants to pay the bill and Jenny grudgingly accepts, as long as she gets to pay the next one. Karl is pleased to hear that there will be a next time. Max and Steph are watching from the office and Steph bets her husband $20 that Jenny and Karl will kiss. Karl pays the bill and, as he and Jenny are leaving, he kisses her on the cheek. Steph happily takes Max's money, although he tries to stop her, saying that they could use it on paint for redecorating the bedroom.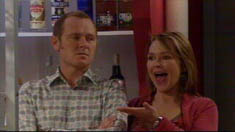 ..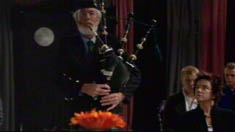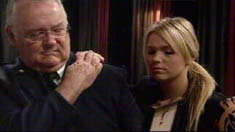 ..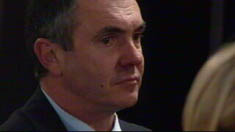 At the Community Hall, the next morning, bagpipes begin the ceremony and Lindsay Hall says a few words to begin, about thanking God for loaning them David, Liljana and Serena.
Susan says a few words about Liljana:
"Lil had a spectacularly short fuse, which was matched only by her sense of humour. But I think it was her passionate love affair with life that made her such… such a wonderful friend. That and her cooking. But always to Lil, the most important thing was family. I hope they're together now and I hope they remain in peace forever."
Janae then sneaks into the hall and sits down at the back, as Sky talks about her cousin, Serena:
"When my cousin first came to live with grandad and me, I couldn't stand her. I thought who was this stuck up princess and how could we possibly come from the same gene pool? But she is so, so much more than my cousin - she's my sister and my best friend. I love you, Serena and I now have a little note from our good friend, Stingray Timmins, who couldn't be here today.
"So long Serena Bean, you were a spiggin' awesome chick. Thanks for believing in me and laughing at me when others didn't. I'm not sure what you saw in a spanner like me but I'm stoked you looked my way even though your old cheese wasn't. Tell them 'hi' from me."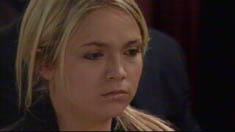 ..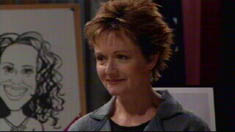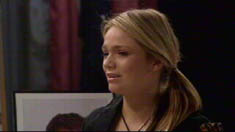 ..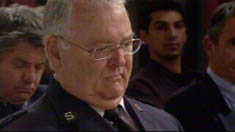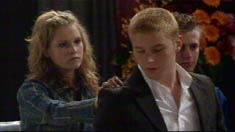 ..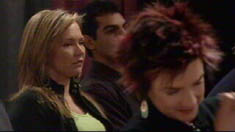 Harold then talks about David:
" In recent months, David and I had never been closer, for some reason we seemed to understand each other for the first time. Oh what a wonderful man he's turned out to be. I couldn't be prouder or more grateful for the gift… the life gifts that he's given me and in return the two wonderful women he's brought into my life - Liljana and my dear little granddaughter, Serena. You know what, at the end of the day our lives are measured by the people that we love and without that love our lives would be very empty, we'd only be existing. But as I look out over this room, I can see that David and Liljana and Serena were loved by many and I do thank you for loving them as much as I did. Thank you."
Harold then plays his tuba as David's coffin is taken out.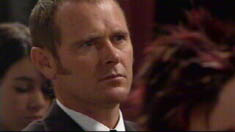 ..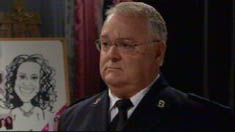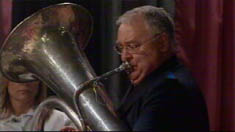 ..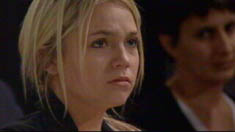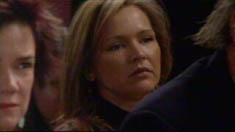 ..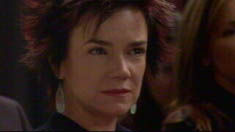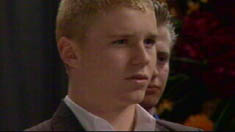 ..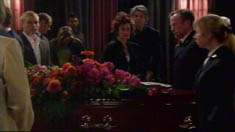 ..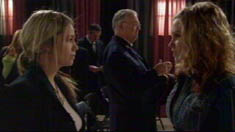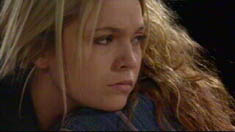 ..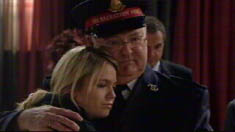 Later, Harold thanks Lindsay for what he said at the beginning of the service. Joe tells Sky that she was extremely brave to stand up there and speak about Serena like that – he remembers from Kerry's funeral how difficult it is. Janae comes over and apologises for Sky for what she said the previous day. As they hug, Sky notices an extra cutting – the one Connor was holding – pinned on the board next to Serena's picture and is slightly confused as to how it got there. Lou then announces that the burial at the cemetery will be a family affair, but they're all welcome at the wake at the Scarlet Bar later. Sky and Harold share a hug and leave together.
At number 26, Lyn is concerned about being late for the wake, but Joe says that they have plenty of time. Lyn then wonders how much time they really have together – today has been a wake-up call for her. Joe agrees and he suddenly gets down on one knee and proposes. Lyn happily accepts and they hug.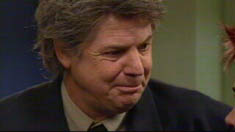 ..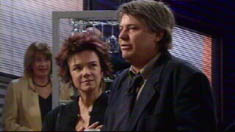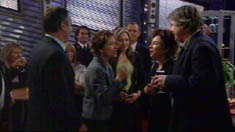 ..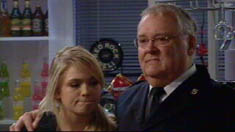 At the bar, Susan is amused to hear about Karl's date with Jenny, asking if he played her 'Free As A River'. Joe and Lyn then arrive and tell Harold the good news, but explain that they'll keep it to themselves, given the occasion. Harold disagrees and tells them that Liljana and David would have been thrilled. Joe then announces the news to everyone, in honour of David and Lil's everlasting love. Sky doesn't look too thrilled but everyone else is delighted for the happy couple and Susan even suggests a double wedding. Susan then invites them both, along with Steph and Max, to number 28 for a celebratory meal. Harold then quietens everyone down to say a final few words:
"I just want to thank you for your support today and all the days prior to that. It's been a very sad few weeks and I can only imagine how much worse it would be without your continued love and support. And even in these dark times I realise how blessed I am to have such loving friends. So, thank you, thank all of you. Thank you."
Comment: Once again, Ian Smith delivers a performance of true brilliance, we truly are lucky to have a character with the integrity and dignity of Harold as a constant presence in the show, the contained grief he expressed during his speech for his beloved family was acting at its finest, to lose one child in your lifetime is bad enough...but two? And you're only two. That has to be too much to bear. And along with the losses of Lil and Serena as well as David, Harold couldn't be any lower, and that was conveyed oh so wonderfully by the estimable Smith. Perhaps the finest character actor the show has ever had. Long may he stay amonst the Neighbours. Stephanie McIntosh also deserves some praise for her performance, proving what a future she has ahead of her. A brilliant episode with lots of emotion, and not before time given the tragic circumstances.

Summary by Steve. Comment by Steve H