.
Magic Moments > 2005 > Susan and Alex's Wedding Episode 4872

Written by John Upton, Directed by Tony Osicka

Episode Title: Puss In Boots

Roo has a flashback and realises that his new cellmate, Mick, is actually an undercover cop. Rachel and Zeke find Katya at the clinic. Katya meets her father again. Roo asks "Mick" to beat up Stingray.

At the prison, Stuart is fixing his wire under his shirt, when he hears Roo coming past. He acts normally until the voices have gone past, then he continues fixing it in place.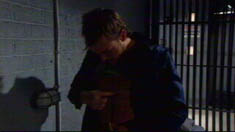 ..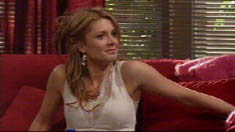 At number 22, Paul gets off the phone and tells Izzy that Cameron won't be able to make it, as he's scored a job working in an architect's office. He also mentions that Elle is going home to spend Christmas with her mum, so Izzy decides to show the "peasants" of Ramsay Street how to celebrate Christmas properly, taking Paul's credit card out to illustrate her point. Paul takes another call and says that he has to go and deal with some business, but he promises that it'll be the last thing he does before he's officially on holiday. He leaves, and Izzy grabs Paul's present – a new leg. Paul then walks back in, to get his card, and she quickly hides the leg under the couch.
At number 28, Katya is asking her dad about his treatment, then she announces that she has to go. Alex pleads with her to stay for the wedding, but she isn't sure. He tells her that it wasn't his fault that he threw her out – she was endangering the lives of Rachel and Zeke. Katya tells him that he's probably right and he again asks her to stay, so it won't be on his conscious any longer when he dies.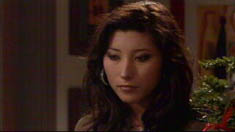 ..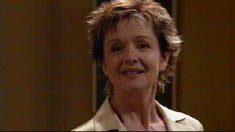 At number 32, Karl is waiting for news when Susan comes over to collect her bridesmaids, Steph and Lyn. Karl explains that they've gone to see the Christmas lights at Eden Hills, so Susan begs him to act as witness at the wedding. He agrees, reluctantly, and as they're leaving, he tells her how beautiful she looks.
At the prison, Stu is questioning Roo about his past crimes, and says that he'd like to get out there and get his own back on some of the cops who put him inside. Roo isn't convinced and asks Stu if he's a cop, but Stu denies it, as the two of them fight. Stu's radio gets smashed in the process, so he calls for a guard, as Roo acts innocent.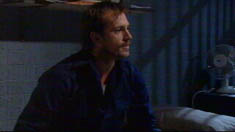 ..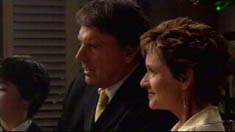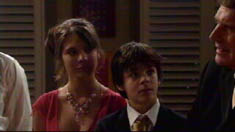 ..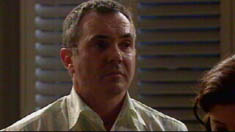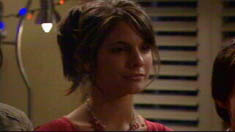 ..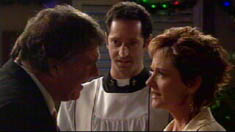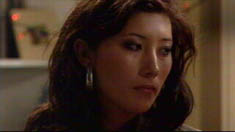 ..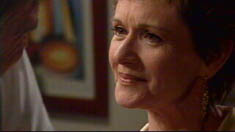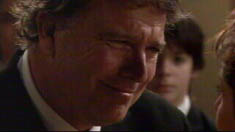 ..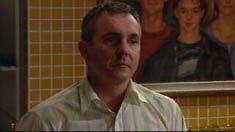 At number 28, Father Capitola begins the ceremony, and Alex says his vows:
"Susan, you have brought me happiness that I never thought I'd feel again, and you have taught me what love truly is, and I will love you and honour and cherish you for every moment that we are together."
Alex affirms the vows and he places the ring on Susan's finger. She then says her vows:
"Alex, you were the most wonderful man I have ever know and ever day with you has been like a lifetime of love. And I will love you every day for the rest of my life."
Susan affirms her vows, and so she places the ring on Alex's finger. They are pronounced husband and wife and they share a kiss. As the vows take place, Rachel and Zeke are happy, but both Karl and Katya look like they would rather not be there.
Later, Susan and Alex are signing the registry. Katya and Karl sign as witnesses, and Karl and Susan share a look with each other as he notices her new signature – Susan Kinski.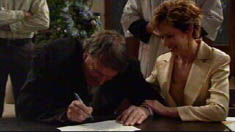 ..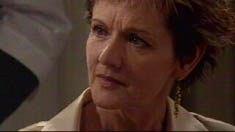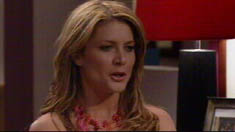 ..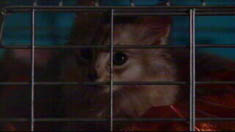 At number 22, Paul arrives home with a kitten, Boots, as Izzy's Christmas present, and he hides it in the laundry. Izzy comes down from getting changed into her party dress, just as Paul is getting some milk for the kitten. He pretends to be drinking it himself, as she tells him that they're going out for cocktails.
At number 28, Karl is saying his goodbyes and he says that he'll be working until midnight, but she can call him at any time. She thanks him for everything and goes back inside, where the kids are sitting around the table and Alex is asleep on the couch. Katya tells Rachel and Zeke that Alex will be with their mum once he dies. Alex is awake and he asks Katya to look after her brother and sister, which she promises to do. Alex tells his children how much he loves them, as a sad Susan watches.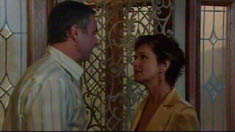 ..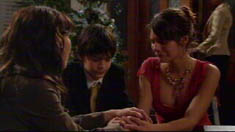 At the prison, Stu returns from getting his radio fixed and finds all of his stuff has been messed with. Roo claims that there was a random drugs search, and he's only just finished tidying up his side of the cell, but Stu doesn't believe him. Roo asks why Stingray hasn't been dealt with yet, and Stu says that he will – he's just got Stingray to fix his radio and is getting him on side. Roo thinks that Stu is trying to back out of the deal, but Stu says that he'll do it. Roo explains that he's got history with the Timmins boys and he owes them, and not in a good way. Roo tells Stu to get some sleep, as they have a big day ahead of them.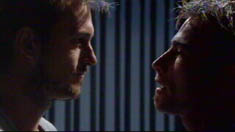 ..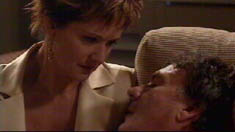 At number 28, Alex is asleep again, and Susan and Katya are making small talk about nursing and teaching. Susan tells Katya how happy Alex was to have her at the wedding. Katya then asks if she can lie down, and Susan points her in the direction of the spare bedroom. Katya asks Susan to call her if her dad wakes up, as she needs to speak to him.
Later, Susan is talking to a sleeping Alex about their honeymoon on the trans-Siberian railway. He wakes up and hears her, telling her to take the kids on the trip. He tells her how happy she's made him and that he loves her, before slipping away. Susan breaks down, as Katya watches the scene from the doorway.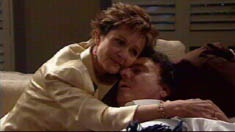 ..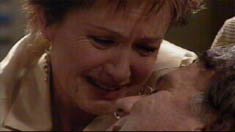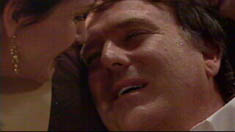 ..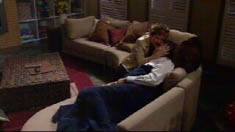 ..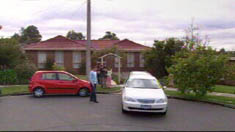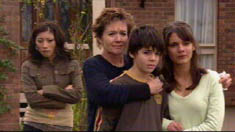 ..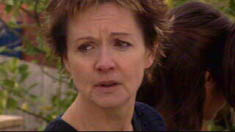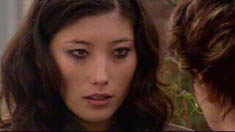 ..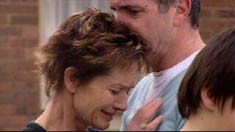 The next morning, Alex's body is driven away, as Susan, Karl and the Kinski siblings watch. Zeke wonders what they'll do now, but Susan tells him that they'll keep going. She doesn't know how. Katya tells Susan that her dad had asked for her forgiveness and she'd really wanted to tell him so many things before he died. Susan says that he knew that she loved him. Karl hugs Susan and she begins to cry in his arms. She thanks him for everything and leads the kids inside.
At the prison, Roo tells Stu that today, he is going to get Stingray. Stu says that he'll do it, but it has to be in their cell, as it'll be too suspicious to the guards otherwise. Roo doesn't think that they'll get Stingray to their cell, so it'll have to happen in his.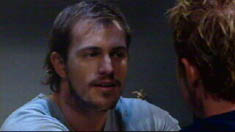 ..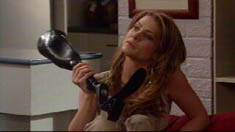 At number 22, Izzy is racing down the stairs to hide Paul's present, when she sees the kitten on the couch and screams. Paul runs down and tells her that it's his present to her. The paper then comes off Izzy's present and they both laugh, realising that the presents aren't really appropriate. They decide to do Christmas in their own special way.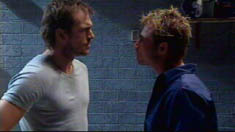 ..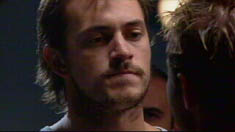 At the prison, Stu and Roo are preparing to go to the Timmins boys' cell, but Roo suddenly announces that Stu could be anyone – even a cop. Some of Roo's cronies appear and Roo demands that Stu take his shirt off to prove that he isn't wearing a wire…
Summary by Steve