.
Magic Moments > 2006 > Cassie's Death Episode 4975

Written by Katrina Foster, Directed by Gary Conway

Episode Title: And The Bleat Goes On

Susan and Karl watch as Paul throws Izzy out onto the street. Boyd and Janae overhear Max telling Kim and Janelle that, after a few weeks of living together, the kids won't want to get married any more. Susan tells Karl that she was wrong to doubt him and that he's a wonderful man.

At the Scarlet Bar, Max explains to Paul that Izzy is still insisting that she was set up by Elle and Cameron. Paul refuses to believe that they had anything to do with it, but starts to listen when Max wonders if Izzy is back on the pills again, as she's become very paranoid. Paul then announces that it's no longer his problem and Karl, who's sitting nearby, smiles and says "Another one bites the dust" as Paul gets up and leaves.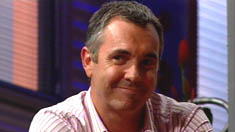 ..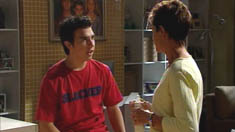 At number 28, Susan is preparing some milk for Cassie, as she discusses Rachel, and her date with Garrett Burns, with Stingray. Stingray is worried because Garrett's older brother, Warren, was "a complete hufter" and Rachel shouldn't be dating any of his siblings. Susan is surprised to find Stingray judging someone on his family and reminds him that Rachel has plenty of people who care for her and will be looking out for her. Stingray is just annoyed that it doesn't seem to matter if she dates someone who isn't right for her, as long as he's her own age. Susan tries to change the subject, asking him to help her feed Cassie, but he walks out of the house, leaving Susan shocked.
At number 26, Ned is acting as a mannequin so that Lyn can adjust the bridesmaid's dresses, when Harold comes in, having found Lyn's old mannequin that Lil once borrowed – and never used. They remember Lil – reading her coffee grounds and throwing saucepans – before Harold leaves, as Paul arrives. Paul tells Lyn that he really needs her now, as the London office could be calling at any moment. Lyn says that she'll be with him shortly, but needs to finish these dresses first, as she promised Janelle, and the Timminses can't afford a professional seamstress. Paul throws some money at her and tells her that now Janelle can, and Ned doesn't seem very impressed.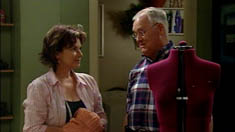 ..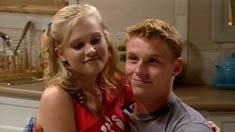 At number 32, Boyd and Janae are having an argument about her treatment of Sky, as Max listens at the door, happy that his plan appears to be working. He's joined by Steph and Charlie, whose gurgling makes Boyd and Janae realise that they're being listened to. Janae quickly sits on Boyd's lap and they change their tune, admitting that they're both in the wrong and it's so nice to be living together so that they can talk through their arguments rather than running away from them. As Max and Steph appear in the doorway, he doesn't look very impressed and Steph hands Charlie over to him to be changed.
At number 28, Rachel wanders in from the back garden, wondering what's wrong with Cassie, as she seems so sad. Susan says that hopefully they'll find out soon, as the vet's on her way. Susan then asks Rachel about school, and whether she's made any new friends recently. Rachel quickly sees through this and asks who told her about Garrett, but Susan says that she just wants some more details about the whole thing – she wants to make sure that Rachel really does like him, and this isn't all just because of Stingray. Rachel says that Stingray was just a stupid crush, and Susan is relieved.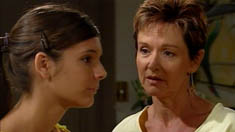 ..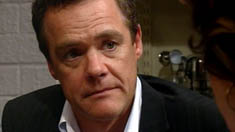 At number 22, Lyn and Paul are sitting around and she asks exactly when the London office are supposed to be calling. Paul is suitably vague and she realises that it wasn't that urgent – Paul just wanted somebody to talk to about the situation with Izzy. He's on the verge of tears and admits that he's got nobody now, but Lyn takes his hand and reminds him that she's there for him. Paul looks a little surprised, then smiles at her.
In the back garden of number 28, Karl and Susan are remembering when Billy first brought Cassie home following his paper round, almost 12 years ago. They argue over whether Karl or Billy suggested the name Casserole. Susan suggests calling the kids, and Jenny, but Karl says that there's no rush and says that he'll stay with Susan until the end. She gives him a look of gratitude.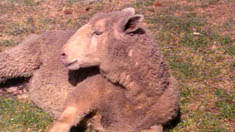 ..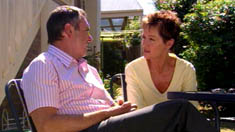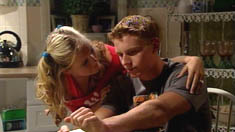 ..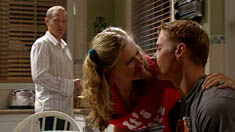 At number 32, Boyd is studying as Max and Janae wash and dry the dishes. He complains about the noise and Max says that this is the real, grumpy Boyd. Janae tells Boyd to calm down and reminds him that he's smart and will do fine in his exams. She says that she'll test him and, for every answer he gets right, he gets a kiss. An annoyed Max walks out of the kitchen.
In the bedroom, Max sits down on the bed, where Steph is rocking Charlie to sleep. He's annoyed that Boyd and Janae are getting on better by living together, but decides that this is just a honeymoon period and, within a couple of weeks they'll be fighting again.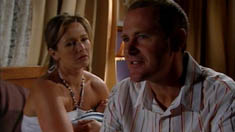 ..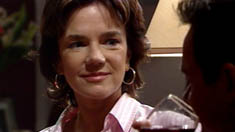 At number 22, Paul tells Lyn that Izzy was the only woman he was completely honest with, and Lyn says that Izzy clearly couldn't afford him the same respect. He admits that he always thought he was a good liar, but Izzy takes the biscuit, and Lyn doesn't think it's anything to be proud of. He wonders if she lost interest because he got soft. As they sit on the sofa together, Paul tells Lyn that she's naďve, and Lyn agrees, saying that she's able to learn from her mistakes. Paul points out that moving on is easier for her, because she has friends and family, but she reminds him that he has his kids living with him. He tells her that they just play at happy families, but Lyn says that Paul needs a good woman, who brings out his nice side. She tells him to just be honest next time he wants to talk, and not act like the tough boss. He says that he doesn't see her as just an employee.
At number 28, Karl finishes a call to Billy, telling him that he loves him. Susan says that Billy seemed a bit teary, but Mal was really upset, perhaps because he's so far away and can't imagine things changing at home. They remember when Libby dyed Cassie pink for the book parade, and Karl says that Billy really seemed to want to talk, and it was nice, as it was the first time they'd properly chatted like father and son in recent years. Karl prepares to leave, as Susan explains that the Kinski kids are all out and she'll be home alone. Karl offers to stay the night, and she wonders how he would explain that to Jenny – "Oh yeah! What would you tell Jenny - you're gonna stay with your ex-wife cos her sheep's dying?" – but Karl points out that it's their sheep. He asks again if he should stay and Susan agrees.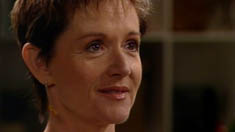 ..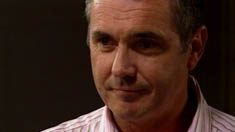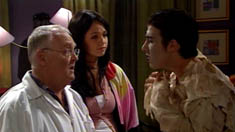 ..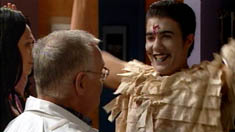 At number 30, Stingray is still making his movie, with Sky filming Harold, dressed as a doctor, trying to destroy Stingray the zombie. Ned, who's babysitting Oscar, isn't impressed and doesn't think the young boy should have to watch this sort of thing. He then mentions having to look after Oscar while Lyn is busy with work and that the boy needs a routine. Stingray wants to do another take for the movie, but Harold wants to leave it until the next day. He runs off to fix his make-up as Harold tells Sky that it's wonderful to have the old Sky back.
The next morning, in the back garden of number 28, Susan is putting some flowers on Cassie's grave, as she, Karl, Ned, Rachel and Harold stand around it. Stingray turns up, with Lyn in tow, and Susan thanks them for coming, but Lyn says that Stingray gave her little choice. Max, Steph, Charlie, Boyd and Janae then turn up, with Janae complaining that it's a little too much fuss over a sheep. Max tells her that Cassie represented a happier time for the Kennedys. Susan thanks them for coming and for the reminder of why Ramsay Street is such a great place. She and Susan talk about why Cassie was such a great pet and Karl mentions that he saw her during his heart attack. They say their goodbyes to her, as Stingray talks about Cassie being really good at keeping secrets. Harold says that Cassie was one of life's gentler creatures and everyone says goodbye to her.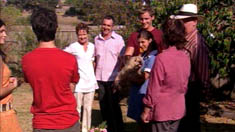 ..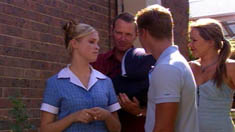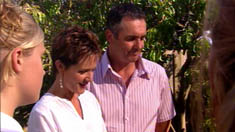 ..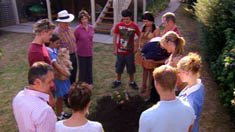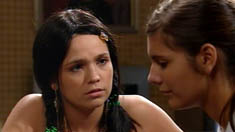 ..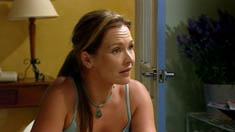 Inside number 26, Rachel is asking Sky to help her with her eye make-up. Sky wonders why she's making all this effort, but Rachel says it's just a guy from school and she wants to be different to everyone else. Sky tells her that make-up won't change much and says that she changed when she was with Dylan but now she's back to her old self. Rachel says that she's in love with someone, and doesn't really like Garrett that much. Then she says that the old her didn't like Garrett, but maybe the new her will.
At number 32, Boyd and Janae are washing up, when they hear Max and Steph getting home, so they start laughing and messing around. Max comes in and comments that they look like they're having fun. Steph hands him Charlie and sends him off to settle the baby down, before telling Boyd and Janae to stop acting and simply be themselves, so that they can find out if their relationship is actually going to work.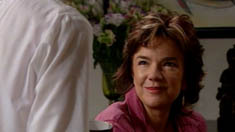 ..
At number 28, Lyn is having a coffee with Karl and Susan. She thinks that they did Cassie proud and then Karl decides that he should probably go home. At the door, she thanks him for staying with her and Lyn watches as he kisses her on the cheek and they share a moment fraught with sexual tension. Once Karl has gone, Lyn is about to say something, but stops herself. Susan asks her what's wrong, and Lyn says that it's just… funny, they were acting like a married couple. Susan is shocked, and Lyn says that it looked like, if Susan wanted Karl back, she'd just have to click her fingers. Susan is even more shocked.
Summary by Steve