.
Magic Moments > 2006 > Gail's Return Episode 4987

Written by Helen MacWhirter, Directed by Jovita O'Shaughnessy

Episode Title: Gentlemen Prefer Blogs

Sky explains to Dylan that she wants them to be like they used to be, but he refuses. Elle isn't sure that it's really Robert in the coma. Sky tells Lou and Mishka that she isn't sure who the father of her baby is.

At the hospital, Paul is sitting by Robert's bed, holding his son's hand, when he hears the door open behind him. He looks over his shoulder and sees Gail standing in the doorway. They stare at each other, without saying a word.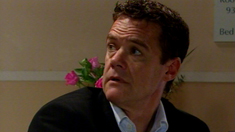 ..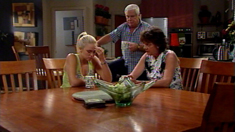 ..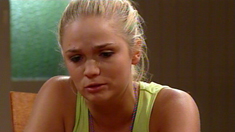 At number 24, Mishka checks that Sky at least has some idea who the father is, and Sky says that it's either Dylan's or JP's. As Lou goes to heat up some food for them, Mishka says that some food will help her to feel better, but Sky thinks she's being punished for the way she spiralled out of control recently. Mishka reminds her that it takes two people to make a baby and there's no point in beating herself up about it now, as it won't change anything. She also tells Sky not to rush into any big decisions as she may still change her mind. Sky complains that she just feels miserable, scared and alone – Mishka can understand the first two, but tells her that she's not alone. She then takes her over to the kitchen, where Lou is messing up dinner, and says that she is there for her if she wants to talk – or cry.
Back at the hospital, Gail is sitting looking at her comatose son and holding his hand, as Paul explains everything that's happened recently. He says that he had Robert transferred from St Luke's Hospice, and it seems that his brain activity is completely normal, so the coma could be psychological rather than neurological. He says that both Robert and Cameron will be getting the best care that money can buy. She asks him what happened to all that care and attention when the triplets were growing up, and says that he hasn't changed – he still sees money as the most important thing in life. She claims that he has destroyed her family, but he says that it's not his fault. Gail angrily reminds him that, only a year ago, she had three healthy children and now Elle's on the verge of a breakdown, Cameron's in prison and criminally insane and Robert's in a coma. She tells him that she holds him responsible and will never forgive him.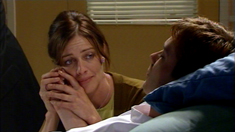 ..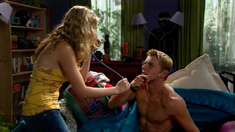 At number 30, Janae is about to do the ironing when she finds Boyd passed out on the couch under a blanket. She drags him up and says that she thought he'd already left – he has an exam to get to. Boyd drowsily tells her that Toadie was going to wake her, but Janae says that all Toadie has succeeded in doing is gluing a pen to Boyd's hand and a stethoscope to his head. Janae then forces Boyd to get up and go and get ready.
Paul is sitting outside in the hospital corridor when Gail finds him, with a couple of coffees, and tries to apologise for her outburst. Paul isn't sure that he deserves it, but she says that if the coffee's as bad as the stuff on the plane then he probably does deserve it. He says that it might actually be worse, and Gail takes a sip and agrees. He says that he knows all about it, as he spent quite a well in there. He tells her that his leg amputation was the best thing that could have happened, as it really made him reassess the way his life was heading. He says that, despite what she may think, he has always cared about her and the kids. Gail wonders where it all went so wrong, just as Elle and Izzy arrive. Elle rushes to hug her mother, and pulls Paul into their embrace too, as Izzy stands on her own, looking awkward.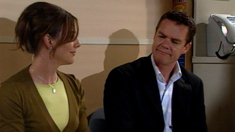 ..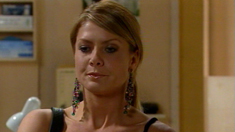 At number 24, Lou is worried that he and Mishka shouldn't be dealing with Sky's current problems, but Mishka points out that, with Harold away, she has nobody else. Lou suspects that Sky needs Harold around at a time like this, but Mishka says that Lou is the nicest and most understanding man she knows, and they cannot leave Sky alone at the time like this.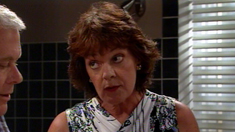 ..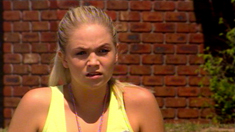 Outside, Sky watches as Janae forces Dylan to give Boyd a lift to his exam. Dylan is amused to see the stethoscope and pen glued to Boyd and tells him that he'll never live it down. As Janae hurries them along, Dylan spots Sky and stops briefly before carrying on and getting into the car, as Sky starts to approach him.
At the hospital, Elle and Gail are sitting with Robert, and Elle is confused about the whole scenario, as she feels like she never really knew Cameron. Gail isn't sure either, particularly given how close Elle and Cameron were as they were growing up. She says that Robert was always the strange one, plotting behind people's backs, and she can't help feeling that Cameron is innocent. Gail says that she understands, but all of the evidence is pointing to Cameron – but Elle thinks that his identical twin could easily set him up. Gail insists that the boy in the coma is definitely Robert and, although she used to struggle to tell them apart, up close, she knows which is which – Robert has a mole on his arm, which Cameron doesn't. Elle becomes upset and still refuses to believe that Cameron would try to kill her. Paul and Izzy come in, and Izzy tries to comfort Elle, who instead turns to her mother. Paul tells Gail that they're able to visit Cameron at the police station, so Gail tells them all to go and she'll join them later on. She then speaks to Robert, telling him not to give up, even though life has been difficult for him, and reminding him that he's just misunderstood and he's very special to her. As she leaves, a tear appears on Robert's cheek.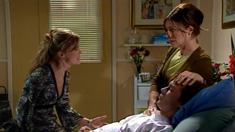 ..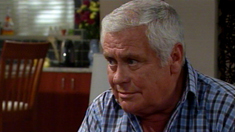 At number 24, Sky is telling Mishka that she isn't sure how she can tell Dylan the news if he won't even acknowledge her. Mishka suggests writing a letter, but Sky isn't sure what she'd say, as she can't really tell Dylan whether it's his baby. Lou joins them and suggests telling JP instead, but Sky isn't sure about this either, as she messed his life up so badly. Lou reminds her that JP has a right to know if there's a chance that the baby could be his.
At number 30, Janae is tidying up and ranting about Toadie's antics, but Dylan admits he's just waiting around until Boyd gets home, so he can laugh at the stethoscope again. Janae says that Boyd needs sympathy right now, as he's going through some difficult exams. She then sits down with Dylan and says that she noticed the way he looked at Sky earlier, and she knows that he still has feelings for her. Dylan is surprised, but the conversation is interrupted by Boyd returning. He says that his tutor wasn't too impressed, but some of the engineering students gave him some solvent to remove the pen and stethoscope. As Dylan continues to laugh, Boyd pushes him off the back of the sofa.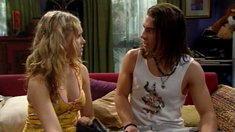 ..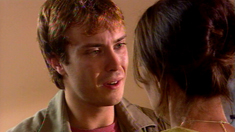 At the police station, Gail enters with Paul, Izzy and Elle, and they're all shocked as they can hear Cameron screaming his innocence. Elle says that she can't face Cameron in this state, so Gail decides to go in alone. Izzy says that Paul should be allowed in, as it's his son too, but Gail tells her not to interfere in family matters. Paul agrees with Gail, who then enters the interrogation room where Cameron is stunned to see her. He hugs her and she tells him that he's going to get the help that he needs. He's stunned to realise that his mum thinks he's guilty too, and he continues to protest that Robert was the one who did all these things. He insists that he would never hurt anyone, but Gail tells him that he's just making things harder for himself.
At number 24, Sky finishes up a call to JP and says that he's helped her to clear up part of the problem – he's infertile, so the baby can't be his. She explains that he tried to become a sperm donor at uni when he was short of money, and they broke the news to him then. Lou isn't sure whether to believe that, but Sky insists that JP wouldn't lie about something like that – and he still has the test results to prove it. Mishka says that at least she now knows that Dylan is the father, but Sky starts crying and says that it would be fine if she and Dylan were still a couple. Lou says that she needs to talk to Dylan and allow him the chance to decide, so Sky leaves.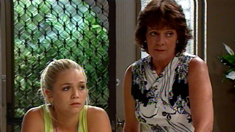 ..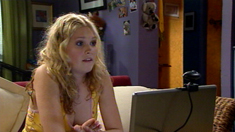 At number 30, Janae is talking into a webcam about Toadie and Ned and what terrible housemates they are. She starts to talk about Boyd when he comes in and asks her what she's doing. She explains that she's set up a blog – myfoulhousemates.com – and is hoping to make money from advertising on it when it becomes popular. Boyd is concerned that he's going to be the subject of her rants, but she tells him not to worry about it.
Back at the police station, Cameron is still trying to convince Gail that he's innocent. He says that he lost two months of his life and the first thing he remembers is Robert pinching him in the hospital bed. Gail says that Robert was the one in the car crash and he's the one who's now in a coma. Cameron becomes more and more agitated, grabbing Gail and insisting that she believe him. She says that he's hurting her, and she's taking out of the room, where Paul, Elle and Izzy look up at her. Paul approaches her and she worriedly says that Cameron shouldn't be here. Paul agrees and says that he's clearly not well, but Gail begins to wonder if he's innocent after all.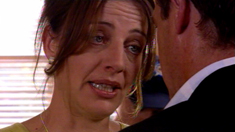 ..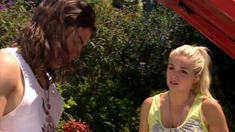 Out in Ramsay Street, Dylan is working on his car when Sky walks up to him and says that they need to talk. He ignores her and she says that she knows that he hates her. He asks why they're even talking if that's the case. She says that this is about both of them and asks him to listen for two minutes but he says that he doesn't care and gets in the car and drives off. As the car goes, Sky says that she's pregnant and he's the father.
At number 24, Sky returns and Lou and Mishka ask her how it went. She says that Dylan wouldn't listen – they think she means that he won't accept responsibility, but she explains that he wouldn't even let her talk to him. She says that she's going to take matters into her own hands and has booked an abortion for the following day. They try to tell her that she needs more time to think this through, but she breaks down and says that they're not her parents and she has to make this decision alone. She goes to her room, leaving Mishka and Lou looking concerned.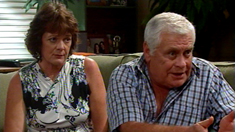 ..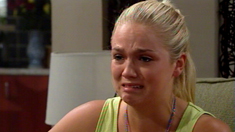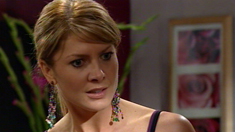 ..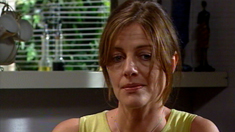 At number 22, Paul, Gail, Izzy and Elle return home and Gail looks around her old home. Paul asks her if Ramsay Street brought back any memories and she admits that it's like being in a time warp – the street looks exactly the same. Paul says that the faces have changed, and she asks if anyone's still around that she might know. He says that Harold still lives next-door and Gail says that he was always so sweet and he didn't deserve what happened to his family. Izzy remarks that Harold isn't the only one with problems – misery seems to stalk the residents of Ramsay Street. She starts to rant about all of her dramas, but Paul and Gail don't take her seriously. They sit down to have some coffee and Izzy starts to make it as Paul asks Gail how long she'll stay. She says that she'll be there to see Robert back on his feet and Paul admits that Cameron's recovery is going to take much longer. Gail and Elle are still confused about Cameron doing all of these terrible things, and Gail admits that he seemed to fragile when she saw him. Izzy is listening in and she comes over and says that Cameron is a psychotic monster. Paul tries to shut her up, but she says that they can't all just sit around and ignore the facts of the matter. Gail asks what she's getting at, and Izzy says that Gail is a terrible mother, who raised a killer. Gail says nothing.
Summary by Steve