.
Magic Moments > 2006 > Karl and Susan's Reunion Episode 4995

Written by Katrina Foster, Directed by Chris Adshead

Episode Title: Fangs For The Memories

Karl tells Susan that heís had a call from Tomís neighbour, who found him wandering the streets in his pyjamas. On Alexís birthday, Zeke isnít happy when Katya suggests that Susan go and join Karl at his fatherís farm.

Karl and Susan enter Tomís house and find it in a mess. Karl is immediately worried, as Tom is nowhere to be found, and starts calling out to him. Susan joins in, as Tom sits up on the couch, where heís been asleep and asks why they didnít call before coming to visit. Heís delighted to see Susan and gives her a hug, telling her she looks nice. Karl complains about the state of the house and Tom takes offence, but Karl mentions all of the rubbish outside, and the front gate being broken. Tom reminds Karl that heís hardly a master at DIY himself and says that heís been working hard for his whole life and deserves to take it easy now. Susan agrees with this, but also points out that Tom looks pale, and he soon changes the subject, asking her why she cut her hair. Susan claims that it was in order to grow old gracefully. Karl explains to Tom that one of the neighbours called, but Tom thinks theyíre just annoyed at him for taking shots at their dog. Susan and Karl then go into the kitchen, seemingly relieved that Tom isnít as bad as they thought, although Karlís still worried about the state of the farm. Susan says that itís probably just old age and, as Tom calls out to her not to believe a word Karl says Ė he can still hear every word theyíre saying, Karl starts to think that sheís right.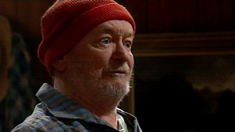 ..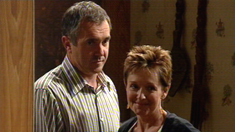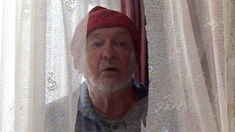 ..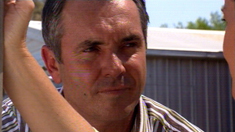 ..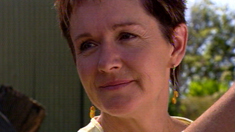 Later that day, Tom is watching from the window as Karl and Susan start trying to clear some of the rubbish from the front year. Karl apologises to Susan for worrying her enough to come all the way up there, but she says that itís hardly a problem as she enjoys spending time with Tom. She then admits that itís Alexís birthday, so she really should get going later, as she promised the kids. Karlís surprised, but Susan insists that itís what Alex would have wanted her to do. Susan then finds a wooden fence post with all of the kidsí ages and heights marked into it, and theyíre both moved to find that Libby has been continuing the tradition with Ben. They share a look, before Karl says that they should do more more clearing.
Back in Ramsay Street, at number 28, Zeke is annoyed that Susan isnít back yet, but Rachel says that Tom was Susanís father-in-law for 25 years and she canít just leave him like this. Zeke is worried that Susan is falling in love with Karl again, but Rachel doesnít think thereís anything wrong with that. Zeke says that it would means that she never really loved Alex, and Rachel is slightly taken aback. Stingray and Bree then arrive, so that they can all watch the final copy of Stingrayís zombie movie. Rachel thinks the movieís great, and Zeke wonders when she had a chance to see it, so she quickly says that she meant itís great that heís finally finished it. Zeke asks them when they made up after their big fight, and Stingray says that itís Alexís birthday, so theyíre forgetting all about their fight, and he then produces a cake for the occasion. Zeke is very grateful to him.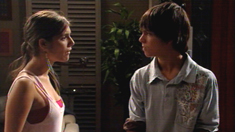 ..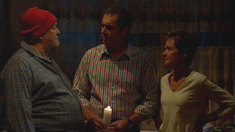 Back at Tomís, the electricity has gone out, so Susan and Karl have been forced to light candles. Karl returns from checking the fuse box and says that itís not working and they wonder what could have caused it, but Tom says that itís always like this. He says that itís cheaper not to have any electricity these days. Karlís worried, and Susan then finds some unpaid final demands. Karl goes to speak to Tom and asks him when he last ate properly, but Tom simply accuses him of worrying too much. Karl then wonders when Tom last had a bath, but Tom changes the subject, asking after Libby and her progress at high school. Susan explains that Libbyís grown up now, and has a son of her own called Ben. Tom gets confused, saying that he once knew a Ben, but he died. Karl looks very upset.
At number 28, Bree, Zeke, Rachel and Stingray are watching his film and Bree explains to a confused Zeke that it was meant to be a comedy. Rachel is also impressed and, without thinking, reaches out to Stingray, before pulling away. Unfortunately for them, Zeke notices and realises that he was right to suspect them of being a couple. Bree doesnít see why it matters, and Zeke realises that he was the last to know, but the others point out that heíll just tell Susan. Zeke gets annoyed with them all, branding them liars, but itís interrupted by a call from Susan, who says that she wonít be home that night, as Tomís not too good. Zeke doesnít mention what he knows about his sister, but hangs up on Susan, upset that she wonít be home.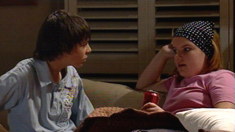 ..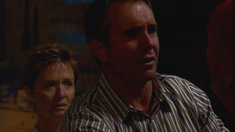 Back at Tomís, the three of them are having a meal and Tom compliments Susan on her cooking and comments that itís nice to see the two of them still in love after so long. Susan worriedly looks at Karl, who reminds his dad that heís with Jenny now Ė he brought her up to meet him. Tom remembers a blonde vixen and Susan quickly points out that heís talking about Izzy. Tom calls Izzy a cheeky strumpet, before Karl points out, once again, that heís with Jenny now. Tom accuses Karl of throwing away his marriage with Susan for a quick fling, and remembers Libby being there at the farm, crying about it. Tom then gets up and starts calling for Libby, so Karl tries to calm him down, saying that Libby will be there the next day. As Tom calms down, Karl goes to take him to bed, and Susan puts a hand on his shoulder.
At number 28, Rachel and Zeke are arguing about the situation with Stingray. Zeke canít understand why it has to be kept a secret, but Rachel says that she wonít be stopped from seeing Stingray and reminds Zeke that not all secrets are bad. Zeke doesnít agree, so Rachel asks him why he didnít tell Bree about all of the graffiti at the school. Bree demands to know what theyíre talking about.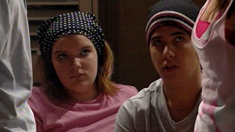 ..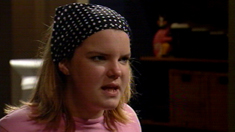 Zeke then follows Bree into number 26, trying to explain why he did what he did. She says that it was bound to be because of her appearance and she doesnít care, she can look after herself just fine. She starts to wonder if Zeke has a problem with the way she looks, but he says that he doesnít Ė and that he loves her. Bree explains that love was the same reason she didnít mention Rachel and Stingray Ė she knew that they were special to each other and just wanted them to be happy.
At Tomís, Karl has finished putting him to bed and returns to tell Susan that heís asleep. Susan is worried about Tom expecting Libby to visit, but Karl doesnít think heíll even remember the next day and he had to say something to calm Tom down. Susan says that itís sad to see Tom like this, as he was so independent. Karl admits that he feels terrible for allowing it to go so far and says that he used to ignore his fatherís confused phone calls Ė even laugh at them. Karl starts to cry and Susan leans over to hug him.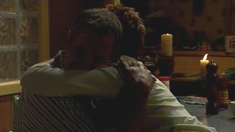 ..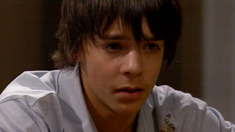 At number 28, Rachel and Zeke blow out the candles on the cake and Bree suggests that they each say a few words. Rachel says that she wishes her dad were there with them now. Stingray then pipes up and says that, although he didnít know Alex for long, he knew how much he loved his kids and would do anything to protect them, and also how he was mad about Susan. Rachel starts to cry and Stingray hugs her. Zeke then simply says ďHappy birthday, dadĒ before looking away, trying not to cry.
At Tomís, itís the early hours of the morning and Karl gets up to find Tom about to set light to a pile of papers in the middle of the lounge room. Karl stops him just in time, as Susan appears and Tom explains that the kids were cold and he needed to warm the place up. Karl is confused, but Susan quickly explains that the kids are fast asleep in bed. Tom is satisfied and gets up to leave. Susan tells Karl that Tom canít go on like this Ė he needs 24-hour medical care. Karl says that he knows of a place in town, and heíll visit them the next day. Susan insists that thereís no other option and goes to check that Tomís ok, leaving Karl alone to contemplate the situation.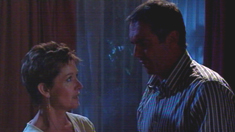 ..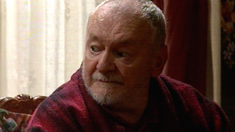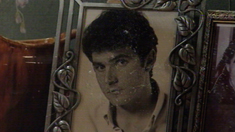 ..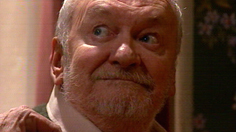 The following morning, Karl returns from visiting the home, as Susan stands in the kitchen and Tom sits, looking at him. He tells Karl that Susan told him what was going on, and Karl goes over to Tom and says that he saw two of his old party mates at the home. He says that itís big and clean and thereís even a garden, but Tom doesnít want to know. Karl says that itís just not safe for him to be alone any more Ė he could have burnt the house down the night before. Tom feels like an old fool, but Karl disagrees and tells him that everythingís going to be fine and theyíll go to the home later that day.
Susan and Karl then help Tom with the packing. He takes a photo of Karl from the mantelpiece and puts it in his bag, before Karl helps him put on his cardigan. Tom says goodbye to Gough the dog and Karl then puts his hand on Tomís shoulder and tells him that itís time to go.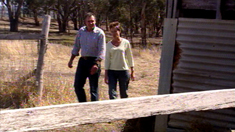 ..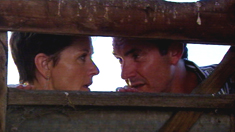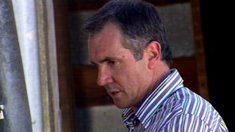 ..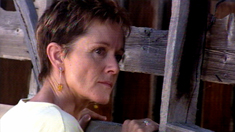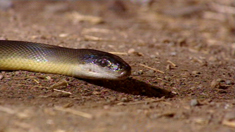 ..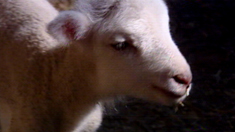 Later on, Karl and Susan are walking around the farm, remembering some of the times theyíd been there in the past. Susan remembers the looks she used to get from Karlís mum, who knew full well that they werenít just going out for a walk. Karl mentions one particular incident during a storm and they carry on walking until they hear a young lamb in a barn. They look inside and see the lamb trapped with a snake. Susan tells Karl that he has to do something but he isnít sure, so Susan moves towards the barn door. Karl gives in and agrees to go inside and Susan tells him to hurry up. As Karl is inching closer toward the lamb, Susan suddenly screams at him to watch out, before apologising. She insists on coming in to help and suggests that Karl distracts the sheep while she rescues the lamb. Karl starts shouting at the snake, as Susan darts out of the door and the snake vanishes. Karl is pleased with himself, until Susan looks horrified and tells him that itís back.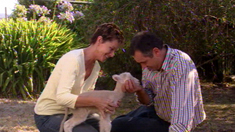 ..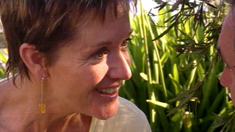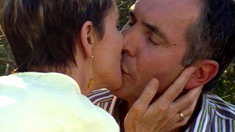 ..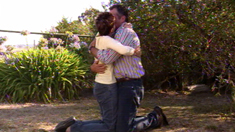 Moments later, Karl and Susan collapse on the ground outside, laughing about the whole thing. Karl tells Susan that sheíll have to take the lamb home now, as it canít be left alone on the farm. They mention that the lamb reminds them of Cassie, before it runs off. Karl watches, laughing, as Susan looks at him and reaches out to touch his face. Karl looks at her and they finally share a kiss. They then sit up and embrace.
Summary by Steve