.
Magic Moments > 2007 > The 2007 Season Premiere Episode 5121

Written by Chris Hollow, Directed by Gary Conway

Episode Title: Unconscience

Toadie, covered in blue paint, gives Steph a necklace for Christmas. Rosetta has dressed up in sexy lingerie for Frazer who tells her she could seduce any guy she wants, then kisses her, but then blows her off saying he has an appointment. Guy is holding Steph, Charlie, Toadie, Katya and Zeke hostage. Zeke hits him with a pillow causing him to fall and drop his gun. Toadie keeps him held down while the others escape. Rosetta tells Paul she had made a pact with Pepper that she'd be with a guy by midnight. Paul holds up a watch, saying it's only 8 o'clock. While Toadie runs outside number 32, he is shot by Guy, and falls to the ground.

Toadie is lying outside number 32 with Karl and Steph trying to revive him. Karl tells Katya to check his pulse, as Boyd drives up and asks what's going on. Guy bursts outside shouting, demanding that Boyd give him the car keys. He then trips over Toadie's arm and Steph and Karl wrestle him to the ground. Boyd checks after Toadie and says he's not breathing nor has a pulse.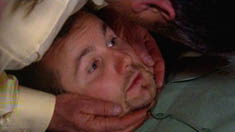 ..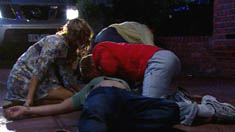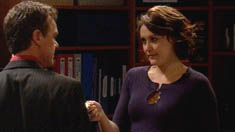 ..
At the lawyer's office, Rosetta isn't impressed by Paul. He tells her she is very desirable, and he knows she feels the same way about him. He starts kissing her, but she doesn't back down saying this wasn't how she had imagined it. She kisses him back, and they lay on her desk. Paul clears the desk, but at that moment there is a knock. It's Frazer, and he calls from outside that he needs to talk to her. They ignore him, but he continues knocking saying he knows she's in there. Paul tells Rosetta not to let him ruin their moment, but Frazer insists he isn't leaving till she talks to him.
Back outside 32, Guy is being taken away by the police. As he is led to the car, he yells that he and Katya still have unfinished business to attend to. He is then lowered into the car and driven away. Karl tries to comfort Katya, telling her it'll be alright. Toadie has been put onto a stretcher, and is being carried onto the ambulance. Steph asks to go with him to the hospital. Boyd tells Karl that the paramedics said that Toadie is in a serious, but stable condition, and Karl says that Boyd did very well. Steph asks if Karl can look after Charlie while she travels to the hospital in the ambulance. Boyd offers to drive her, but she says she doesn't want to leave Toadie's side. Steph then lashes out at Katya, saying she causes devastation wherever she goes, and she should get the hell out of Erinsborough.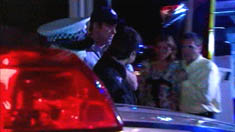 ..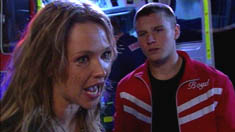 Back at the office, Rosetta opens the door to Frazer who is holding white carnations. He tells her he feels terrible about what happened that afternoon and he'd like to explain. Rosetta says there isn't any need, and tries to shut the door on him saying she's flat out, but Frazer stops the door with his foot. He light-heartedly offers to help her, saying took legal studies in high school, but she refuses. He then offers to sit and watch, or make her teas or coffees, but she says she can make her own. He says she must surely want company as she's in there working on her own, but she asks him to go. However Frazer continues to talk, saying he was an idiot at that he would change what happened that afternoon if he could. She doesn't listen however and asks him to move his foot. Just then Paul appears behind Rosie, and without saying a word, Frazer walks away looking hurt. Rosie closes the door, and Paul tries it on again, but she tells him he too should go. He asks what she's going to do about her Christmas deadline, but she replies that she doesn't care about that, and wants to be left alone. Paul believes she's getting her own back for what happened in the cellar, and tells her it won't work as she's worth fighting for, before walking away. Now alone, Rosie picks up her phone and calls Pepper, asking her to come over now as it's an emergency.
At number 28, Karl is on the phone explaining to Susan why he can't make it to Shepparton. He hangs up, and Katya says that Steph was right; she should leave as she's done enough damage as it is. Karl says she doesn't need to go anywhere, and Zeke tells her it wasn't her fault. However Katya says Guy only ever showed up because of her. Karl says she tried to warn people about him, but no-one would listen. He apologises for also having not listened to her.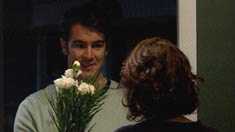 ..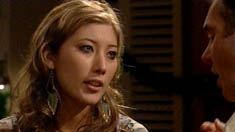 Steph is in the hospital, distraught about what has happened to Toadie. Boyd tells her he's unconscious and in a critical condition, and that the doctors don't know if he'll be okay. Steph asks if it's possible that Toadie will die. Boyd explains that Toadie has lost a lot of blood and stopped breathing, so it's not looking good.
Pepper arrives at Rosetta's office, demanding that she tell her everything. Rosetta starts talking about Paul and how he was so passionate, and how he made her feel like she had no control. Pepper agrees, thinking she is talking about Frazer, but she is surprised and appalled when she learns otherwise. She asks what happened with Frazer and Rosie says she just isn't interested in him. Pepper maintains that he's crazy about her, but Rosie is confused as to why he ran away from her when she put the lingerie on and threw herself at him. Pepper asks what went wrong, but Rosie doesn't know describing how one minute it was happening, the next it wasn't. She explains how she then went to the office to do some work when Paul showed up and one thing led to another. She then says how she never understood that phrase, and doesn't understand how one thing can lead to another, as surely people have control of their actions. Rosie recounts how Paul cleared the desk. Pepper says it's gross but "totally hot". But then Rosie tells about how Frazer then showed up, and that if he hadn't, she and Paul would have had sex. Pepper is therefore relieved that Frazer showed up, but Rosie disagrees saying Frazer spoiled everything, because by the time he left, the moment had passed. Pepper says that although she usually advises against affairs with hot sexy millionaires, she has to remind her that Paul is a man who left his wife on their wedding day for another woman, so he isn't the best man to get involved with. Rosie says that she knows, but every time he is near her, it's like she can't help herself. Pepper tells Rosie she needs a buffer – someone to save her from Paul. She discloses that she has a proven track record, and tells the story of how she confiscated the phone of her friend who kept going back to her "nutter" ex, and punched the ex in the face. She begs Rosie to let her punch Paul or Frazer in the face, but Rosie says she doesn't her to punch anyone.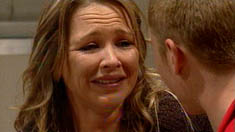 ..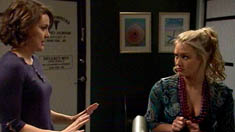 Paul is in the toilets of the Scarlet Bar and stands at the urinal next to Frazer. Frazer asks him if he's having another lonely Christmas, as he didn't see him out there with anyone but Paul replies that Christmas isn't over yet. Frazer, noticing that Paul is clearly nervous standing at the urinals with him, carries on talking, telling the story of his worse Christmas, when his car Bessie, broke down just outside Alice Springs. He smugly asks if Paul is struggling, and he says he'll leave the tap running to help him.
Frazer sits at the table with his beer, as Pepper walks up to him saying she thought he wanted Rosie. He says he does so she asks why he rejected her, calling him a pencil and hitting him with his flowers. He says he didn't mean for it to happen that way. Pepper tells him that when a beautiful woman presents herself to you in lingerie, you do not run away, especially if it's someone you like! He says he knows he stuffed up, but did try and make it up to her. Pepper holds up the flowers and tells him that white carnations are what you give to someone when their mother dies. She asks him again if he wants to be with Rosetta, but Frazer thinks she's too good for him. Pepper says that Rosie does like him, but at the moment thinks he isn't interested, which is causing her to make really dumb decisions. Frazer confesses he ran away from her because he didn't want to rush things with her, and was trying to be a gentleman. Pepper tells him to tell Rosetta that, not her. He agrees, but then goes to take a sip of his beer. Pepper snatches it from his hand, calling him a moron, and tells him to go now.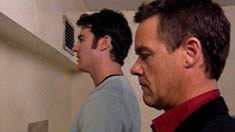 ..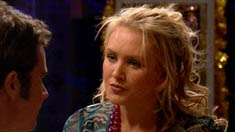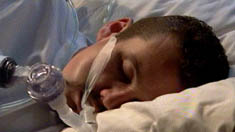 ..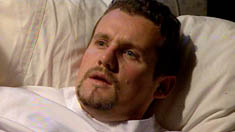 At the hospital, the doctors are still frantically trying to keep Toadie alive. Toadie dreams about a doctor operating on him. In the dream, Toadie asks the doctor what's going on. The doctor explains he was shot in the back, but Toadie says he can't feel anything. The doctor says that Toadie should be suffering, like Max is. Toadie asks what the doctor means, and he tells him he must remember Max as he hasn't been away that long. He says Max is still hurting from when Toadie stabbed him in the back when he swooped in while Steph was upset, like he had wanted to for ages. Toadie says it wasn't like that. But the doctor says he can't lie to him, and reveals that the doctor is also him! The doctor Toadie tells the patient Toadie that he is there because of karma, and that he deserves to die. Cut back to reality, Toadie's heart rate begins to drop, and the doctor says he needs blood.
Later at the hospital, Toadie is being resuscitated with the defibrillator. Toadie is now dreaming about Steph who says she'll always be there for him. She tells him not to let go, and that she loves him. But then Toadie's heart rate flat-lines and the doctors pronounce him dead. Steph appears again telling him not to let go, and his heart rate miraculously starts up again, as the doctors quickly give him oxygen.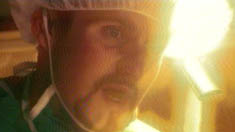 ..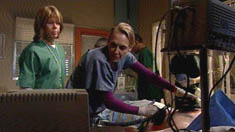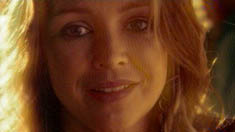 ..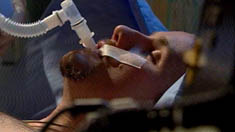 At number 28, Karl has made Zeke and Katya a hot drink. Zeke feebly asks if Toadie's going to be alright, and Karl says they just have to hope for the best. Zeke worries that the whole thing is his fault because if he hadn't have hit Guy, Toadie wouldn't have got shot. Karl says he's the reason why everyone escaped, and if anything he's a hero. But Zeke replies that he doesn't feel like one. Karl says he's brave as most people would have just frozen on the spot. Zeke says he wasn't being brave, it just happened, and Karl says exactly, he was acting instinctively. Zeke asks if they should go to the hospital and says maybe Karl could help out. But Karl says he'd rather just leave it to the professionals. He says he'll go to the hospital to give Charlie back to Steph. Zeke and Katya say they'll stay to give Steph some space. As Karl leaves with Charlie, Katya thanks him for everything.
Back at the hospital, Karl asks the doctor how Toadie is doing. She says he's just about alive and that she'd thought she'd lost him but he just managed to pull through. Karl asks how serious his injuries are. The doctor says the bullet is removable, but a fragment splintered off and is lodged near his spinal cord. Karl asks if there is spinal damage, but she says she doesn't know yet. Steph runs in and asks if there's any news. Karl says he's stable and Steph says she needs to see him, but the doctor tells her only immediate family would be allowed. Steph begs her to let her see him, saying she's his girlfriend, and the doctor agrees. She passes Charlie to Boyd and follows the doctor. Boyd is upset to have heard Steph call Toadie her boyfriend, and says he might go home and get some stuff for Steph and she may want to stay a while. He passes Charlie to Karl who says he'll ring him if there's any news.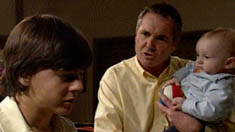 ..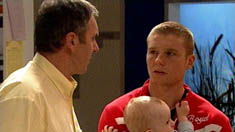 At number 32, Boyd picks up the Christmas tree and the phone which have been knocked on the floor. He finds a bag of presents and a card from Toadie, which are addressed to his "second family". Boyd picks up Steph's gift, and reads the card. It says "To my best mate Steph, all my love, Toadie".
A now stabilised Toadie is lying on the hospital bed with Steph by his side. She says she's not sure if she could say this stuff if he was awake, but that they've always been friends and she remembers the first time they met, and how Toadie went around telling people she had a thing for him, and how she thought, "dream on!". She says its funny how first impressions change, and that looking at his face now, he looks so beautiful and she doesn't want to lose him. She then tells him she loves him.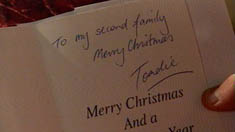 ..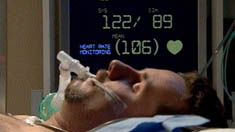 Rosetta is walking up to number 30 when she is distracted by Paul who walks up behind her. He tells her there's no-one home at his place if she fancies finishing what they started before. Just as he goes to kiss her, Pepper opens the front door. She tells Paul to get lost, and orders Rosie inside. Pepper and Rosie walk into the kitchen where Frazer is sitting holding a rose. Pepper says she'll leave the two of them alone, and holds her ear up to the door to listen to what happens. Back in the kitchen, Frazer tells Rosetta how things hadn't gone as he'd planned that afternoon, and he didn't mean to hurt her. He says that he'd panicked as Pepper had told him she was inexperienced so he didn't want to rush things with her and take advantage. Rosie is still confused however pursuing that she'd thrown herself at him. Frazer says he's probably the biggest idiot of all time, and that he's crazy about her, and does want her. She says she doesn't know. She appreciates his honesty, but can't deal with it right now. He says that's fine and gives her the flower as he leaves, wishing her a happy Christmas. Pepper quickly hides, and then walks round into the kitchen. She tells Rosie that Frazer had never said any of that stuff to her before, and that apart from the compulsive lying, he's a perfect guy. Rosie says that she's never been so confused in her life, and doesn't know whether to follow her head, or her heart.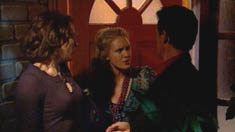 ..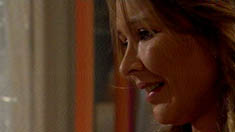 Karl and Steph and watching Toadie, when Boyd returns asking how he is. Karl says they're prepping him for surgery, and Steph says they just need to keep their fingers crossed. Boyd gives Steph the bag of her things for if she wants to stay and she thanks him. He then gives her Toadie's Christmas present, and he and Karl go to get some food. Steph opens the present and gasps at the silver necklace. She picks it up, and whispers thank-you to Toadie through the glass.
To read the next episode in this sequence, click here...
Summary by Mike