.
Magic Moments > 2008 > Carmella and Chloe's Departure Episode 5598

Written by Scott Taylor, Directed by Gary Conway, Produced by Neal Kingston
Channel Ten: 03/12/08, Five: 11/03/09
Lucas confesses that he told Sam about the wedding. Libby tries to accept that fact that Sam hasn't come to cause trouble. Dan and Libby arrive at Sam's ultrasound. Sam tells Dan that she doesn't want Libby to have anything to do with her baby. Carmella tells Rebecca that she has spoken to Oliver and she and Chloe are moving to Lisbon. Harold admits that he has cancer. Didge makes a deal with Harold: she'll think about going home if he comes back with her. Zeke pushes Declan, telling him that he'll hang out with whoever he wants.
At Erinsborough High, Declan and Rachel discuss the lack of response from Didge. Donna is excited about the last day of school and plans a road trip during the holidays and aims to cheer everyone up with the muck-up day. Principal Simpson isn't impressed, but Kyle defends the idea, pointing out that chaining yourself to someone's mum is no less inappropriate. As Simpson leaves, Kyle tells Zeke that he has something planned. The fire alarm rings and everyone goes out to the courtyard. On their way out, Rachel asks Zeke about his new mates and he tells her they're great.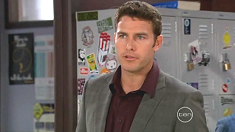 ..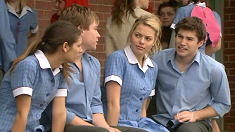 Libby and Dan arrive at school, talking about Sam's awkwardness at the scan. Dan insists that she was fine with Libby being there. Andrew tells them to start taking the roll. The teens talk about Kyle, noting that he probably set off the fire alarm. Ringo decides that they need to better his prank, but Donna's idea to park Simpson's car in his office isn't well-received. Ringo and Donna go to talk to Zeke about prank ideas, but he turns down Ringo's offer to help him with pranks and there is an uncomfortable atmosphere between them.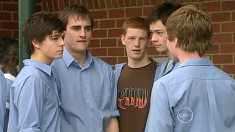 ..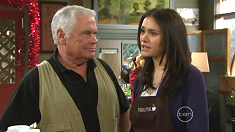 At The General Store, Susan, Karl and Lou have taken a break from working at the allotment. Before they leave, they talk to Carmella about her going-away party, but she says that it doesn't feel right leaving when Harold is sick. Susan notes that he would want her to be happy. Carmella tells them that she thinks it will be a permanent move: Portugal sounds amazing and she'll be closer to Rosie and Frazer. Sam and Elle enter and after a bitchy comment about Sam digging in the dirt, Susan, Karl and Lou head back to the allotment. Elle wants Carmella to sign over her share of The General Store, but she refuses, not wanting to cut her ties with Erinsborough. Sam says that as long as she has friends here, she'll never lose her ties. Carmella promises to think about it.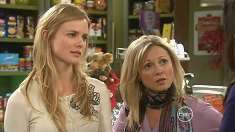 ..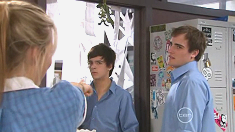 Ringo tucks a stream of toilet paper into Zeke's pocket and Simpson tells them all to go outside because recess isn't over yet. As he goes toward his office, he finds the entire room covered in toilet paper, leading directly to Zeke's pocket. Simpson orders him to tidy it up despite his protests that he didn't do it. Kyle goes over to help him and noticing that he and Zeke are standing under the mistletoe, everyone starts shouting at them to kiss each other. Zeke gets angry, calls them pathetic and slams the office door behind him.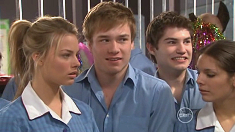 ..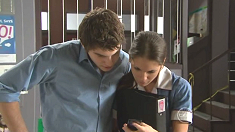 At the end of class, Rachel asks Zeke why he is hanging around with Kyle, as she thinks he's an idiot. Zeke defends him, saying that Kyle doesn't make him feel like the punchline all the time, unlike with Declan and Ringo. He doesn't believe that they're really his friends and he feels like he's just tagging along with them. He leaves the classroom just as Declan makes another gag about him kissing Kyle. Declan receives a text from Didge.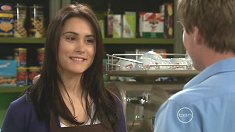 ..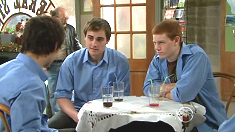 Miranda tells Steve and Rebecca about the message: Didge says she's alright and with a friend. Steve isn't satisfied but Rebecca is pleased that someone is looking after her. Toadie comes over and they start discussing Carmella's party. Rebecca asks him if he has any work for her to do, but he doesn't and she says she is getting sick of all her spare time. Carmella confirms to Ringo that he trip to Portugal isn't just a holiday, but he is delighted for her. He says that she deserves to be happy and wants her to stay in touch. She promises she will and gives him a free lunch. They hug. He stops at Zeke and Kyle's table on his way out, saying that he'd like to see them try and better his prank. Once he's gone, Zeke confirms that he has everything they need.
As they talk about some school issues, Libby, Dan and Andrew get distracted by someone banging the door, then hear a bunch of kids screaming as they're chased through the school by people wearing balaclavas. Realising they have been locked in, Andrew calls the police.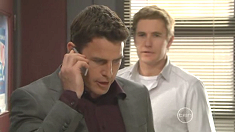 ..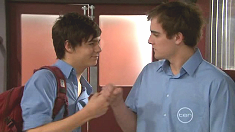 The police reveal the 'intruders' as Zeke, Kyle, Justin and Shane. Rachel is shocked to see her brother. Libby guesses that it was Kyle's idea and Andrew threatens expulsion, but Zeke takes the blame, saying that it was all his idea. Later, Karl and Susan have arrived and are furious. Dan and Libby suspect that he is taking the blame for Kyle, but he insists he isn't. Andrew tells him that they'll all start next year on suspension. Zeke and leaves and tells Kyle about their punishment, who thanks him for taking the rap.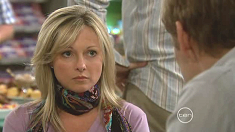 ..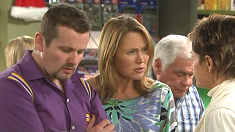 Dan tells Sam that he doesn't care what she wants; he won't tell Libby that she can't have anything to do with their child. Meanwhile, Toadie suggests that Zeke is feeling pressured to act the way he is and they're worried about the effect Justin and Kyle are having on him. Steve is worried as he still hasn't heard back from Didge. Elle asks Carmella if she has given any thought to singing over The General Store. She says she has and asks for everyone's attention:
Well, this is harder than I thought. I can't believe I'm actually going. You've all been such a huge part of my life. It's been a tough year and I wouldn't have pulled through it if it wasn't for all of you. [to Rebecca] Especially you, you crybaby. Yeah, sure, I'll be leaving behind the bricks and the mortar, but I will be taking the most important thing with me: your friendship. But I've actually got one more thing to say. There's someone missing from this picture today. Someone who put a roof over my head when I needed it: Harold. I'm actually going to be selling my half to the store to Elle today. Yes, on one condition. I think Harold should be linked to this store forever as a tribute for everything that he's done for all of us, so with Elle's permission, I'm proposing a name-change. I'd like to rename this place 'Harold's Store.'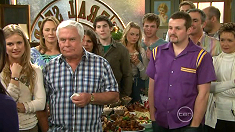 ..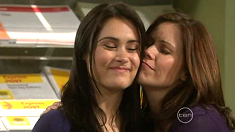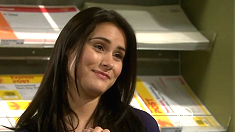 ..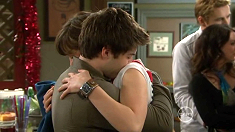 Everyone applauds and suddenly realise that Harold and Didge have returned, with Harold hoping that the name change will mean he will get free herbal tea. Everyone is happy to see them and Miranda thanks him for bring Didge home. Harold corrects her, saying that Didge brought him home and that she's a remarkable young lady. Harold hugs Carmella and Didge hugs Declan. He tells her never to run away like that again.
The Parkers with Declan, Donna and Rachel, arrive at number 26, after hearing Bridget's story about the backpackers. Miranda promises to buy her a new phone and ipod, but Steve disagrees, saying that she won't be rewarded for running away. Miranda takes him and Declan into the kitchen. Didge tells the girls about Harold's illness and she doesn't know if he'll be okay. It made her realise how lucky she is to have Steve and Miranda and her 'ace friends', as Donna points out. They hug and Didge tells them how much she'll need them.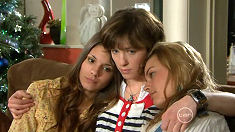 ..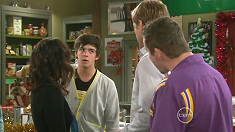 Carmella signs the contract, selling her share to Elle. Rebecca notes that Harold's news has put things into perspective - life is too short to hang onto things for the sake of it. She also points out that Carmella and Elle have come such a long way from throwing food at each other. Zeke enters and immediately brushes off Libby and Dan, telling them to get over it and insists that everything is fine. He then hugs Carmella and says goodbye. She lets him get a drink free of charge, much to Elle's amusement.
Later, Carmella, Rebecca and Chloe walk to the taxi as the Ramsay Street residents surprise them. Carmella hugs them all, wishing goodbyes to Karl and Susan, Ringo, then Elle, who says that it won't be the same without her. At the taxi, Rebecca and Carmella share a final hug. They all stand and wave as the taxi drives Carmella and Chloe out of the street.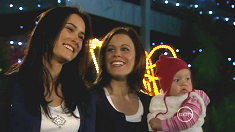 ..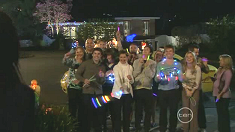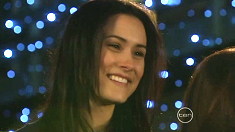 ..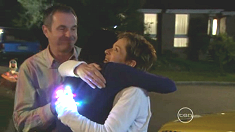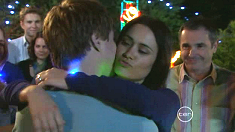 ..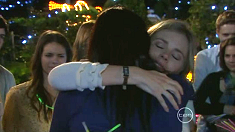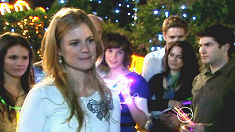 ..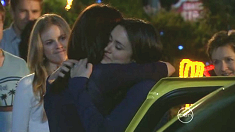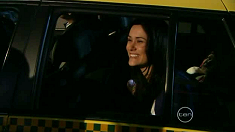 ..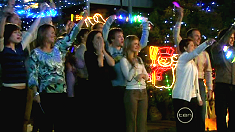 Carmella arrives at the hospital, waking Harold. She says that although tomorrow will be tough for him, she wanted to give him something to remind him that he's not alone. She hands him her rosary beads. She assures him that their prayers will see him through his illness. Before she leaves, Harold asks her to pray with him one last time.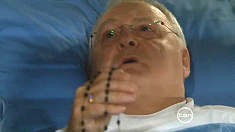 ..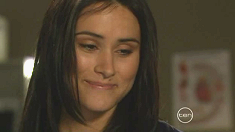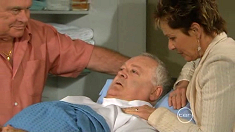 ..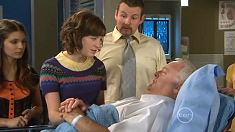 The following morning, Lou and Susan are at Harold's side just as Karl comes in and they take him to the operating theatre. In the corridor, Zeke, Rachel and Toadie are waiting to wish him good luck. Didge arrives just in time to tell him that he was right and everyone was worried about her, but now it's his turn. She promises to be there when he gets out and kisses him on the forehead as they wheel him away.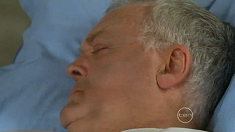 ..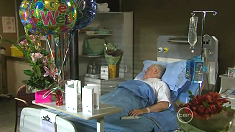 After his operation, Harold wakes up in his hospital room, alone with 'Get Well' cards and balloons. He remembers arguing with Karl about his illness, believing that he doesn't have the strength to fight it. He turns his head away from the balloons and closes his eyes.
Featured Regular Characters: Steve Parker, Miranda Parker, Bridget 'Didge' Parker, Daniel Fitzy' Fitzgerald, Libby Kennedy, Karl Kennedy, Susan Kinski, Rachel Kinski, Zeke Kinski, Carmella Cammeniti, Chloe Cammeniti, Donna Freedman, Ringo Brown, Rebecca Napier, Declan Napier, Lou Carpenter, Jarrod 'Toadie' Rebecchi, Elle Robinson
Guest Cast: Ian Smith as Harold Bishop, Peter Flannigan as Andrew Simpson, Simone Buchanan as Samantha Fitzgerald, Christopher Milligan as Kyle Canning, Chris Toohey as Justin Hunter, Ryan Bate as Shane Gregory, Patrick Flynn as Constable Mike Watt
Trivia Notes
• In an October 2008 interview with Inside Soap, Natalie Blair spoke about her departure: "I initially asked the writers to do something dramatic, such as killing her off, but they pointed out that Carmella had been through so much that it wouldn't be fair to the audience. They felt fans would want Carmella to be happy - and now that I've filmed the scenes, I have to agree. It's a low-key exit, but very satisfying."
• The General Store is renamed Harold's Store
• Donna's proposed road trip involves visiting 'big things' throughout Australia, such as The Big Pineapple, The Big Koala and The Big Prawn

Summary by Conor