.
Magic Moments > 2009 > Libby and Daniel's Wedding Episode 5637

Written by Stuart Gaunt, Directed by Jovita O'Shaughnessy, Produced by Neal Kingston
Channel Ten: 03/03/09, Five: 05/05/09
Harold announces his plans to leave and visit Sky for her baby's birth. Toadie is shocked that he's leaving so soon and wants to organise a party. Simon tells Cass that he glued Paul's doors shut. Bridget realises that Miranda and Joanna know each other. Joanna reveals that after giving up Riley and Bridget, she had two daughters. Bridget refuses to take Joanna's money. Joanna thinks Bridget, much like she was, is too young and not ready for motherhood.
Having just been kicked out of number 26, Rebecca and Declan are at Charlie's, pondering over where to set up home next. Rebecca suggests the best option is a room at Lassiter's, but Declan is less than pleased with her choice, considering Paul's previous deceit. Ignoring that, and attempting to put the past behind her, Rebecca phones Paul. Yet, on the other end is conniving Cass Freedman at Harold's Store, who, despite him being a few feet away, says that Paul is unavailable.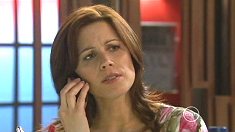 ..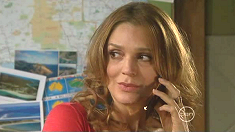 ..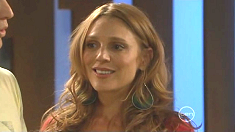 So Rebecca and Declan try somewhere else, this time at number 32 with Steph. Pleading for spare beds, they find themselves in luck as Steph and Charlie are going to visit Lyn for a while. As Declan goes away to phone Bridget, Rebecca hints to Steph of her slight jealousy of Cass over Paul. However, Steph is quick to assure her that the only emotion for Paul at number 32 is hatred, pure hatred!
Back at Charlie's, Cass comes over to interrupt Steph and Lucas, who are busy with Libby and Dan's wedding arrangements. Cass asks Lucas if Rebecca has an invite, but, clearly possessing a hidden agenda, Lucas recognises this and laughs off Cass' genuine desire to need be part of the community! Afterwards, Libby and Dan walk in, as Libby is desperate to spend one last night on the tiles as a singleton. Dan, on the other hand is more concerned about Libby's health on the big day, than her partying skills, but Libby wishes he would be less over-protective. Over at a table, Simon is still fiddling with his earphones, whilst Tegan is whining about missing an evening of television. Cass focuses her attention on other matters, and when she sees Libby and Dan, she rushes over to wish them luck, but obviously has something more to discuss – the invites. Libby remembers the dresses need to be collected from Harold's, and Cass has an idea.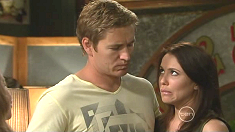 ..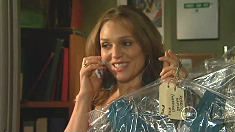 Later at Harold's, Cass persuades Tegan to distract the waitress, whilst she searches for Rebecca's dress out the back. Frantically rummaging around, Tegan gets the waitress to reach for some items on the high shelves, to keep her occupied. Moments later though, Libby and Dan come in to collect the dresses, unaware of the shenanigans behind the kitchen door! Cass steps it up a gear, as Tegan panics, and engages them in a conversation about her cousin Danielle's lavish wedding. When Cass finally picks Rebecca's dress out, she phones Tegan to tell her to meet her out the back, who then forgets all about the conversation, leaving Dan and Libby very worried about Tegan's sanity!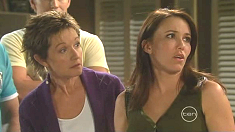 ..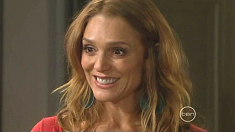 At number 28, Libby comes back to tell all that every dress has gone missing, and blames it on the wedding curse. Susan, being the optimist she is, suggests using some floral but antiquated numbers she has, but Libby wants none of it. Afterwards, Cass knocks on the door to return Susan's wobbly casserole dish. Hearing about the problems with the dresses, she offers to help make some new ones and gets herself involved with the wedding.
Later on during the night, Libby is sitting on the sofa holding a toy troll, unable to sleep, and with terrible stomach pains. Karl and Susan come over shortly after, and Libby asks if they will both walk her down the aisle, and they both agree. Karl passes her a necklace to wear on the day.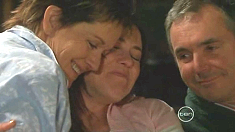 ..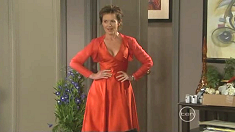 ..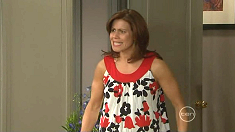 The next day at number 28, things are hectic as everyone is getting suited and booted. Rachel and Ty talk about their upcoming performance at the service, but Rachel is worried that she pressured him into it, but her unnecessary concern is more to do with her underlying thoughts for missing Zeke. The dresses are ready for the big reveal, and Susan is first to step out in something red and revealing, which more than stuns Karl! Although when Rebecca follows, in something, according to Cass is more "age appropriate", Rebecca's jealousy and hatred for her is fuelled once more. Cass is beaming with glee as she relishes in Rebecca's unhappiness, and goes off to tend to her own dress.
Later that day at the wedding venue, everyone is gathered outside for the service, while Rebecca, still reeling from her earlier humiliation, gets Donna - who assures Rebecca that Sass only did this because she sees her as competition - to make some alterations to the dress, as she watches Paul and Sass together. Andrew Simpson comes over to compliment Rebecca on her choice of clothing, and she ends up feeling that the dress wasn't the fashion crime she thought it was!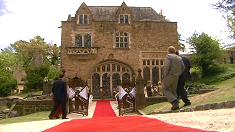 ..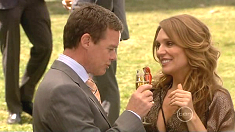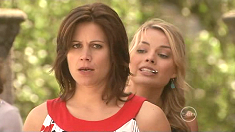 ..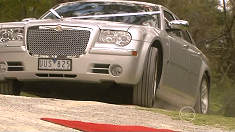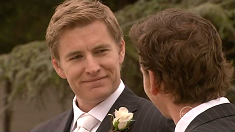 ..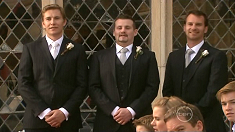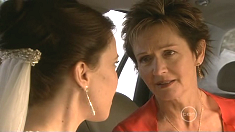 ..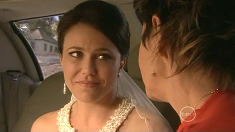 Daniel then arrives, with Lucas, Toadie and Callum. Toadie and Callum head down to join everyone, while Lucas reassures Dan that Libby won't get cold feet and tells his brother how happy he is for him. They make their way down to join the celebrant, as Lucas and Elle share furtive glances.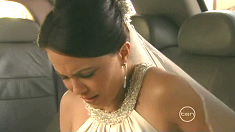 ..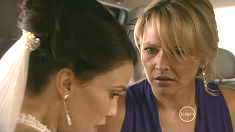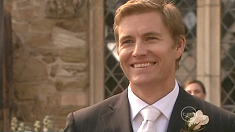 ..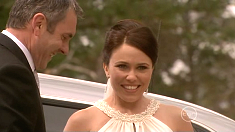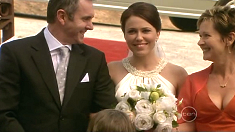 ..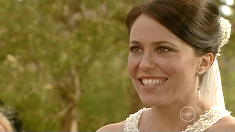 The bridal car then arrives, and inside Susan and Libby have a final mother-daughter moment, before Libby asks for a moment to gather her thoughts. Dan seems worried as everyone except Libby gets out of the car. Inside, Libby is in agony and Steph is sent in to find out what's keeping her. Libby insists that she'll be fine in a minute and is determined to go through with the wedding. Dan is getting agitated and starts to walk towards the car when Libby gets out and he smiles.
With Ben and Charlie as page boys, Rachel and Steph as bridesmaids and Karl and Susan on each arm, Libby makes her walk down the aisle.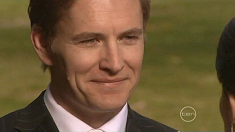 ..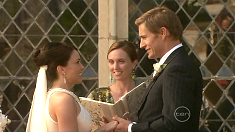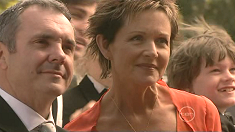 ..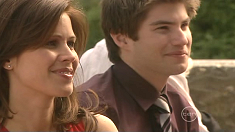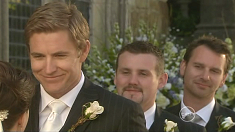 ..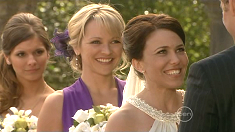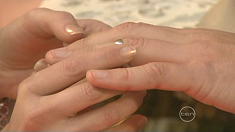 ..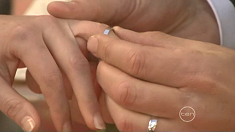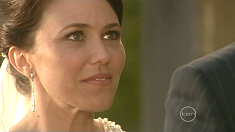 ..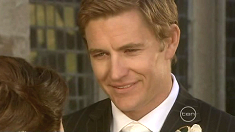 Dan then attempts to say his vows:
"As I take your hands I promise to never let you go... Obviously you get your hands back in a sec. You know what I mean. I learnt this so I'm going to finish it. My heart is sure and my commitment is strong. I take you as my life's partner to spend all my days at your side... aw, I've stuffed this. Listen Lib -, every time I look at you, you drive me crazy. When I'm not with you, I can't stop thinking about you. I can't be without you. I'm rapt that we finally got our act together so let's just get hitched, hey?
They exchange rings and share their first kiss as man and wife.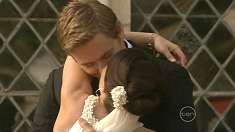 ..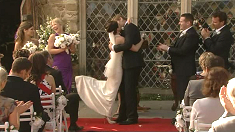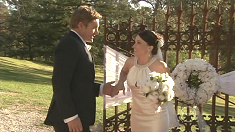 ..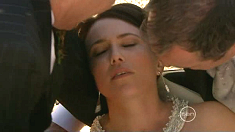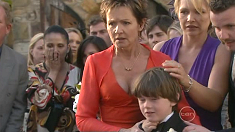 ..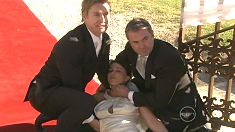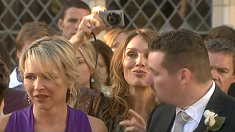 ..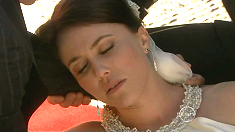 Following the beautiful service, newlyweds Mr and Mrs Fitzgerald walk back up the aisle, but the joy is cut short as Libby collapses. As Karl rushes over to help, Dan is filled with dread and calls for an ambulance, while Cass inappropriately muscles in to take a quick photo of the unconscious bride.
Featured Regular Characters: Libby Kennedy, Daniel Fitzgerald, Karl Kennedy, Susan Kennedy, Ben Kirk, Rachel Kinski, Zeke Kinski, Stephanie Scully, Charlie Hoyland, Lucas Fitzgerald, Toadfish Rebecchi, Callum Jones, Elle Robinson, Paul Robinson, Rebecca Napier, Ty Harper, Declan Napier, Ringo Brown, Donna Freedman
Guest Cast: Tottie Goldsmith as Cassandra Freedman, Chelsea Jones as Tegan Freedman, Mauricio Merino Jr as Simon Freedman, Peter Flanigan as Andrew Simpson, Brenda McKinty as Trisha Fettleman, Erin Cody as Server
Trivia Notes
• Tegan has a cousin called Danielle, who married an NRL player in Sydney. They married on the harbour and at the reception, her uncle Chris got sick. He blamed it on a bad oyster, but her aunt Diane said it was the wine
• Cass claims she is a fashion school drop-out
• Libby still has a troll doll she had as a child
• The wedding venue is Montsalvat in Melbourne
• Brenda McKinty appears in her fifth role, having previously played guest characters including the celebrants who married Boyd and Janae, Janelle and Steiger and christened Chloe Cammeniti
Summary by Matt