.
Magic Moments > 2009 > Steve and Miranda's Departure Episode 5740

Written by Sam Meikle, Directed by Jovita O'Shaughnessy, Produced by Neal Kingston
Channel Ten: 24/07/09, Five: 25/09/09
Miranda and Steve discussing funeral arrangements. Steve telling Dan that he wants the police report for the accident. Lucas discovering that the Star is reporting on the Parker accident. Lucas and Steph hugging. Steph and Elle discussing the Parkers accident and Lucas.
At number 22, Lucas arrives home, Elle is sitting at the table behaving mysteriously. Elle immediately confronts Lucas saying that he didn't tell her that Steph tried to "jump" him. They start to row when Donna comes downstairs. Elle asks Donna how she is, Donna is holding a dress that she was going to wear to the funeral. Elle heads upstairs to help Donna iron the dress.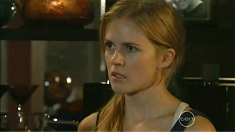 ..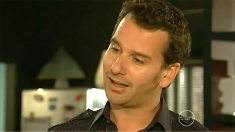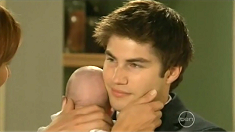 ..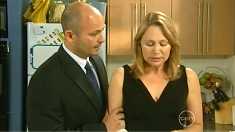 It's the morning of the funeral and Elle comes downstairs to find Lucas in the kitchen. Lucas apologises to her says that he didn't tell her about Steph because he felt silly. Lucas tries to convince her that he doesn't want anyone else, he wants her. Elle feels stupid that she's crying about herself when it's the day of Didge's funeral.
At number 26, Declan is lifting India off her changing mat when Rebecca walks through. She tells him they both look beautiful. Steve walks through to the kitchen, shortly followed by Rebecca and Miranda, Steve and Rebecca start making food for the funeral.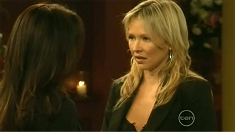 ..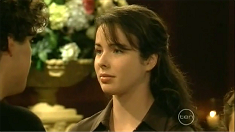 Steph is signing a guest book as Libby is commenting that it feels odd not bringing flowers. Steph is worrying what Lucas is feeling, she feels guilty about dropping him in it. Katie, Harry and Sophie arrive shortly followed by Toadie, Callum and Dan. Dan admits that in the main funeral room it is pretty emotional. Kate, Harry, Toadie and Dan all go to sit down but Sophie doesn't want to sit with them. Callum stays with her and asks if she's "freaked out." Sophie admits that she is. Callum admits he is also scared and asks Sophie to come and sit with him.
Miranda, Steve, Dec, Rebecca and India enter. Ringo, Donna, Sunny and Zeke are all standing beside where the coffin is and they tell the Parkers about their funeral decorations. They pull back the curtain and reveal a shrine dedicated to Didge. It is full of their favourite memories of her and Miranda is reduced to tears. Steve and Miranda thank them for all their work. Handing India to Rebecca, Dec goes to hug his friends.
Dan approaches Declan asks him if he's ready for the funeral to start.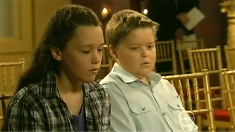 ..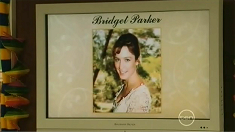 Steve takes the stand and starts off by saying that he shouldn't be there. He says that no parent should have to bury their own children. He says, voice breaking, that everything about Didge was just a gift. He says that they all love Didge before walking off the stand.
Next to take the stand is Zeke. He says that Didge was simply awesome, "amazing". He breaks down in tears saying he misses her.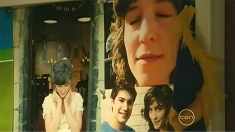 ..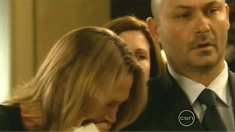 Ringo starts to play some of Didge's favourite music. Dec hands India to Donna and goes to take the stand. He thanks everyone for coming and says that Didge loved everyone. He is trying to hold back the tears as he brings out his speech from a jacket pocket. As he starts his speech India starts to cry so Donna and Ringo decide to take her out. Donna and Ringo don't know what to do so they try pulling faces which doesn't work. Meanwhile Dec is inside telling everyone his favourite memories of Didge. As he is reading his speech, Ringo can be seen through the glass doors doing impressions of an aeroplane to calm down India. This is having no effect and Dec eventually breaks down when remembering her saying that he loved her with all his heart. Eventually, Ringo remembers that Didge used to sing to India, he remembers that she used to sing the "Boys of Erinsborough" song to her, just as starts to sing this, Dec breaks down again when telling everyone that Didge always knew what to say. He keeps looking at the door where he can see Ringo and Donna trying to comfort India. As he has now stopped speaking, everyone inside can hear that Donna and Ringo are singing the "Boys of Erinsborough" to India, so to comfort India, the congregation start singing the tune. India has stopped crying so Ringo and Donna re-enter the room. Dec says "I love you Bridget Parker."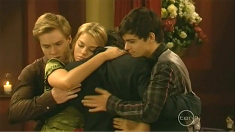 ..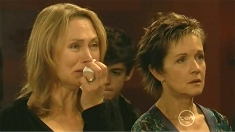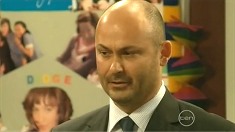 ..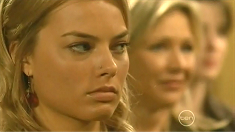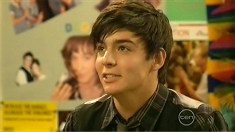 ..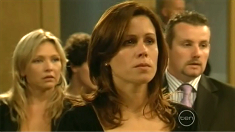 Sunny, Zeke, Dec, Ringo, Donna and India arrive back in the street from the funeral. They decide to head to number 26 for the funeral party.
Elle and Lucas are in the driveway of number 22, Lucas notices he has missed calls. Elle heads off to the funeral party, Lucas says he will join her later.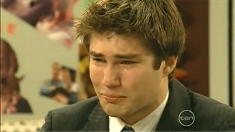 ..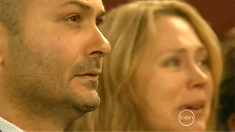 ..
The wake is just starting as Lucas arrives at number 26. He drags Elle into the kitchen, he has managed to get the crash report and it has come back that the accident was caused by dodgy steering after Steph serviced the car. Elle tells him he has to "cut her loose" as she is responsible for Didge's death.
In the nursery, Declan is putting India in her cot when Steve and Miranda come to say their goodbyes. Both of them say goodbye to India and they want Dec and India to visit Oakey soon. Miranda hands back India to Dec before they head out of the nursery.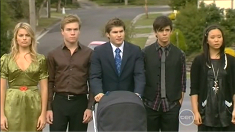 ..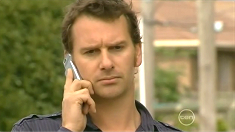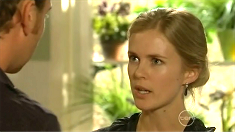 ..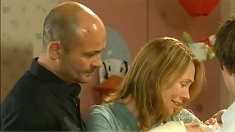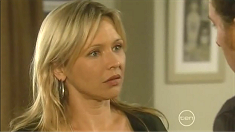 ..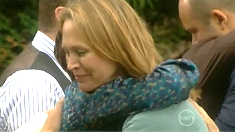 Back in the living room, the Parkers are getting ready to leave, Toadie helps them out with their suitcases. Lucas tells Steph that he has something to tell her and drags her into the kitchen.
Outside, the Parkers pack their suitcases into the waiting taxi. They hug all the neighbours goodbye before getting into the taxi. Miranda gives Dec an extra hug before she gets into the taxi, thanking everyone as she does so. Susan tells her not to forget them, Miranda asks everyone to remember Didge. The taxi leaves the Street.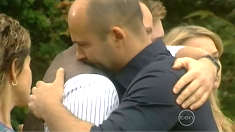 ..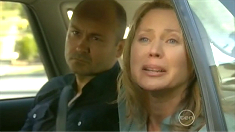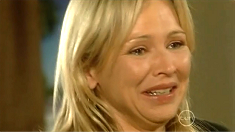 ..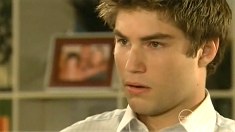 Inside number 26, Lucas has just told Steph the cause of the crash. She is panicky that she will get arrested just as Dec, Rebecca, India, Donna and Ringo enter the room. Dec overhears Steph panicking that she will be arrested and is instantly suspicious. He demands to know why she thinks she may be arrested. Lucas warns her not to say anything, but Steph is feeling so guilty she starts to speak to Dec. Voice shaking, Steph tells Dec that the accident was caused by steering problems after she'd serviced the car. Hands shaking, and through her tears she tells Dec that she is "so sorry." Dec is finding all this hard to deal with and backs away from everyone. Rebecca looks on with a frightened look in her eyes.
Featured Regular Characters: Katie Ramsay, Harry Ramsay, Sophie Ramsay, Sunny Lee, Susan Kennedy, Karl Kennedy, Zeke Kinski, Ringo Brown, Libby Kennedy-Fitzgerald, Stephanie Scully, Daniel Fitzgerald, Lucas Fitzgerald, Toadfish Rebecchi, Callum Jones, Miranda Parker, Steve Parker, Rebecca Napier, Declan Napier, India Napier, Paul Robinson, Elle Robinson, Donna Freedman
Guest Cast: None
Trivia Notes
• Final appearance of Steve Bastoni as Steve Parker and Nikki Coghill as Miranda Parker
• Bridget's funeral

Summary by Louise