.
Magic Moments > 2009 > Paul and Rebecca's Wedding/Lyn's Return Episode 5761

Written by Elizabeth Packett, Directed by Jovita O'Shaughnessy, Produced by Neal Kingston
Channel Ten: 24/08/09, Five: 26/10/09
Lucas tells Elle that he needs some time alone to sort his life out... Paul admits that he's using the same vows as he did at his wedding to Lyn... Rebecca tells Paul to write some new vows or there won't be a wedding... Susan announcing that the theme of Rebecca's hen night is drawing - a naked man... Rebecca gets carried away and takes her clothes off too... Rebecca is furious and says she won't marry him as Paul finds her and tells her to put her clothes back on, as he won't marry someone who embarrasses him like this...
At number 22, Paul arrives, closely followed by Rebecca, and they both agree that the situation was very embarrassing. He reminds her that he found her naked, but she says that it was only in front of her friends, though Paul then points out that there was a male model there too. Rebecca says that they were just posing, nothing else was going to happen, and Paul backs down a little, saying that maybe he could have reacted a bit differently, but he doesn't want to share quite so much of her. Rebecca calls him a jealous idiot.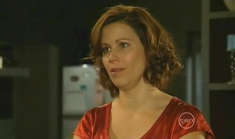 ..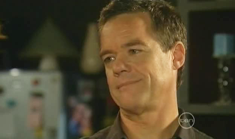 Later, Paul brings Rebecca a cup of tea and she says that, with her history, she swore she'd never let any man tell her what to do again. Paul promises that he won't let her down like that again, and says that he just wants to become her husband. Rebecca smiles, but is slightly annoyed when Paul mentions the yacht idea again, until he explains that this is slightly different, and is a classy boat. Rebecca is also pleased when he says that he's spent all afternoon rewriting his vows and he's about to read them out, when she stops him and says that she wants to hear them for the first time when she becomes his wife.
The next morning, at number 22, Donna, Harry, Kate and Sophie find a grumpy Paul at the dining table, and Elle explains that he's trying to memorise his vows. Donna takes the Ramsay kids upstairs to help them get ready, joking that she's got the hair straighteners ready for Harry. Elle tells her dad not to panic, and that everything's going to be fine, then he spills coffee all down his wedding shirt.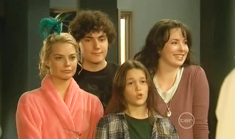 ..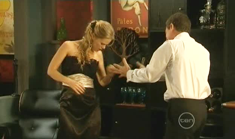 Later, Paul is delighted as Elle has used bleach to get the stain out, but then he notices that she's managed to get it all over the back of her black dress, and has ruined it. Donna and the Ramsay kids come downstairs and ask if they can do anything to help, but Paul sends them away, asking that they don't say anything to Rebecca about any of this. Donna says that, no matter how stressed they are, Rebecca's going to be panicking even more.
At number 26, Rebecca sits on the couch, casually chatting to Miranda on the phone about how she isn't nervous at all, and that the marriage feels right. As she hangs up, Declan and India come in, all dressed up for the wedding, and Declan admits that it's going to be weird having to move out when the Parkers sell. Bridesmaids Susan and Sophie then arrive, though Susan is suffering from morning sickness and not feeling too good. As Susan rushes off to the bathroom, Rebecca tells Declan that Lucas isn't coming, so he wonders if he could bring someone else instead.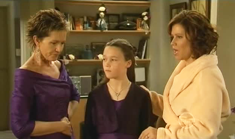 ..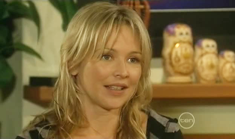 At number 32, Steph is surprised when Declan invites her to the wedding. He says that it can mark a fresh start for them, and she admits that she never thought she'd be attending another one of Paul Robinson's weddings, but she'll go - for Rebecca.
At number 26, Rebecca appears in her wedding dress, and Declan tells her that she looks beautiful and that he's proud of her. She tells him not to make her cry, but thanks him for being there with her. As she realises how long she's been waiting to marry Paul, she starts to get a little teary, but then declares that this is it.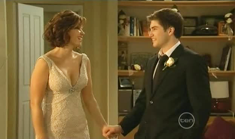 ..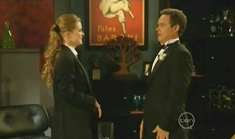 At number 22, Donna has dressed Elle in Paul's old tuxedo for the wedding, but is sticking in pins so it fits better. Donna then runs off to meet Ringo, and Elle checks with a nervous Paul that he's ready.
Paul and Elle enter Harold's Store, where he's now hungry and wants something to settle his stomach. He orders a pie, but Elle tells him to have a salad wrap, as it'll be less messy. Lucas then comes in and compliments Elle on her outfit, and awkwardly wishes her a great day. She then looks round and notices that beetroot juice is dripping from the bottom of the wrap. She knocks it out of Paul's hands, but not before it's dripped onto his shirt.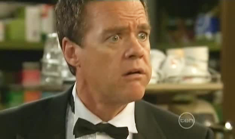 ..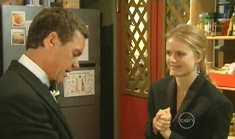 In the store kitchen, Elle has given Paul her shirt, pointing out that she can get away without one, but he can't. He thanks her for being the best best man he could wish for, and they rush off.
At number 26, Susan admits that she probably won't be able to go in the wedding car, but she'll get Karl to drive her along later. Sophie then gives Rebecca a blue garter - her something new and her something blue. She thanks them and puts it on, as Declan looks the other way. Declan then gives her Bridget's ring - her something old and something borrowed. They both wish that Bridget could be there with them, and then they leave.
..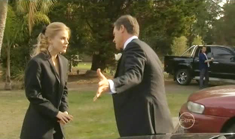 At the Lassiter's car park, Paul's car won't start so Elle tries to book a taxi but there's an hour wait. Paul spots Lucas and sends a reluctant Elle over to get him, though she's desperate to find another option.
At the docks, the guests are wondering what's keeping the groom. Harry mentions that he might have got cold feet, and Steph wouldn't be surprised either, given Paul's track record. They then spot the wedding car arriving, carrying Rebecca, and Donna tells them all to smile and act normal. As the car pulls up, Rebecca waves from the window and then Declan gets out, and Donna breaks the news to him that Paul hasn't arrived. Declan goes back to the car and says that they'll need to do a little more driving, as a few guests haven't arrived - though Rebecca quickly realises he's talking about Paul. She agrees to go for a little chance, giving Paul another chance to arrive.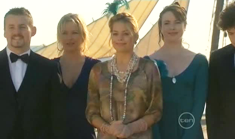 ..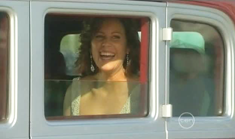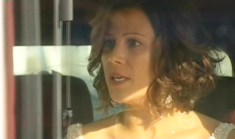 ..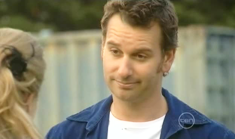 Back at Lassiter's, Lucas tells Paul that there's a problem with a starter motor. As Elle and Lucas argue about throwing out the car or taking the time to fix it - a metaphor for their relationship - Paul rushes off and steals Lucas's ute. Elle hops in and they drive off, promising to return it.
Back at the docks, Rebecca's car returns, and Donna has to break the news that Paul still hasn't arrived. Sophie starts to complain, but Rebecca is confident that Paul will be there, and they're about to drive off again when they stop suddenly, almost crashing into Paul and Elle. Paul gets out and rushes over to Rebecca, and starts to reel off a list of excuses for his lateness, but then he stops and tells her how beautiful she looks. She says that he drives her mad sometimes, and suggests that they go and get married. As the wedding party walks off, a taxi appears at the other end of the docks...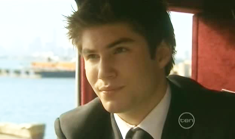 ..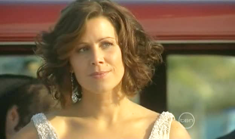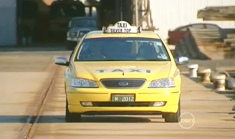 ..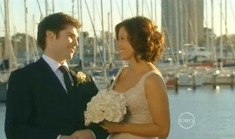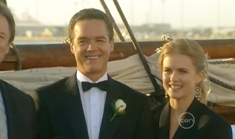 ..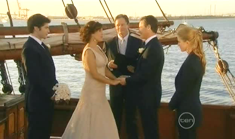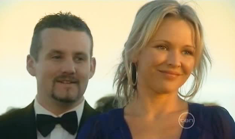 ..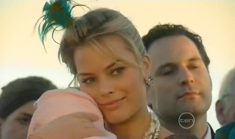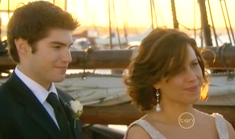 ..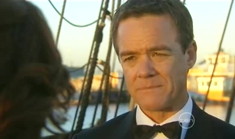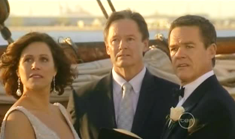 ..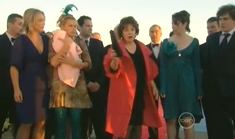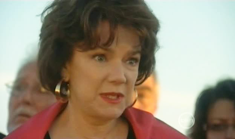 ..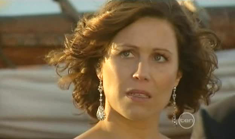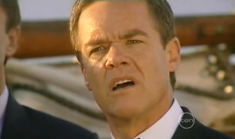 ..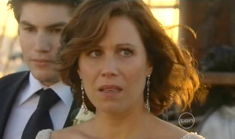 The music begins, and Rebecca asks Declan to stand in as her matron of honour, as it doesn't look like Susan's going to make it. They then walk down the aisle together.
Later, Rebecca has finished her vows, and Paul gives his. Just as he's coming to the end, Lyn suddenly appears in the crowd, shouting at them to stop, as he'll be breaking the law if they get married. She declares that she's Mrs Robinson and they're still married. Paul doesn't know what to say, and Rebecca looks horrified.
Featured Regular Characters: Kate Ramsay, Harry Ramsay, Sophie Ramsay, Susan Kennedy, Stephanie Scully, Toadfish Rebecchi, Rebecca Napier, Declan Napier, India Napier, Paul Robinson, Elle Robinson, Donna Freedman, Lucas Fitzgerald
Guest Cast: Janet Andrewartha as Lyn Scully
Trivia Notes
• Janet Andrewartha returns to the cast again, at the time intended as another guest stint, but she later became part of the regular cast and stayed for almost two years
• Past characters Bridget Parker and Miranda Parker are mentioned
• Donna mentions that she's going to the wedding with Ringo, but he does not appear
• The (uncredited) celebrant is played by Bruce Kilpatrick, who previously appeared in 1986 as Gavin McKinley and between 1991 and 1992 as Bob Landers

Summary by Steve