.
Magic Moments > 2013 > Sophie, Andrew and Tash's Departures Episode 6610

Written by Catherine Roden, Directed by Fiona Banks, Produced by Alan Hardy
Channel Eleven: 29/03/13, Five: 26/04/13
Sophie tricks Paul into signing her application for music school... Sonya realises that, even without her memories of the wedding, she's still lucky to be alive... Tim Collins suggests that Paul should offer Elaine a settlement... Tash tells Andrew she's leaving, and she wants him to go with her...
At number 26, Tash is complaining to Karl and Susan about fitting all her belongings into one tiny bag. Karl suggests having a little send off even though there is not much time. Tash tells Karl that she's flying to Sydney tonight and then her connecting flight to Paris is the following morning. Tash starts to panic as she cannot close her suitcase due to over packing, Susan mentions that she's going to Paris - the fashion capital of the world, on that note Tash decides to remove one pair of jeans. Karl excuses himself to get some champagne for the celebration later. Susan comes over to help Tash close her suitcase and asks about her plans to stay with Summer and whether Andrew will go with her. Tash says it's going to be a big decision for Andrew to make.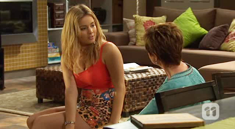 ..
At number 22, Andrew walks in and Paul is on the phone, Paul ends the call and asks Andrew if he got the book from the bar. Andrew tells Paul that it doesn't feel right that Elaine Lawson will be taking a cheap settlement when she has mounting medical bills. Paul laughs this off and asks Andrews what he would prefer 'lose Lassiters, the house, be made bankrupt?' Paul asks again about the condolence book. Andrew tells Paul he did not get it, Tash refused to hand it over and she's planning to leave Erinsborough and go overseas. Paul is pleased by this and says to Andrew 'the sooner she goes, the sooner I can tell you what to do'.
At number 30, Toadie asks Sonya if she wants to come to the game, she refuses instead wanting to spend the afternoon with Nell. Toadie goes to check if his jumper is dry, Sonya asks if he got her gardening magazine while he was out. He tells her it's in his bag. Sonya goes into Toadie's bag and finds some papers on 'Regaining your memory through exercise and diet'. Sonya, obviously shocked, confronts Toadie, but he is concerned that Sonya may never remember or recover and that really scares both him and Callum.
..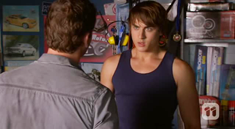 At the garage, Mason and Lucas are talking about car parts, Mason drops a box on the floor and show Lucas the magazine he was given. It's a lad's magazine, Lucas tells Mason that those types of magazines are not allowed in the workshop and are tacky plus illegal to have on display in the garage. Lucas tells Mason to start washing some cars; Lucas then puts the magazine under some papers.
Back at number 26, Chris is looking sad and eating chocolate cookies, and he tells Tash that he's really going to miss her. They hug; Andrew comes in and tells Tash he's decided to go with her.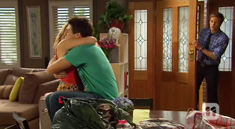 ..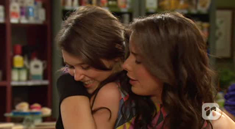 ..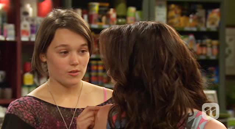 At Harold's, Kate and Sophie are talking about the music scholarship. Kate tells Sophie that Paul will 'freak out' when he finds out what she did. Sophie tells Kate that the school is 'perfect for her, it's where she needs to be'. After further discussion about keeping in touch and Kate suggesting she gets a transfer nearer to Sophie, Sophie tells her not to do that as she has Harry to keep an eye on her. Kate agrees to let Sophie go to Sydney. Sophie is happy, but wants Kate to come with her so she can tell Paul.
Back at number 22, Paul is outraged; he didn't give his consent for Sophie to go to Sydney. Sophie tells Paul that it was the consent form he signed, not the excursion trip to Canberra. Paul threatens to ring the school and retract the enrolment form, Kate steps in to calm the situation and Sophie pleads with Paul as she promises to study and get good grades. Andrew and Tash walk in holding hands, and Paul remarks 'So you've decided to chuck your life away and go globetrotting around the world?' Andrew tells Paul he's decided to go to Paris with Tash and wants him to buy his shares of Charlie's. He tells Paul it's a good investment and he wants out, he can't do it anymore. Paul tells them all to go, as he doesn't care what they do.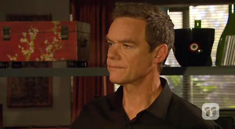 ..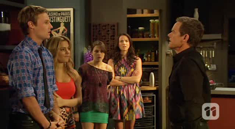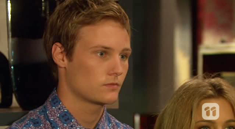 ..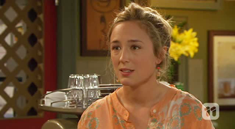 At Harold's, Vanessa gets a mysterious cheque in the mail from 'Touch International Media Co' for $300. She's also chatting to Sonya about telling white lies to save people's feelings, and it gives Sonya an idea.
At number 30, Sonya is preparing dinner when Toadie comes in, and she casually drops into the conversation about the eggplant he ate at the wedding. Toadie suddenly realises that she's remembered something, hugging her as she talks about the dancing and the song performed by Karl and Ajay. Although Toadie is delighted, it's clear from her face that Sonya is lying to him.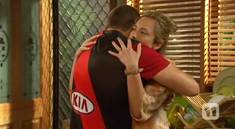 ..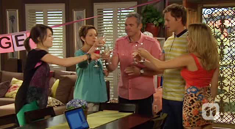 At number 28, Karl and Susan are hanging up a 'Bon Voyage' banner for Tash and Andrew. Susan asks Tash if she's all sorted for the trip, Tash mentions she has emailed her dad to say she may visit him and Emilia in Serbia. Susan is happy for Tash, then Andrew and Sophie walk in with their bags. Everyone is a little saddened by Paul's reaction, but Karl and Susan get glasses and pour champagne for everyone apart from Sophie, who has lemonade. Karl announces a toast 'to new beginnings'
Kate is ready to leave for the celebration party; she asks Paul if he's coming. He says 'No'. Kate reminds Paul that they are leaving and he may not see them for some time. Paul gives Kate the silent treatment, so Kate leaves for the party.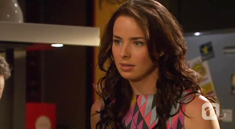 ..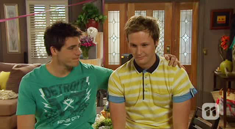 At the party, Chris and Andrew are talking; Chris tells Andrew his life would have been torture without him, Tash and Summer. He's the best mate a guy could have. Andrew says 'I am a better person knowing you' Chris and Andrew hug. Tash brings food out, while Sophie leaves the party to say goodbye to her friends. Kate enters number 28 alone and tells them all Paul is not coming.
At Harold's, Sophie and Callum are talking about Rani and how strangely she's been acting, Sophie asks Callum to look out for her. Callum and Sophie say their goodbyes; Callum gives her an mp3 with music on it – something to remember him by. She says her goodbyes to him, Toadie and Vanessa, and leaves.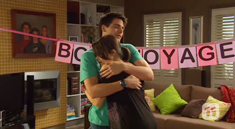 ..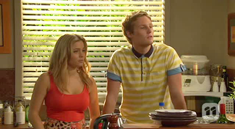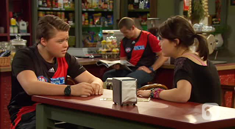 ..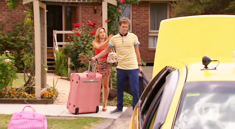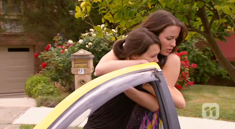 ..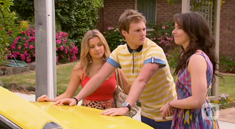 Back on Ramsay Street, Andrew, Tash and Sophie are putting their suitcases in the taxi, Paul comes out of his house wanting to speak to Andrew, he hugs him and tells him that he could never be a disappointment, and he was only hard on him because he loves him and wants the best for him. Paul gives Andrew a credit card for emergencies, Andrew refuses but Tash takes it and puts it in Andrew's shirt pocket. Paul tells them to take care, he goes over to Sophie, he hugs her and they both say 'I love you'. Andrew, Sophie and Tash all get into the cab, Tash shouts 'First Sydney... then Paris, France' and they all leave Ramsay Street. Kate and Paul watch them go.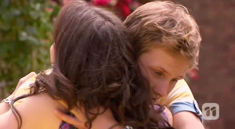 ..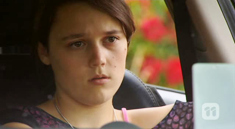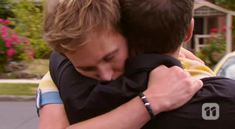 ..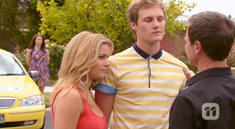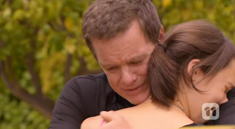 ..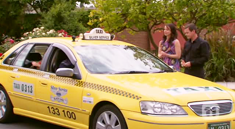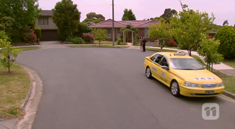 ..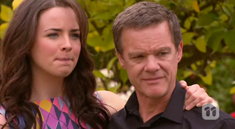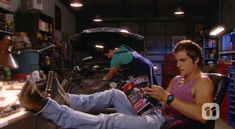 ..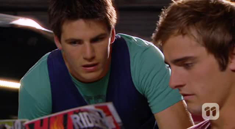 At the Garage, Kyle is looking at the magazine Mason left earlier called Hot Riderz. Kyle is showing Chris various risqué photos, but Chris is not interested until Kyle tells him to look closer at one of the photos, which looks like a younger version of Vanessa...
Featured Regular Characters: Sonya Rebecchi, Toadfish Rebecchi, Callum Rebecchi, Karl Kennedy, Susan Kennedy, Natasha Williams, Chris Pappas, Andrew Robinson, Paul Robinson, Kate Ramsay, Sophie Ramsay, Kyle Canning, Vanessa Villante
Guest Cast: Scarlett Anderson as Nell Rebecchi
Trivia Notes
• Final regular appearances of Valentina Novakovic (Tash), Jordan Patrick Smith (Andrew) and Kaiya Jones (Sophie)
• Tash's final words are "First stop Sydney, then Paris, France!". Sophie's final words are "I love you". Andrew's final words are "No, I don't need it."
• Past characters Michael Williams, Emilia Jovanovic, Summer Hoyland and Harry Ramsay are mentioned
Quotes
Paul: "Goodbye Natasha."
Tash: "Just once, do you think you could call me Tash, like everybody else?"
Paul: "Why would I do that, when Natasha is so much more beautiful."
Tash: "Now he tells me."
Summary by Kyle