.
News Headlines
| | |
| --- | --- |
| Five Advertising Continues | Jan 31 2008 |
Five has this week kicked off the next part of their advertising campaign to alert viewers that Neighbours will be moving on Monday February 11th. The television ads began two weeks ago, and their 'Same Ramsay Street, New Home' slogan will continue on the new ads, which will be seen on buses, and in newspapers and magazines. One of the ads is pictured below - but please be warned that it contains spoilers for UK viewers.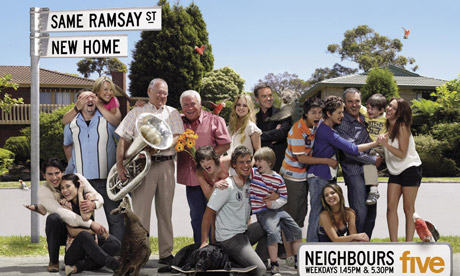 ..
In other broadcasting news, Channel Ten has bought the rights to show new soap opera Out Of The Blue. The Manly-based series will start filming next month, and was commissioned by the BBC as a replacement for Neighbours. It is currently thought that Out Of The Blue will act as the 6pm lead-in for Neighbours on Ten from later this year.

Alan Dale (Jim Robinson) has been cast in the London production of Spamalot and will be treading the boards as King Arthur from March. He'll also be appearing in the upcoming Indiana Jones and the Kingdom of the Skull and will shortly be back on Australian screens as Ray Walsman in the second series of Sea Patrol.
Last week saw Genevieve Lemon (Brenda Riley) win the Judith Johnson Award For Best Perfomance By An Actress In A Musical for her role as Mrs Wilkinson in Billy Elliot The Musical, at the 2007 Sydney Theatre Awards.
| | |
| --- | --- |
| Janet Andrewartha To Return | Jan 30 2008 |

Janet Andrewartha has returned to the set of Neighbours this week to resume her role as Lyn Scully. During an appearance at a Meet Your Neighbours Trivia Night on Monday, she revealed to the audience that she was returning, and later told a member of the Perfect Blend team that she was returning to filming this week and would be staying for a month, with some of her first scenes being filmed with Stefan Dennis (Paul), Carla Bonner (Steph) and Jackie Woodburne (Susan).
Janet left Neighbours in late 2006, as Lyn left Erinsborough for her honeymoon following a brief and disastrous marriage to Paul, later settling with Valda in Shelley Bay, rather than returning to Ramsay Street.
| | |
| --- | --- |
| Imogen Bailey Joins Cast | Jan 27 2008 |
Former supermodel Imogen Bailey has been announced as the latest signing to the Neighbours cast. Imogen commenced filming on Monday 21st January in the role of Nicola West, Miranda's vixen of a younger sister. She is quoted in the Sunday Herald Sun as saying, "Acting is a passion of mine. It has been a slow burn. I have done bits and pieces over the years. When my agent called and said I had the role, I thought he was joking." 30-year-old Imogen has previously appeared on reality shows Celebrity Big Brother, Skating On Thin Ice and Celebrity Survivor and had several minor film roles, but is best known for her modelling work. She reportedly filmed 14 scenes on her first day, and will debut on Australian screens in May.
| | |
| --- | --- |
| More On Five Timeslots | Jan 27 2008 |
Television schedules released today show that each episode of Neighbours will have ten showings across Five and Five Life.
On Five, each episode will debut at 1.45pm, with a repeat at 5.30pm and in the early hours of the next day, at 5.10am. The 5.10am showing will have no ad break, but will be signed for the hearing impaired. There will also be an omnibus at 12.30pm on Saturdays.
On Five Life, the previous day's episode will be repeated at 9.00am, while that day's episode will be shown again at 7.00pm. There will also be an omnibus on Sundays. These three showings will be repeated, an hour later, on the Five Life +1 channel.
In further news, the documentary New Neighbours On Five will be screened at 6.10pm on Sunday 10th February, the evening before Neighbours makes its debut on the channel. It will feature interviews with cast members and celebrity fans, behind-the-scenes footage and archive clips.
| | |
| --- | --- |
| Five Timeslots Announced UPDATED | Jan 21 2008 |
Five has today announced the timeslots for Neighbours, and it's good news for long-term fans. The show will be broadcast on weekdays at 1.45pm and 5.30pm, almost the exact times it has been shown on BBC One for over twenty years.
It was also announced that Neighbours will get a Saturday omnibus on Five at 12.30pm (which will also be shown on Sundays on Five Life) and a catch-up showing on Five's sister channel, Five Life.
UPDATE: We've since had it confirmed that, as on BBC One, the 1.45pm showing will be a new episode, with the 5.30pm episode a repeat. The show will be sponsored on Five by Weight Watchers.
| | |
| --- | --- |
| Delta For L'Oreal | Jan 21 2008 |
Delta Goodrem (Nina Tucker) has been announced as the likely candidate to take over as the new face of L'Oreal. The role was filled, until six months ago, by another former Neighbour, Natalie Imbruglia (Beth Brennan), but the Sydney Daily Telegraph is reporting that Goodrem is the rumoured favourite to succeed her.
| | |
| --- | --- |
| Weakest Link Replaces Neighbours | Jan 19 2008 |
Quiz show The Weakest Link is set to take the Neighbours BBC One evening slot, when the soap moves to Five next month. The quiz, hosted by Anne Robinson, has been on BBC Two (with occasional specials on primetime BBC One) since it began in 2000. The Children's BBC shows will be shown earlier to accommodate The Weakest Link, which, at 45 minutes, is 20 minutes longer than an episode of Neighbours. The Weakest Link is set to change channels on Monday 11th February, the same day that Five will begin screening Neighbours.
The 1.40pm lunchtime slot has already been filled by medical soap Doctors, which swapped places with Neighbours in November, leaving our favourite Australian soap to play out its final months in a new 2.10pm timeslot.
| | |
| --- | --- |
| Kylie Nominated At Brits | Jan 19 2008 |
Kylie Minogue (Charlene Robinson) has been nominated in the categories of International Female Solo Artist and International Album at the 2008 Brit Awards. This is Kylie's seventh nomination in the Solo Artist category (having won in 2002), while her album Fever won her the International Album award, also in 2002.
Kylie is also set to perform at the awards ceremony - due to take place on Wednesday 20th February in London's Earl's Court.
| | |
| --- | --- |
| Neighbours To Move On February 11th | Jan 16 2008 |
Five has this week started trailing the arrival of Neighbours on their channel, and finally provided us with a date for the move. Monday February 11th will see the much-publicised change in channels, and more details of the move, including confirmed timeslots, should be available shortly. The trailers can be viewed on the Trailers page in our Multimedia section.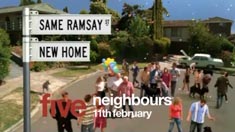 ..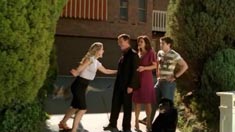 | | |
| --- | --- |
| Past Cast Updates | Jan 07 2008 |

Congratulations to Kylie Minogue (Charlene Robinson) who was awarded an OBE in the Queen's annual New Year's honours list. Elsewhere, her former co-star Jason Donovan (Scott Robinson), who returns to UK TV screens this week in the soap Echo Beach, has denied press reports over the years that he and Kylie had a serious falling out and stopped speaking. He has also admitted that he's proud of his Neighbours past and hopes that his new role in Echo Beach will lead on to more work.
Natalie Imbruglia (Beth Brennan) has separated from her husband, Silverchair singer Daniel Johns. The couple married on New Year's Eve 2003, but took the decision to split after their careers took them in different directions and they struggled to spend any time together.
And finally, Delta Goodrem (Nina Tucker) has denied recent rumours that her fiance Brian McFadden has been banned from marrying her, by his father, until he gives up smoking. Delta explained that the only reason for the delay in their wedding plans is their busy work schedules.
To view our archive of past news stories click here