.
News Headlines
| | |
| --- | --- |
| Scheduling Changes | Dec 21 2010 |

Further to our report that Neighbours will launch on it's new Australian home, Eleven, on Tuesday 11 January 2011, we can now confirm that the show will also be aired on Ten until Friday 21 January, becoming exclusive to Eleven on Monday 24 January 2011.
Channel 5 have also confirmed further scheduling changes for the Christmas period:
23 December 2010: 1.30pm and 5.30pm
24 December 2010: 1.40pm and 5.45pm

Neighbours will air on Fiver at the earlier time of 6.25pm from 21-24 December, returning at 7pm on Friday 7 January 2011 with a repeat of episode 6050, whilst the omnibus of episodes 6046-6050 will air on Saturday 8 January 2011 at 1.45pm.
The show will then return to its usual schedule on Monday 10 January 2011.
| | |
| --- | --- |
| More Scheduling Updates | Nov 28 2010 |

Neighbours will have some slight timeslot changes in the UK over the Christmas period. The Channel Five airings will remain mostly unchanged, with the exception of episode 6050 on Friday 24 December, which will see the lunchtime showing move to the earlier time of 1.20pm, whilst the teatime repeat will air at the slightly later time of 5.45pm.
Over on Fiver, the 7pm airing of Neighbours will move to the earlier time of 6.30pm for the week of 20-24 December, whilst the morning repeat will air at 11am. The Saturday omnibus will be broadcast on Christmas Day.
| | |
| --- | --- |
| Ringo Starts A Trend | Nov 25 2010 |

The death of Ringo Brown (Sam Clark) caused a stir among UK viewers with #Ringo becoming a trending topic on Twitter on Monday 22 November following the transmission of episode 6026 on Channel Five.
This follows a recent boost in ratings in the UK with episode 6021 in which Rebecca Robinson (Jane Hall) revealed that she pushed her husband Paul from the mezzanine of Lassiter's Hotel receiving 1.69 million viewers for the 5.30pm showing alone.
| | |
| --- | --- |
| Scheduling Updates | Nov 25 2010 |

It appears that Neighbours will not be taking as long a break as usual in the UK. Preliminary listings have the show scheduled as usual until Christmas Eve.
Meanwhile, Australian viewers will see this year's season finale on Friday 17 December, and the 2011 season will premiere on Monday 03 January 2011 on Ten before moving to it's new home on Eleven on Tuesday 11 January 2011.
| | |
| --- | --- |
| Brett Tucker Returns | Sep 05 2010 |
Perfect Blend can exclusively reveal that Brett Tucker will make an appearance as Daniel Fitzgerald as part of the ongoing saga over his child with Stephanie Scully (Carla Bonner). The scene, which will feature in episode 6011, was filmed prior to Brett's departure from the show in 2009.
| | |
| --- | --- |
| Neighbours Moving Home UPDATED | Aug 26 2010 |

Neighbours is to move from Ten, its Australian home of 24 years, to the network's new digital channel, Eleven it has been announced today. In a press release, Ten revealed that the serial will find a prime time home on Eleven, a joint venture between itself and US network, CBS "will broadcast bold, fun and entertaining content targeting the 13-29 demographic" from early 2011. How the move will affect the show in terms of production remains to be seen.
Originally airing on rival network, Seven in 1985, Neighbours moved to Ten in 1986, where it has been broadcast ever since and tomorrow celebrates its 6000th episode.
UPDATE: We can now verify that Neighbours will continue to air at the time of 6.30pm and confirm that the show will remain G-rated. Our sources have also advised us that whilst the channel is changing, there are no plans to make changes to the series itself.
| | |
| --- | --- |
| Comings And Goings | Aug 17 2010 |
Following his break from filming earlier this year, it has now been confirmed that Sam Clark will be making a permanent departure from Neighbours. He has already filmed his final scenes, which will form part of a cliffhanger, as the show takes a two-week break on Network Ten to make way for the Commonwealth Games in October.
Also departing Erinsborough is Blake O'Leary, as young Ben Fitzgerald leaves to attend a school for the gifted. Though it is possible he may be recast further down the track, there are currently no plans for the character to return. Ben will make his final appearance on Australian screens in September.
And finally, Eve Morey, who has been appearing for over a year in the recurring role of dog trainer Sonya Mitchell, has been upgraded to a regular cast member. The character will be seen reuniting with Toadie and making a more permanent home on Ramsay Street as the truth about Toadie and Steph's sham marriage comes out.
| | |
| --- | --- |
| Simone Buchanan Returns | Jul 11 2010 |
Another actor is to return to the Neighbours fold in 2010, with news that Simone Buchanan will reprise her role as manipulative lawyer Samantha Fitzgerald. Last seen in early 2009, when Sam left in shame after her lies about Dan being the father of her baby were exposed, it is currently unknown what brings the character back to Erinsborough. Simone will shortly begin filming her four-week return.
| | |
| --- | --- |
| Penny Cook Returns | Jun 11 2010 |
The Herald Sun reports that Penny Cook has reprised her role as Prue Brown, mother of Ringo, for scenes to air in August. Prue's return will coincide with the wedding of Ringo and Donna, which is set to form part of the show's 6000th episode week. Prue, last seen in 2008 during Frazer and Rosie's departure, will be back in Erinsborough for three episodes. We can also reveal that there are no plans for any of Ringo and Donna's other relatives - his brother Frazer (Ben Lawson) or her mum Cassandra (Tottie Goldsmith) - to return for the big day.
| | |
| --- | --- |
| Stephanie Scully To Depart | Jun 06 2010 |

The Herald Sun reports that Carla Bonner (Stephanie Scully) is to leave Neighbours after eleven years on the show. Having first joined the show in 1999 as part of new family, The Scullys, Carla replaced original actress Emma Roche after three weeks of filming,
re-recording all of her scenes.
Whilst most of the Scullys have long departed, Steph and son, Charlie, were recently rejoined on Ramsay Street by her mum, Lyn, and step-daughter, Summer Hoyland. Steph is currently involved in a sham relationship with best friend, Toadie Rebecchi, to cover for her pregnancy with the son of the already departed Daniel Fitzgerald (Brett Tucker). It is as yet uncertain what Steph's departure will mean for them.
Carla will film her final scenes in September before heading to LA for meetings and taking part in acting workshops. Speaking of Carla's decision to leave, Executive Producer, Susan Bower commented:
I'm very sad that Carla is leaving us and she knows the door is always open for Steph to return to Ramsay St. The storylines on air and coming up showcase what an exceptional talent Carla is and while fans will be disappointed, I promise Steph's farewell will be long remembered and will do the character proud.
Steph will remain on screen in Australia until the end of the year and on UK screens until early 2011.
| | |
| --- | --- |
| Rosemary Daniels Returns | May 5 2010 |
With filming underway this week on the 6,000th episode of Neighbours, The Herald Sun reports that Joy Chambers has flown to Melbourne to reprise the role of Rosemary Daniels as part of the ongoing 25th anniversary celebrations. Joy played hard nosed businesswoman Rosemary - daughter of show legend Helen - on a recurring basis since 1986 and last appeared in 2005.
| | |
| --- | --- |
| 25th Anniversary Opening | Mar 18 2010 |
With today marking Neighbours' 25th anniversary, what better time for the show to debut a brand new opening title sequence. This is the first complete overhaul of the titles in almost three years, with a fresh, sunny look, featuring the ever-present pool, barbecue and cricket scenes, with many shots reminiscent of the sequences that appeared between 2000 and 2002. The new opening also features the character names, for the first time since 2002. Below are a few shots, and we hope to have a full gallery and video added to the site within the next few days.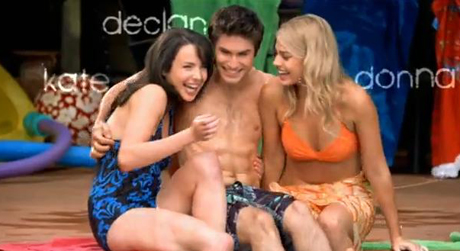 ..
..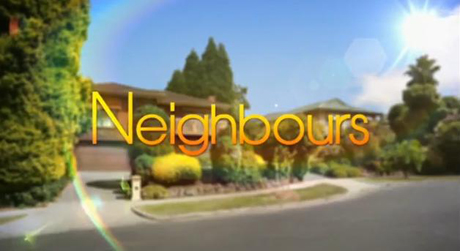 ..
| | |
| --- | --- |
| Neighbours Turns 25! | Mar 18 2010 |

Neighbours today celebrates 25 years on the air. For a show that was first broadcast on 18th March 1985 with the intention of appealing only to an Australian tea-time audience, it is nothing short of phenomenal that the inhabitants of Ramsay Street, through three decades, have become household names in over 50 countries around the world and Neighbours now holds the record for being the longest-running drama in Australian television history.
The milestone will be marked on screen in special episodes later in the year, which will coincide with another landmark - the 6000th episode. Cast and crew, past and present, will celebrate the 25th Birthday with a party in Melbourne on Friday night.
The creator of Neighbours, Reg Watson, has told The Perfect Blend that he is "amazed" at the success of the show - "I congratulate the actors and directors past and present, who helped achieve this. The Robinson and Ramsay children have all grown up now, with families of their own, as have millions of viewers who started watching the serial as teenagers. I'm sure all those viewers have fascinating stories they could tell."
All at The Perfect Blend would like to wish our beloved Neighbours a Happy 25th Birthday and extend a special thank you to all of the cast, crew and unsung heroes who have helped make the show over the years.
| | |
| --- | --- |
| New Opening Titles | Mar 17 2010 |
We've had lots (and lots) of emails in recent weeks asking when new opening titles will air, as the current ones have yet to be updated to remove Dan Fitzgerald, and add in recent arrivals Andrew Robinson and Summer Hoyland. We can now reveal that, barring any last-minute hitches, the new opening will hit Australian screens this Thursday, to mark Neighbours' 25th anniversary.
| | |
| --- | --- |
| Will Moore To Leave | Mar 10 2010 |
Perfect Blend can exclusively reveal that Will Moore is leaving his role as Harry Ramsay, after just a year. Will has decided to leave at the end of his contract, and will last appear on Australian screens in mid-June, though the door has been left open for him to return.
| | |
| --- | --- |
| Perfect Blend is Seven! | Feb 27 2010 |
Today marks the seventh birthday of Perfect Blend. We're marking the occasion with our feature, The Magnificent Seven, looking at some of our favourite features on the site from the past seven years. We've also added episode-by-episode endings for 2009 to our Cliffhanger Catalogue.
Thanks to everyone who has read Perfect Blend, and contributed to it, over the past seven years, and whilst regular updates are coming to an end, we will continue to be online as a resource & hope to complete those as yet unfinished sections, so stay tuned...
| | |
| --- | --- |
| Sandy Winton Joins Cast | Feb 24 2010 |
Perfect Blend can exclusively reveal that Sandy Winton has joined the regular Neighbours cast. 40-year-old Sandy has had guest roles in numerous Australian dramas, but is best known for his role as Heath Barratt in McLeod's Daughters back in 2007. Sandy will play Erinsborough High's new principal, Michael Williams, and will be joined on screen by Valentina Novakovic, who will appear as Michael's teenage daughter Natasha. Sandy and Valentina will first appear on Australian screens in May.
| | |
| --- | --- |
| James Sorensen Backs Declan Recast | Feb 18 2010 |
James Sorensen has backed the decision by Neighbours producers to recast his role as Declan Napier. Speaking to TV Week, James said he found the decision to leave the show after three years "very" difficult but supported the move to cast Erin Mullally in the role - "I'm really happy the character's going to continue because the producers and writers have given Declan some fantastic storylines," James said. "I'm really proud he's become as popular as he has." Asked who he will miss the most, James mentioned the twins who play India and Jane Hall, who plays his screen mum Rebecca - "I'll... miss Jane Hall, who's like my second mum in real life," he said.
| | |
| --- | --- |
| Declan To Be Recast | Jan 31 2010 |
The Herald Sun reports that James Sorensen has quit his role as Declan Napier after three years. James will finish filming in around two weeks, but the character of Declan will not be leaving Erinsborough, as the decision has been taken to recast the role. Producers felt that, with his relationship with Kate in the early stages and many other ties to the street, they weren't prepared to lose the character just yet, so 20-year-old Sydney actor Erin Mullally will step into the role, beginning filming immediately after James leaves.
| | |
| --- | --- |
| Mahesh Jadu Joins Cast | Jan 31 2010 |
Mahesh Jadu has joined the Neighbours cast as Erinsborough's newest doctor, Doug Harris. 27-year-old Melbourne actor Mahesh recently completed the film Taj and has signed a six month contract with Neighbours, which may be extended if the role proves popular. He will first appear on Australian screens in early March and on UK screens in May.
| | |
| --- | --- |
| Award For Reg Watson | Jan 28 2010 |

Reg Watson, the creator of the longest running drama in Australian television history, Neighbours, has been appointed a Member of the Order of Australia for service to the media as a pioneer in the creation and production of serial television drama
As well as Neighbours, Reg Watson, AM has been responsible for the creation of shows such as Sons and Daughters, The Young Doctors and Crossroads.
All at The Perfect Blend would like to wish Reg congratulations on the honour, which happily coincides with the 25th anniversary year of his most successful creation.
| | |
| --- | --- |
| Fergus Craig Still Watches Neighbours | Jan 08 2010 |

2009 Hackney Empire New Act of the Year, Fergus Craig & star of Star Stories is again performing the routine which he took to the Edinburgh Fringe Festival, this time as part of the Leicester Comedy Festival. Entitled Fergus Craig Still Watches Neighbours in it he explains why he's still a viewer of the Aussie Soap by showing clips from the show as well as home movies from his childhood.
The performance is on Saturday 6th February at Firebug, 1 Millstone Lane, Leicester, starting at 6pm. Entry costs £5. Call 0116 289 3524 for tickets or click here for more information.
To view our archive of past news stories click here