.
News Headlines
| | |
| --- | --- |
| Tom Oliver Not Leaving | Feb 27 2007 |

We've had several emails over the past few days about rumours that Tom Oliver has quit his role as Lou Carpenter after 15 years. However, a source on the show has let us know that it's completely untrue and Tom has absolutely no plans to leave.
| | |
| --- | --- |
| Perfect Blend Is Four! | Feb 27 2007 |
Today marks the fourth anniversary of the launch of Neighbours: The Perfect Blend. We're delighted to have grown to become the biggest and best Neighbours website during that time, and hope that the site will continue to grow over the next twelve months. Things to look out for over the coming weeks include the launch of our family trees and fan card galleries, as well as the usual biographies, interviews and news.
We'd also like to thank everyone who's read, and contributed to, the website over the last four years and hope we'll continue to have your support as we enter our fifth year online!
| | |
| --- | --- |
| Blair Off The Safari | Feb 13 2007 |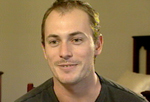 Blair McDonough (Stuart Parker) has become the fourth celebrity to be booted out of BBC Two's Safari School, at the beginning of the show's fourth, and final, week. Blair had impressed the rangers to begin with, but, as the other celebrities improved their skills, Blair seemed to remain consistently average and became the latest casualty. Actor Jeremy Sheffield, vocal coach Carrie Grant, athlete Jamie Baulch and actress Claire King still remain in the race to be crowned a safari ranger on Friday, and given the opportunity to release rescued big cats, from the Born Free enclosure, back into the wild.
| | |
| --- | --- |
| Benjamin Hart Joins Cast | Feb 11 2007 |
The Herald Sun reports that Benjamin Hart has joined the Neighbours cast and will film his first scenes shortly. Benjamin will be well-known to some UK viewers from his role as hippy Foz in Hollyoaks for the last six months of 2006, a role he left to appear in the movie Mr Right. Benjamin has apparently signed a six-month contract, and his character will be a cheeky backpacker from London.
| | |
| --- | --- |
| A Cameo For Vicky Pollard? | Feb 11 2007 |
Could Little Britain's Vicky Pollard be headed to Ramsay Street? Her portrayer, comedian Matt Lucas, is currently in Australia with David Walliams for the Little Britain Tour and has stated that he would love to have a role in Neighbours, either as Vicky or even "a woman called Erin Borough."
Also looking for a place in Ramsay Street is Kylie Booby, the winner of the second season of Australian Princess, the reality series which aims to turn "ordinary" Australian girls into princesses. Former beauty therapist Kylie has stated that she would love to make more of her newfound fame by getting a television role, with Neighbours at the top of her list.
| | |
| --- | --- |
| Actor Updates | Feb 11 2007 |

Former Neighbour Krista Vendy (Teresa Bell) has failed to impress in her latest role as Elena in Uncle Vanya, with reports suggesting that her boyfriend, Oscar winner William Hurt got her the role, in which she has been "woefully miscast".
Stephanie McIntosh (Sky Mangel) is set to launch her music career in the UK. Her single Mistake, which reached number 3 in the Australian charts last year and is taken from her album, Tightrope, will be her UK debut, released in May.
Kylie Minogue (Charlene Robinson), meanwhile, has also been at a UK launch, for her perfume Darling at London's Harrods. Just last week, she was also in the headlines as Kylie - The Exhibition began a four-month stay at London's Victoria and Albert Museum. The exhibition offers fans a chance to view a range of memorabilia and costumes from Kylie's 20 years at the top and will run until June 10th. For more information, and to book, visit the Victoria and Albert Museum Website.
| | |
| --- | --- |
| Peter Joins Casualty | Feb 07 2007 |

holby.tv reports that former Neighbour Peter O'Brien (Shane Ramsay) is set to join the cast of Casualty. Peter will take on the role of Holby City hospital's maverick new consultant, 'Stitch'. Peter is said to be very much looking forward to developing the character, whose first appearance on-screen will be March 24th.
We've had a huge amount of emails regarding the song No Gun by Cindy Ryan, asking what it's called, who it's by and where it can be purchased. The song has featured during emotional moments in recent storylines including the birth of Charlie. Although Cindy's album, Love Hate Tattoo has been deleted, I did assure everyone who contacted us that I would make them aware if I ever found out where the song was available. So here is a link to a site where the song, and indeed the entire album, can be legally downloaded, and a huge thanks to PB's Callum for pointing me in its direction.
To view our archive of past news stories click here