.
News Headlines
| | |
| --- | --- |
| Dichen's New Role | March 28 2008 |

Former Neighbours actress Dichen Lachman, who played Katya Kinski between 2005 and 2007, has landed a major role in new US television series, Dollhouse. DigitalSpy reports that Dichen will play Sierra, the 'strikingly beautiful' best friend of the principal character, in the show, which comes from Joss Whedon, the creator of Buffy The Vampire Slayer and Angel, and is set to debut in America in September.
| | |
| --- | --- |
| Sienna Stays On | March 25 2008 |

It seems that reports in TV Week magazine two weeks ago, suggesting that newcomer Erin McNaught had already quit her role as Sienna Cammeniti, were premature. A story in the weekend's Sunday Herald Sun confirms that Erin is still filming, and has signed an extension to her initial three-month contract, which will see her remain in the role until June. Sienna is still being classed by Neighbours as a guest character, however, and it is thought that Erin will return to her home in Sydney after her second contract finishes up.
| | |
| --- | --- |
| PB Easter Break | March 19 2008 |
Neighbours: The Perfect Blend will be taking a short break over the upcoming Easter weekend, with no updates between Friday 21st and Monday 24th March. Normal service will resume on Tuesday 25th March.
| | |
| --- | --- |
| MS Storyline Praised | March 19 2008 |
Neighbours has been praised for its storyline involving Susan Kinski's multiple sclerosis diagnosis. MS sufferer Kristie Johnson commented that it had been portrayed well, and, as a non-Neighbours viewer, had drawn her into watching the show, while Jenny Litchfield of the MS Society was quoted as saying, "Soap storylines in which characters are diagnosed with MS help to highlight the condition and its devastating effects. As MS is unique to the individual, people will experience the condition in different ways, but we hope storylines such as this offer some insight into what living with MS is like."
Click here to read the article in full.
| | |
| --- | --- |
| Maggie Millar In Dublin | March 13 2008 |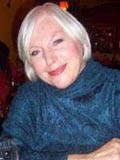 Maggie Millar (Rosie Hoyland) will be visiting Dublin in June 2008. Maggie will be performing her acclaimed reading of Molly Bloom, the famous last chapter of James Joyce's Ulysses, as part of the City's Bloomsday Festival celebrations, happening on Saturday 14th, Sunday 15th, and Monday 16th June 2008.
Bloomsday is a commemoration observed annually on 16 June in Dublin and elsewhere to celebrate the life of Irish writer James Joyce and relive the events in his novel Ulysses, all of which took place on the same day in Dublin in 1904.
For over ten years in Melbourne, Australia, Maggie has performed her reading to sell-out crowds. Having retired last year, Maggie stated the only thing that would make her come out of retirement would be if she was given the chance to perform Molly Bloom in Dublin. Maggie's wish has come true, and she is greatly looking forward to visiting Dublin.
Maggie would also like the opportunity to meet fans of Neighbours in Dublin, as she received an enormous amount of mail from fans there when she appeared in Neighbours as Rosie from 2002-2003. Maggie would also like to personally thanks fans who supported her character and campaigned for Rosie to remain in the series when her contract was not renewed in 2003.
Maggie will also be attending several UK events dedicated to Prisoner Cell Block H. More details can be found on www.prisoner-cellblockh.co.uk. For more information on Maggie's appearance in Dublin for the Bloomsday Festival, or other enquiries, please email admin@maggiemillar.net
| | |
| --- | --- |
| Ten HD Omnibus | March 13 2008 |
From this Sunday, Australian viewers will be able to enjoy an omnibus edition of the past week's episodes. The omnibus will be shown on Network Ten's high-definition channel, Ten HD, and the first one will be on Sunday 16th March, from 8am until 10am.
| | |
| --- | --- |
| Another One Bites The Dust? | March 11 2008 |

TV Week is reporting that another cast member has quit - and this one hasn't even made it to screen yet. Erin McNaught, the former Miss Australia, was announced to be joining the cast in the role of Carmella's cousin, Sienna Cammeniti, commencing filming at the beginning of January on an initial three month contract but, only two months later, reports suggest that she's gone.
Meanwhile, more details are slowing emerging about a few other previously announced Neighbours newcomers - Dean Geyer's character of Ty Harper will make his Australian on-screen debut on Thursday 27th March, and Ty will be the cousin of recurring character Taylah Jordan. Simone Buchanan will first appear as Samantha Fitzgerald, the estranged wife of teacher Dan, on Friday 21st March, and the character will be around for five months with a major storyline centring around her mental health. And finally, Imogen Bailey is set to debut as Miranda's vixen sister Nicola in May, and it seems that her first major story will lead to the departure of Nicola's adoptive nephew, Riley.
| | |
| --- | --- |
| Crew Departures | Mar 05 2008 |
There've been more changes to the crew of Neighbours in the past week, with two of the longest-serving members - producer Peter Dodds and line producer Linda Walker - departing. Both have a long association with Neighbours; Dodds has been the producer for over a decade, previously working on the show as a director, while Walker has worked there since the 80s, with jobs in continuity, and as production manager and line manager.
It has been announced that, as of this week, Neal Kingston will take over as Neighbours producer, while Sue Wild steps into the role of line manager.
| | |
| --- | --- |
| Schedule Changes | Mar 05 2008 |
There will be no episodes of Neighbours on Five on Good Friday (March 21st) or Easter Monday (March 24th) but normal service will resume on Tuesday 25th.
Meanwhile, Australian viewers will experience a Neighbours-less day on Thursday March 20th, when the soap will be taken off the schedule to make way for the first match of the AFL season. There will be a double episode on Friday 21st to make up for it.
To view our archive of past news stories click here