.
News Headlines
| | |
| --- | --- |
| May Bank Holiday Schedule In UK | Apr 30 2009 |
Neighbours will be screening on Five this Monday, May Bank Holiday. The early afternoon screening will be at the slightly later time of 1.50pm, while the early evening screening will be, as usual, at 5.30pm. All Fiver's repeat screenings will air at the normal times.
In other UK broadcasting news, Fiver will be moving from channel 36 to channel 30 on the Freeview service.
| | |
| --- | --- |
| April Actor Updates | Apr 30 2009 |

Stefan Dennis (Paul Robinson) will be visiting the UK in May. Shortly after attending Australia's Logie Awards this Sunday 3rd May, Stefan will fly to the UK to represent Neighbours at the British Soap Awards on Saturday 9th May, where he'll be presenting an award.
Anne Charleston (Madge Bishop) will leave the cast of Emmerdale this summer after two years as Lily. It's reported that her departure was by mutual agreement with the producers, and that she has several other projects in the pipeline. Meanwhile, Jesse Rosenfeld (Marco Silvani) looks set to have an international hit with performances of the comedy play Hitchcock & Herrmann. Jesse has been performing the show with David Knijnenberg in Brisbane this week and the pair have been invited to perform in Edinburgh.

Stephanie McIntosh (Sky Mangel) has split from her boyfriend, AFL footballer Nick Riewoldt, after four years together. With Steph in the US pursuing acting and singing opportunities, the couple attempted to maintain a long-distance relationship but ultimately decided to go their separate ways.
There was a fire drama for Margot Robbie (Donna Freedman) last week when she was preparing a birthday cake for new co-star Hany Lee, when she popped out of her apartment, only to return home and find the kitchen filled with smoke. She still passed the ruined cake on to Hany, however, with a note reading 'It's the thought that counts...' Co-star Jackie Woodburne (Susan Kennedy), meanwhile, has been speaking about Margot's nomination for Best New Talent at Sunday's Logies, describing her as "a complete natural" in TV Week magazine. In other Logies news, Ian Smith (Harold Bishop) is now joint favourite, with actress Rebecca Gibney, to take home the Gold Logie.
| | |
| --- | --- |
| Sam Clark To Leave? | Apr 23 2009 |
Could Sam Clark (Ringo Brown) be the latest name heading out of Erinsborough? A report in Wednesday's Daily Telegraph suggests that he plans to quit the show when his three-year contract ends in October, with the intention of pursuing his music career in the UK. Sam, who has recently completed the first album with his band, Sam Clark & The Keepers, was quoted as saying "I was a musician before I was an actor. Don't get me wrong, working on Neighbours has been awesome, but I want to see if I can make it as a muso too."
| | |
| --- | --- |
| Tim Vine Cameo | Apr 21 2009 |
British comedian Tim Vine, best known for his role as Tim in the BBC sitcom Not Going Out, filmed a Neighbours cameo last week. Tim was in Melbourne for the Melbourne International Comedy Festival, and has said that his appearance involves him standing under a Lassiter's sign, whilst asking Elle (Pippa Black) for directions to the hotel. Tim's appearance will air during the second week of July in Australia.
In unrelated news, here's a photo from Fletcher O'Leary's last day of filming last Thursday: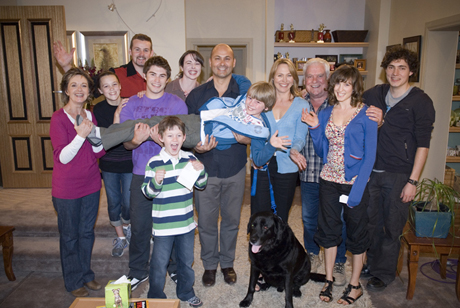 ..
| | |
| --- | --- |
| Neighbours Stars In Celebrity Theatresports | Apr 17 2009 |
This weekend will see various Neighbours actors, past and present, take part in Celebrity Theatresports, as part of Melbourne's Comedy Festival.
Actors including Matthew Werkmeister (Zeke Kinski), Sam Clark (Ringo Brown), Kevin Harrington (David Bishop), Patti Stiles (Lee Thomas) and Lliam Amor (Frank Romano) will be performing as part of the unique impro challenge on Saturday 18th April at 7.30pm at the National Theatre. Click here for more information and to book.
| | |
| --- | --- |
| Fletcher O'Leary To Leave | Apr 16 2009 |
We can exclusively reveal that Fletcher O'Leary (Mickey Gannon) is the latest actor to depart from Neighbours. Fletcher joined the cast two years ago as Ned's secret son, Mickey, and has remained despite the departure of both his parents. But, with the Parkers set to depart Erinsborough, Mickey will be leaving too, to join Ned and Kirsten in Perth. His final episode will hit Australian screens on Tuesday 14th July.
Tom Oliver (Lou Carpenter) is also set to cut back on his Neighbours filming, with news that he'll follow Ian Smith's (Harold Bishop) lead and only appear part-time. Tom's new contract will see him alternate between four-month blocks of filming, then four-month breaks but unlike Ian, Tom will remain a part of the regular cast and has no plans to leave permanently.
In other casting news, Gregory Ross, who previously appeared in Neighbours in 1990 as Melanie Pearson's older man, Roger Walsh, and in 1999 as smarmy DJ George Caruana, will return to the show for one episode as Reverend Archie Draper. Archie will appear in episode 5707 on Tuesday 9th June as part of an important storyline.
And finally, Toadie and Callum are set to get a new housemate in the form of Labrador puppy Rocky, who will move in with them whilst he's trained up as a seeing eye dog for the blind.
| | |
| --- | --- |
| Easter Schedule In UK | Apr 08 2009 |
As we informed you earlier, Neighbours will be screening on Five throughout the Easter holidays, but there are a couple of time variations:
Good Friday (10th April) - 1.35pm
Easter Monday (13th April) - 1.35pm
All Fiver's repeat screenings will air at the normal times.
To view our archive of past news stories click here