.
News Headlines
| | |
| --- | --- |
| Neighbours On You Tube | Dec 13 2009 |

Neighbours' UK broadcaster, Five has struck a deal with online video company, YouTube which sees it release over 3,000 hours of programming free of charge, including our favourite Aussie soap. Programmes can be found at Youtube.com/shows.
It has also been announced that in 2010, UK YouTube users will be able to audition to win a guest appearance in the show.
| | |
| --- | --- |
| December Actor Updates | Dec 13 2009 |

Sam Clark (Ringo Brown) is currently busy promoting his debut single, Broken which is now available to buy in Australian stores and iTunes in both Australia & the UK. You can hear the track and watch the video on his website.

Ian Smith recently reprised his iconic role of Harold Bishop. He returned to the show's studios for an event organised by Neighbours' Executive Producer, Susan Bower, for almost 200 residents of Callignee, which was hit badly by bushfires in February this year. Cast past & present took part, whilst Alan Fletcher (Karl Kennedy), Stefan Dennis (Paul Robinson) & Patrick Harvey (Connor O'Neill) sang for the crowd. Current stars, Jane Hall (Rebecca Napier) & Scott Major (Lucas Fitzgerald) were also a huge hit with their "Major Hall" studio tour. The show's production company, FremantleMedia Australia also handed over $25,000 to the township's council to assist with replacing their community playground which had been destroyed by the fires.

Meanwhile, former Neighbours' stars Adelaide Kane, Dean Geyer & Dichen Lachman are feeling the highs & lows of Hollywood. Adelaide (Lolly Allen) has won a role in NBC telemovie, The Mountain, with the possibility of it becoming a full-time series. Meanwhile, Dean (Ty Harper) has announced that he will return to the US in February to try & land a breakthrough role having previously auditioned for US TV shows such as Melrose Place and The Beautiful Life whilst Dichen (Katya Kinski) was upset to learn that the Joss Whedon directed sci-fi series, Dollhouse, in which she played the role of Sierra, has been cancelled after two series.
| | |
| --- | --- |
| Donovan Asked Back | Dec 13 2009 |

Jason Donovan (Scott Robinson) has revealed that he was recently invited to join in with the celebrations for Neighbours' 25th Anniversary, however is unable to do so due to work commitments. He also commented that despite requests from the show's producers he has no plans to return, but is very proud of Neighbours and his time as Scott.
Jason was speaking at the launch of the 2010 UK & European tour of Jeff Wayne's Musical Version of The War of Worlds, in which he will be playing The Artilleryman. Details of the tour & a list of dates are available here.
| | |
| --- | --- |
| Brian Vriends Joins Cast | Dec 03 2009 |
Brian Vriends, best known for his role as paramedic Ben Markham in the long-running All Saints, has joined the cast of Neighbours. Brian is currently filming the role of Nick Nixon, an ex-professional footballer, who Donna believes to be her real father, and will be appearing for a 'lengthy guest stint'. Brian will debut on Australian screens in April 2010.
| | |
| --- | --- |
| Butler for Charlie's | Dec 01 2009 |
Earlier this year, we reported that former Neighbours stars, Sweeney Young & Pippa Black had just wrapped up filming the video for Jacob Butler's, debut single, Coma. Now, the one-time Australian Idol & X Factor contestant has filmed a performance of the song on the set of Charlie's bar to be aired in Australia on January 20th.
You can currently hear the song promoting the 2009 season finale on Ten.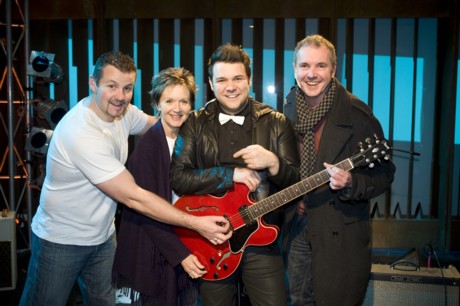 ..
| | |
| --- | --- |
| The End Of Perfect Blend | Nov 07 2009 |
It's with sadness that we announce that Neighbours: The Perfect Blend will be coming to an end next year after seven years providing Neighbours news, information and interviews. We simply don't have the time to give it the attention it deserves, and have also seen a shift towards negativity from our readers and on the messageboard in the last few years that has gradually taken the fun away from what we were doing. But, for the most part, it has been fun, and we've all loved turning the website into one of the biggest and best Neighbours resources online.
We intend to finish things up on February 27th 2010, which will mark our 7th birthday. Before that date, we'd like to try and complete as many of the unfinished sections of the site as possible. This includes the few remaining biographies of regular characters, Magic Moments and some of the reference sections. If you have access to episodes, or a good knowledge of the show or particular characters, and would like to help, please get in touch through the Contact page.
Our messageboard, which today celebrates its 7th birthday, will remain, and the website will stay online as a resource for fans.
Finally, we'd just like to thank everyone who's read the site and supported us over the years. It really has been appreciated. And, once again, if you'd like to lend us a hand in our final months, please do get in touch.
To view our archive of past news stories click here