.
News Headlines
| | |
| --- | --- |
| Christmas Schedules | Dec 18 2006 |
Neighbours will continue to be shown on BBC One over the Christmas and New Year period, only disappearing from the schedules for three days - Christmas Day, Boxing Day and New Year's Day. There will be a few small time alterations on other days, which are detailed below:
Friday 22nd December 2006: As usual - 13.40 & 17.35
Monday 25th December 2006: No episode
Tuesday 26th December 2006: No episode
Wednesday 27th December 2006: 13.10 & 17.35
Thursday 28th December 2006: 13.35 & 17.35
Friday 29th December 2006: 13.25 & 17.30, except Scotland: 17.35
Monday 1st January 2007: No episode
Tuesday 2nd January 2007: Returns to usual schedule - 13.40 & 17.35

Meanwhile, UKtv Gold is now on a break from showing Neighbours, but it will return to its usual slots from Tuesday 2nd January 2007. In Australia, Network Ten is also on its annual break from showing the series, with the 2007 season beginning at the usual time on Monday 8th January 2007.
| | |
| --- | --- |
| Two New Guest Stars | Dec 02 2006 |
TV Week reports that there will be a couple of well-known faces making guest appearances in Erinsborough in 2007. Rowena Wallace, best known for her role as Pat the Rat in Sons and Daughters will be on Australian screens in April, as part of a major storyline, while Rachel Gordon, who played Detective Amy Fox in Blue Heelers until its axing earlier this year, will play Erinsborough's new doctor, who has a few secrets to hide.
| | |
| --- | --- |
| Jason Leaves The Jungle | Dec 02 2006 |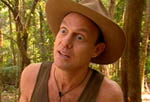 Jason Donovan (Scott Robinson) has finished third in the sixth series of ITV1's I'm A Celebrity… Get Me Out Of Here!. Jason beat 9 other celebrities, including former actress Phina Oruche, actor Dean Gaffney and newsreader Jan Leeming, but was voted out on the final day of the series after three weeks in the Australian rainforest. Over the past three weeks, Jason won viewers over with his easy-going nature, comical friendship with Liza Minelli's ex-husband David Gest and renditions of Any Dream Will Do around the campfire. He also faired a lot better than another ex-Neighbour, Kimberley Davies (Annalise Hartman), who was forced to pull out of last year's series halfway through, after sustaining an injury during a Bushtucker Trial.
| | |
| --- | --- |
| Alan's A Singing Soapstar | Dec 02 2006 |

The line-up for January's second series of ITV1's Soapstar Superstar has been announced and this year, one of the Neighbours cast will feature. Alan Fletcher (Karl Kennedy) will compete with the likes of Emmerdale's Ben Freeman and Coronation Street's Jane Danson for the title, which was won last year by Richard Fleeshman. The series will begin on Friday 5th January 2007. For more information, visit the official website.
| | |
| --- | --- |
| Daniel Schutzmann Guest Stars | Nov 22 2006 |
As well as cameo appearances by the likes of Emma Bunton and Neil Morrissey, the upcoming Neighbours London episodes will also see an appearance by Daniel Schutzmann. Daniel rose to fame in 2002 in the role of Salvatore Biagi in Footballers Wives and, in 2005, joined the cast of Scottish soap River City in the role of Marty. According to the Daily Record, his Neighbours appearance will see him in the role of another professional footballer, Pete Gartside, who becomes involved with Izzy.

After several months of debate over whether Stephen Lovatt (Max Hoyland) was set to leave Ramsay Street for good, Inside Soap has today confirmed that Max will be gone from UK screens by the spring. Back in July, it was reported that Stephen would be leaving to appear in the play The End Of The Golden Weather, but it was later revealed to be simply a two-month break and he returned to filming in September. But it now seems that return was only to tie up loose ends with the character he has portrayed since 2002.
UK viewers this week saw the beginning of the storyline that will take Max out of Erinsborough for his two-month break, as Elle takes a cruel revenge on him for the death of her brother, Cameron, causing Max to doubt his own sanity and walk out on his wife and baby son. But, believing that she will never see her husband again, Steph is all set to start a new relationship with her old friend, Toadie...
| | |
| --- | --- |
| London Cameos | Nov 08 2006 |
Fiona Byrne's column in the Sunday Herald Sun reports that, as promised, a few well-known British faces will be featuring in next year's UK episodes, currently filming in London. As well as a cameo return by Natalie Bassingthwaighte (Izzy) who will shortly depart UK episodes, other famous faces lined up are former Spice Girl Emma Bunton, talk show host Michael Parkinson, comedians Julian Clary and Neil Morrissey and radio host Jonathon Coleman.
| | |
| --- | --- |
| Jason In The Jungle? UPDATED | Nov 08 2006 |

Could former Neighbour Jason Donovan (Scott Robinson) be heading for the jungle, for the upcoming series of I'm A Celebrity, Get Me Out Of Here!? The News Of The World newspaper has reported that he's accepted an offer and will be on the series, due to start on ITV1 on Monday 13th November. Early reports in 2004 had Anne Charleston (Madge Bishop) appearing on the show, though she failed to appear, whilst last year, Kimberley Davies (Annalise Hartman) made it into the final line-up, but left the show after just over a week, when she injured herself during a bushtucker trial.
UPDATE: The line-up for the new series has now been confirmed, and Jason is indeed taking part. He will join other A-list stars of stage and screen, including former newsreader Jan Leeming, comedienne Faith Brown and singer Myleene Klass in the jungle from this weekend.
| | |
| --- | --- |
| Ryan's A Dad! | Nov 08 2006 |
Perfect Blend would like to offer their congratulations to Ryan Moloney and his wife, Alison, who last week became parents. The Sunday Herald Sun reports that the little girl, named Erin Grace, was born last Monday and both mother and daughter are "happy and healthy".
| | |
| --- | --- |
| NeighboursBoard Is 4! | Nov 07 2006 |
The Neighbours Message Board - the forum that inspired Perfect Blend - is four years old today! When we launched we were fresh from celebrating one milestone - the 4000th episode - and 1000 episodes later, we're still here.
We've got nearly 4000 registered members from all around the world, so if you've drifted away from us there's never been a better time to come back and rejoin the lively discussion. We have threads in which to discuss each episode daily as it airs, and a spoiler forum which helps those in the know speculate while protecting others who wish to stay in suspense.
We love running The Neighbours Message Board, and we hope you enjoy using it just as much.
| | |
| --- | --- |
| Waiting Room In Islington | Nov 07 2006 |

In addition to the current list of November/December tour dates for Waiting Room (available here), we've received word of an extra gig at Carling Islington Academy on Tuesday 12th December. Doors will open at 7pm and tickets can be bought at TicketWeb or by calling 0870 771 2000.
To view our archive of past news stories click here