.
Reference > Erinsborough Exits > 1986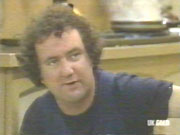 Max Ramsay
Having moved out into a bedsit following the revelations that Danny was not his biological son, by 1986, Max was back living in the Ramsay house with both sons, and his sister, Madge, for company. With things finally settling down for him on the home front, and in the midst of a storyline about a pancake contest, Max suddenly upped and left when estranged wife, Maria, got in touch and a possible reunion. His family were surprised when he phoned from the airport to tell them of his plans and, before long, it was clear that he wouldn't be coming back.
Final Episode: 245
Final Words: "I'm a reasonable bloke, you ask anyone around here, I'm noted for my reasonableness."
Behind-the-scenes: Rumours at the time insisted that Francis Bell had asked for a payrise, and had been sacked, hence his character's very sudden departure. Francis had the following to say in James Oram's 1988 book Neighbours: Behind The Scenes - "I was considering resigning before my back problems flared up. Negotiations had been under way between my agent and Grundy's for some time and I had decided I didn't want to do the show any more."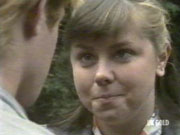 Nikki Dennison
Nikki's first stint in Ramsay Street, as a regular character, lasted for six months. During that time, she grew very close to Mike Young and they started dating but the relationship was in trouble when Mike went on a trip to Manly to compete as a swimmer. Whilst away, Mike met up with a girl named Cassie, whilst Nikki received word that her mother, Laura, had been diagnosed with multiple sclerosis. By the time Mike returned, Nikki had gone and he quickly hooked up with new neighbour Jane Harris. Nikki made a guest return at the end of 1986, for two months, during which time her character sat her high school exams and tried to win back Mike, before leaving on an exchange programme to America.
Final Episode: 289 (returned 354-390)
Final Words: (as Clive assures her that Mike is going to miss her) "Well, pass this on for me" (Nikki then kisses Clive, and he says that he'll just tell him. Helen calls Nikki over to the car) "Coming…"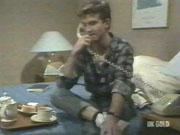 Danny Ramsay
Having quit school and taken a job at Pacific Bank several months earlier, Danny struggled to find his place in Ramsay Street. As he struggled to relate to his friends in year 12 and he lost both of his parents to Queensland, Danny decided on a fresh start as well. He announced that he'd applied for a transfer to a country bank and, within weeks, he was gone. A week after his departure, Danny phoned to let his family know that he was settling in well. In 2005, Danny made a cameo appearance in the 20th Anniversary Documentary, which seemed to indicate that he'd given up the bank to haul tyres.
Final Episode: 303 (returned 4773)
Final Words: (on the phone, Shane tells his little brother to enjoy himself) "Hey, it's not hard up here."
Behind-the-scenes: David Clencie had the following to say in James Oram's 1988 book Neighbours: Behind The Scenes - "I was offered three different contracts with the show but after discussion it was decided I would take a break. I have made errors and I have had an unprofessional attitude in the past. There were times when I did let the actors, the company down. I refused to get my hair cut and wear the wardrobe they provided for Danny. But I learnt from that..."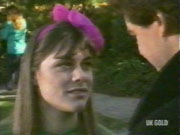 Zoe Davis
Having suffered an ectopic pregnancy and split up with older man Jim Robinson, Zoe Davis' life took an up-turn when her old boyfriend Tony Chapman turned up, having been away in London. Before long, she and Tony had picked up where they left off, and Zoe had quit her job as Paul's secretary at the Daniels Corporation to work for Tony. After spending most of her Ramsay Street life lodging at number 28, she also announced plans to move in with Tony a few blocks away. Just over a month later, Zoe made a two-week guest appearance, visiting Daphne who had been diagnosed with meningitis and tying up various other loose ends.
Final Episode: 303 (returned 327-333)
Final Words: (Paul is about to tell her he loves her when Tony walks out to the car with some boxes) "Maybe later. Well, see you soon. Bye."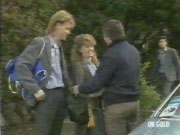 Tom Ramsay
After only a few months in Ramsay Street, replacing his older brother Max in the Ramsay household, Tom's time in Erinsborough was wrapped up very quickly. After a storyline in which he had a near miss at finding love with Jean Richards, he began to feel like something of a spare part. When his parents turned up in the street with news that Tom's estranged daughter Moira had given birth to a little girl, Holly, Tom was straight on the phone to her and before long, had left to stay with her for a while. At the end of 1990, he made a brief return to Erinsborough when his daughter, Gemma, who had been staying with her Auntie Madge, was involved in a motorcycle crash and almost lost a leg.
Final Episode: 334 (returned 1349-1360)
Final Words: (to Mike) "You keep up the training." (to Mike, Scott and Charlene) "Take care kids."
Behind-the-scenes: Gary Files told us in an interview that "my contract was coming up to it's regular renewal point and I had been asked by the Melbourne Theatre Company to do one of the leads in a play called Hurly Burly."