.
Reference > Erinsborough Exits > 1997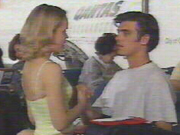 Malcolm Kennedy and Catherine O'Brien
Having finally become a couple in late 1996, after each working their way through several other partners, it seemed that Mal and Cath were meant to be. But, in early 1997, she went and ruined it by cheating on him with Darren Stark, who happened to be dating Mal's younger sister, Libby. His heart broken, Mal decided to leave Erinsborough and travel the world, starting with a ticket to Europe, and, despite her best efforts, Cath couldn't convince him to stay and give her another chance. In the end, she followed him to the airport, bought a ticket on his flight and announced that she wanted to see the world too, and they could either do it together or separately – if he made his mind up, he'd be able to find her in row 37, seat C for the next 16 hours. Her plan worked as the couple ended up settling in London and got married in early 2001.
Final Episode: 2807 (Mal returned 3985-4003, 4402-4409, 4773)
Final Words: (Mal) "What if that is not what I want?" (Catherine) "Well then. I'm sitting in row 37 seat C for the next 16 hours, so you'll have no problem finding me."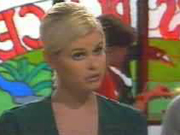 Joanna Evans
After weeks of moping around Erinsborough on her own, Jo finally realised that perhaps she did still love Rob and, despite him being in London, she wanted to get back in touch. Following a phone call to her husband, Jo cheered up no end, but was very distracted and wondered where their relationship would go next. Her question was answered when a pair of plane tickets arrived on her doorstep, for a flight leaving that evening, and she was forced to make a decision. Despite often worrying that her biggest mistakes had been made when she acted impulsively, she decided that she had nothing left to lose and, after leaving a note and a bottle of champagne for housemates Sarah and Lisa, she boarded the plane and left Erinsborough behind her.
Final Episode: 2832
Final Words: (to Karl) (Sarah reads the note with Jo's voice in her head) "Hi guys, hope this is as big a surprise to you as it is to me. I couldn't get through to London… busy lines or something, and while I was waiting I started thinking about what Sarah said. To find happiness you have to take risks… you know what… she's right. So here I am taking a huge risk. By the time you read this I'll be in the air and on my way to London. Crack open the champers and wish me luck. I'll miss you guys, love Jo."
Behind-the-scenes: Emma Harrison explained in this 1997 TV Week article that she left by mutual decision with the producers.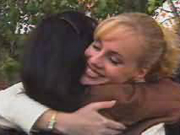 Lisa Elliot
When it became clear that Lisa's new career as a teacher wasn't exactly working out (as Billy put 'Lisa is a numb-nut' in one of his essays to prove that she wasn't reading them), an internal investigation began, but Lisa decided to quit her job rather than prolong the agony. After thinking over her options, she decided to apply for a few different positions and was accepted as a lab technician at the University of Hobart. And so, after packing up her things, and confusing housemate Ben with a surprise kiss during her leaving party, Lisa sold most of her possessions at a garage sale and packed the rest into her car, before driving out of Ramsay Street for good.
Final Episode: 2905
Final Words: (to Debbie) "You take care as well. Wish me luck." (gets into car) "See ya."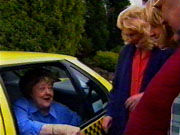 Marlene Kratz
After several months of trying to find her true love through dating agencies, Marlene Kratz ended up meeting the charming George Marshall at her bowls club. The pair quickly hit it off and George decided to waste no time and asked Marlene to be his companion for a three-month world cruise. Although she wanted to accept, Marlene had some strong reservations about how people would judge her, leaving alone for a cruise with a man she'd only known for a short while. In the end, Lou agreed to accompany her as a chaperone for the beginning of the cruise and Marlene bid farewell to Ramsay Street, never to be seen again. (Despite only leaving for three months, it was actually 8 years before Marlene was ever mentioned again, appearing in Annalise's anniversary documentary where, in scenes that ended up being edited out, she announced that she'd married the captain of the cruise ship)
Final Episode: 2962 (returned 4773)
Final Words: "I'm missing Lolly already." (Ruth, Madge and Harold say their goodbyes and tell her to have a wonderful time and send lots of postcards) "We will! Bye!"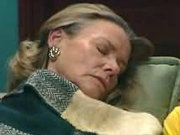 Helen Daniels
Having spent most of 1997 in and out of hospital, thanks to a stroke the year earlier, following by a serious bout of food poisoning, Helen was alarmed to hear that her family were once again at war with the neighbours over the old Ramsay vs Robinson feud. She insisted on coming home for the day, where she played them a tape of Scott and Charlene's wedding and reminded them of the day that the two families had joined together to become one. Her plan worked, and before long the feud was forgotten and Phil, Madge and Harold were all happily getting along again. At the end of the day, when Karl popped by to check on Helen, Hannah was forced to admit that her gran hadn't been sleeping as they sat together on the couch; she'd passed away. Karl confirmed this and the shocked residents of Ramsay Street gathered by Lassiter's lake a few days later to say their farewells to Helen, who'd been a friend and confidante to them all.
Final Episode: 2965
Final Words: "I'll be alright here, with Hannah."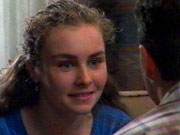 Debbie Martin
Having returned to Ramsay Street in 1996 after a spell in New York, Debbie Martin had struggled to get her career in catering, or her love life, off the ground for many months. Following the death of her 'gran', Helen Daniels, Debbie revaluated her life and, when her brother, Michael returned for the funeral, Debbie spoke to him about his new life in the outback and the freedom it offered him. She decided that a break on Michael's farm was exactly what she needed and, the night before the funeral, she announced to her family that she would be leaving with Michael the next day. Having found work up there, Debbie never did return to Erinsborough, though the 20th anniversary documentary in 2005 showed that she did make it back to New York, after taking up a job offer with Rosemary Daniels, Helen's daughter.
Final Episode: 2968 (returned 4773)
Final Words: (Rosemary checks that Debbie doesn't mind her giving Helen's ring to Hannah) "Oh no, I don't mind."