.
Reference > Erinsborough Exits > 1999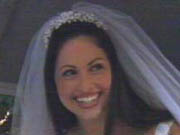 Sarah Beaumont
Having endured 18 months of living next-door to Karl Kennedy, her former boss and the married man she was secretly in love with, not to mention becoming the victim of a stalker, Sarah was overdue a little happiness. After being set up, by her mother, on a date with Medicins Sans Frontiers doctor Peter Hannay, it looked like a perfect match. Despite a few ups and downs, they were engaged within weeks. The wedding day wasn't without its drama either, as Sarah arrived at the church with Karl, before sharing a kiss with him in the vestry after the ceremony. Following the wedding, they set off for a new life in Amsterdam, where apparently they were happy for a while, and Sarah gave birth to baby Antigone. However, by 2003, word had reached Erinsborough that Sarah and Peter had divorced and she was living in Norwich.
Final Episode: 3347 (returned 4773)
Final Words: (as she sees the horse-drawn carriage that Lou has hired for her to be taken to the reception) "It's beautiful"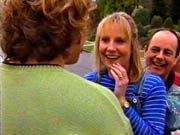 Philip and Hannah Martin, Ruth Wilkinson
1999 wasn't the best year for Philip Martin, as he suffered from stress, spent a lot of time apart from new wife Ruth and had a serious falling out with old friend Lou Carpenter over tax problems. The final straw came when accountant Phil fell out with his biggest client, Gordon Collins, and started looking elsewhere for work, finding an opportunity with the Badenbridge Foundation, a company helping homeless people, based in Darwin. After quite a lot of persuasion, particularly where Hannah was concerned, both his wife and daughter agreed to join him there, where his initial contract would last for two years. And so, the neighbours all bid a sad farewell to Phil, Ruth and Hannah, who sold number 26 to the Scully family, but kept on number 32, which Phil also owned, as a tie to the street. By 2001, the Martins were clearly enjoying life in Darwin, as Phil called to say that he was selling number 32. In 2005, Phil returned to Erinsborough, with former neighbour and fellow Darwin resident Doug Willis, as many former locals returned to town for a screening of Annalise Hartman's documentary about Ramsay Street, which Hannah and Ruth appeared in.
Final Episode: 3418 (Philip returned 4771- 4775, Hannah and Ruth returned 4773)
Final Words: (Ruth – to Lance) "Bye beast!" (Phil) "Come on guys!" (Hannah – to Paul) "I'll write you an email, ok?"
Behind-the-scenes: Ian Rawlings, Ailsa Piper and Rebecca Ritters talk about their departures in this 1999 TV Week article.