.
Reference > Erinsborough Exits > 2001
Lance Wilkinson
Having finally met the girl of his dreams, Allana Truman, at a science fiction convention, Lance Wilkinson looked all set for a happy ending and the pair made plans to leave Erinsborough and travel around America. To help fund the project, Lance appeared on the radio quiz, Brainbusters, and when he proved popular, he was given the answers to ensure that he would continue appearing. Allana was appalled and threatened to split up with him, but Lance turned the tables at the last minute and exposed the cheating producers. He and Allana then bid Ramsay Street a fond farewell. Lance returned four years later to attend the screening of Annalise Hartman's documentary and revealed that he and Allana were still together and busy running their own sci-fi conventions.
Final Episode: 3734 (returned 4772-4775)
Final Words: "Bye! Ning-wa!"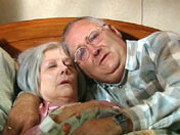 Madge Bishop
Having returned to Erinsborough in 1996 for a reunion with the husband she thought was dead, Madge lived happily with Harold for five more years before fate again conspired to split them up. After suffering terrible stomach pains at work, Madge was rushed to hospital and found to be suffering from advanced pancreatic cancer, leaving her with only months to live. Though scared, Madge and Harold decided to use the time she had left to fulfil one of her life's biggest wishes and see Paris in the springtime. However, shortly after leaving hospital, she collapsed at home and cut herself, leading to an infection that her body was unable to fight. With only days to live, Madge was brought home to die, surrounded by her two boys, Paul and Ted, her old friend, Lou and her husband, Harold.
Final Episode: 3740
Final Words: "I love you… go to Paris… go for me."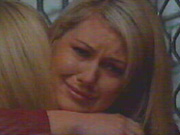 Teresa Bell
After having a secret affair with her best friend's boyfriend, Tess Bell then found herself agreeing to marry him when their secret trysts became public knowledge. Turning her back on Dee Bliss, Tess made plans to marry dastardly Dr Darcy Tyler, despite a constant niggling doubt that she wasn't doing the right thing. On the morning of the wedding, as Lyn Scully styled Tess' hair, she spoke about the trust that had been the foundation of her own marriage, and Tess decided to phone Alice Jamison, Darcy's old girlfriend, to find out the truth about her husband-to-be. As he waited at the registry office, Tess packed her bags and left, only saying sorry, and goodbye, to Dee as she went. After visiting her mum in Sydney, Tess made a new life for herself, teaching in the UK.
Final Episode: 3857
Final Words: (Dee tells her to keep in touch) "You too."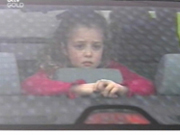 Louise Carpenter
After finding out that the child he had believed to be his own for seven years was actually the result of a brief affair by his late partner Cheryl, Lou Carpenter suddenly found himself fighting for custody of little Louise with John Allen and his wife, Sandy. Although Louise enjoyed spending time with John and Sandy and their puppy, Goldie, she was still distraught when it looked like she would have to spend time away from her dad. Although Lou was granted interim custody, things looked back for him when John found out about his painkiller addiction, that he'd managed to beat earlier in the year, and it was concluded that John and Sandy were in a better position to bring up the little girl. A few weeks after winning custody, John and Sandy moved away to the country, making regular visits for Lou almost impossible. He did maintain contact whenever he could, and in 2007, Lolly returned to stay with Lou.
Final Episode: 3909
Final Words: (to Emily) "We're going to Disneyland."
Behind-the-scenes: According to Jiordan's mother, Vanda, in this 2001 TV Week article, she left to make her schooling her first priority.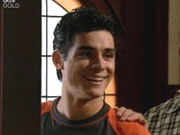 Paul McClain
After finding himself expelled from school in his final weeks of year 12, for a muck up day prank that went wrong, aspiring footballer Paul McClain was forced to spend his time coaching a junior football team. When the father of one of the young players turned out to be a talent scout, and put Paul's name forward for a place in the national league, Paul was delighted, though almost ruined his chances when he dislocated the coach's shoulder during a training session. During the AFL drafts at the end of the year, Paul waited and waited for news, eventually believing that he wasn't going to be picked, so he was thrilled when he was drafted to the Adelaide Crows, though it meant saying goodbye to foster dad Harold, and all of his friends. Nevertheless, Paul packed up his things and moved to Adelaide, where he made a name for himself as a football player and, five years later, helped Ramsay Street's Zeke Kinski by offering to spend a few weeks coaching him.
Final Episode: 3917 (returned 4773)
Final Words: "Hey look Flick, I've always wanted to tell you this. You were the one that raised my standards, I've always had this huge crush on you, y'know… See ya." (she kisses him then Tad says they need to get going) "Yeah… right."