.
Reference > Erinsborough Exits > 2003
Rosie Hoyland
After a difficult few months in her life; firstly, almost being sent to another parish in Byron Bay, then finding herself in trouble with the Bishop, after passing on confidential information about parishioners Ruby Dwyer, Reverend Rosie started to think about ways she could repair some of the damage she'd done. After much thought, she decide to leave Erinsborough, as well as her son, Max, and grandchildren, Boyd and Summer, behind and go to complete aid work in the natural disaster-hit areas of Papua New Guinea for a few months, after which time, she moved on to Fiji.
Final Episode: 4214
Final Words: (to Lou and Harold) "Bye, thanks for everything, both of you."
Behind-the-scenes: Maggie Millar's axing from the role of Rosie, after only a year, sparked a Ressurect Rosie Campaign on this very website, but sadly we've yet to see the good Reverend revisit Erinsborough.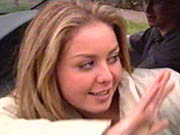 Michelle Scully
After a false start the previous year, Michelle Scully got the chance to take part in an exchange programme and move to New York, where her sister Felicity was already living and working for Lassiter's. The biggest problem she faced was saying goodbye to her boyfriend, the Scullys' Irish lodger, Connor O'Neill. Although the young couple vowed to stay together as Michelle flew out of Australia, the distance meant that they slowly drifted apart and, by the time she returned to Erinsborough a year later, plenty had changed. Michelle was shocked when she found Connor with his new girlfriend, Carmella Cammeniti, and quickly vowed to win him back. She then decided to give up her new life in New York and return to Connor's side permanently, but when she found out that Connor had also slept with Lori and fathered her baby daughter, she realised that she couldn't trust him and, after accepting some money from her grandmother, Valda, she headed back to America.
Final Episode: 4238 (returned 4439-4463)
Final Words: "Mum, I want you to come to the airport with me."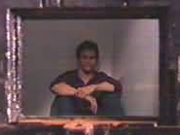 Darcy Tyler
Dastardly Doctor Darcy had spent most of his time in Erinsborough conning his friends and family, but had never got the comeuppance he deserved. However, he went a step too far when he robbed his aunt and uncle, Karl and Susan, of some expensive jewellery in order to pay off a gambling debt. After knocking over pregnant Lyn Scully in the process of the robbery, she later identified him and brought about his downfall as he was sent to prison. But this wasn't to be the last that Erinsborough would see of Darcy. A year later, he was granted day release and, whilst working as a janitor at the hospital, he met Izzy Hoyland, the woman who was now living with Karl following his separation from Susan. Darcy knew a schemer when he met one and found out Izzy's secret – Karl wasn't the father of the baby she was carrying. As he blackmailed her with the information, he took a fall down some stairs and ended up in a coma. Another year passed before he awoke and finally passed on the information to Susan, before leaving Erinsborough, and that ticking time bomb, behind him.
Final Episode: 4267 (returned 4526-4597, 4747-4762)
Final Words: "Goodbye Dee."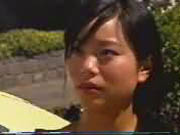 Lori Lee
Following her paralysis and split from Jack after he cheated on her, Lori's busy six months as a Ramsay Street resident were capped off when she found out that she was pregnant after a one-night stand with Connor. Although she planned to get an abortion, she later realised that she couldn't go through with it and left a note for Connor, before enlisting Jack's help to get her out of Erinsborough and back to New Zealand with her parents. She returned the following year to give Connor a massive shock by introducing him to his daughter, Madeleine, and then to get embroiled in a custody battle over her when Lori wanted to move to Adelaide with new boyfriend, Nick, a plan that fell apart at the last minute. Lori then moved to the town of Lorne, before eventually returning to her family in New Zealand.
Final Episode: (returned 4457-4477, 4616-4621)
Final Words: (Jack tells her to take care and keep in touch) "Yeah, I will." (She then mouths 'I love you' from inside the taxi as it leaves)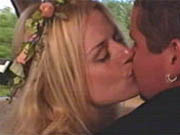 Dione Bliss
After her relationship with Toadie was almost completely destroyed by Darcy and his scheming, nurse Dee was overdue some happiness and the pair happily announced their engagement. The wedding day arrived and it seemed that nothing could possibly go wrong for the bride and groom as they completed the ceremony and drove off for their honeymoon – a surprise trip to the Maldives - in a car arranged for them by Toadie's housemate, mechanic Stuart Parker. As they drove away, along the coast road, Dee leaned in for a kiss with her new husband, only for him to lose control on a bend in the road, and for the car to crash through a barrier over a cliff and into the ocean. Although Toadie managed to make it to the surface, Dee was never found and, after briefly blaming Stuart, Toadie slowly started to cope with his grief but never truly came to terms with the tragic events of his wedding day.
Final Episode: 4292
Final Words: "I love you."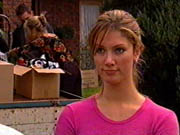 Nina Tucker
After 18 months as a regular character who lived outside of Ramsay Street, Nina was just about to become an official resident, moving into number 22 with her mother, Trixie, when events conspired to take both her and Delta Goodrem away from Erinsborough. When Delta was diagnosed with Hodgkin's lymphoma, she immediately stopped filming to received treatment, and Nina suddenly found out that her parents had never actually been married. Shocked that her mother had lied to her for so long, she went to stay with her father and his new girlfriend in India. A year later, after finding success as a Bollywood actress, Nina returned to Erinsborough, en route to Hollywood, to try and reignite the flame with ex-boyfriend Jack Scully. Although Jack wasn't quite ready to join her in LA, by early 2005, they were back in each other's arms.
Final Episode: 4361 (returned 4561-4567, 4632, 4773)
Final Words: (Jack suggests that Connor is sucking up to Trixie to get in Nina's good books) "What are you talking about?"
Behind-the-scenes: Following her cancer diagnosis, Delta took a several months out of both her acting and singing careers. She then returned to the music scene with her second album, Mistaken Identity, as well as a brief return as Nina Tucker, in mid-2004.