.
Reference > Erinsborough Exits > 2004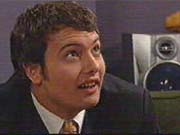 Taj Coppin
After cheating in an exam towards the end of 2003, Taj's excellent results, putting him in the top three percent of the school, quickly aroused suspicion and he admitted to his housemate, Toadie, that he'd cheated. After spending Christmas with his parents, he returned and told the school what he'd done, also turning down a place at a prestigious film school. Thinking his dreams were all over, Taj resigned himself to working on Lassiter's reception for the foreseeable future. But when his mates found out that film director Sam Tinselman was staying at the hotel, they rigged up the tv in her room so that it played one of Taj's films. The plan backfired, however, when the film was shown all over the hotel and Taj lost his job. The silver lining came when Sam, having seen the film, offered Taj a job as a runner on her latest film and he left for Sydney straight away.
Final Episode: 4400
Final Words: (after Toadie makes a speech about what a great guy Taj is) "Stop it, I'll cry."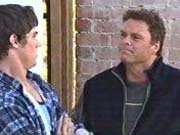 Joe Scully
Just as the Scully family were in the midst of a house makeover, as part of Channel 44's reality television series, Making Mansions, Joe received word that his father, Pat and brother, Mick, had been involved in a serious accident up at the farm in Bendigo. After a while, Lyn decided to go and join him, before admitting that she didn't really want to and the couple agreed to divorce.
Final Episode: 4425
Final Words: (after seeing the job Jack has made of some plastering) "Good, son."
Behind-the-scenes: Shane Connor was famously axed from the Neighbours cast in late 2003 with no notice, which led to a court case for unfair dismissal, in 2005, which Shane won.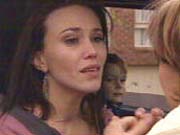 Libby Kennedy
After the death of her husband, Drew, in 2002, an affair with one of her students, Taj, in 2003 and a brief fling with ex-boyfriend Darren Stark a few months before, Libby's life had just settled down to normality when Darren got back in touch with her, out of the blue, asking her to give him another chance and go to live with him in Shepparton. Libby wasn't sure what to do, but it was the advice of her mother, Susan, who told her that this was a third chance at happiness which few people were lucky enough to get, that persuaded her to give it a try. And so, after packing up her belongings and her son, Ben, into a van in record time, Libby said goodbye to her family, and the friends she'd made during her 10 years as a Ramsay Street resident.
Final Episode: 4605 (returned 4773)
Final Words: "This is the worst best day of my life!"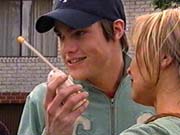 Jack Scully
Jack's final few months were filled with drama, as he got involved with the destructive Olivia McPherson, developed a drug problem, nearly died in a car crash and ruined his father's building business. However, a brief return visit by Jack's ex-girlfriend Nina Tucker proved to be a turning point and, as she left for a new career as a Hollywood actress, he vowed to get his life back on track and then join her. After several weeks, and with a little encouragement from his grandfather, Charlie, who was dying, Jack set off to Los Angeles for a happy reunion with the girl of his dreams.
Final Episode: 4628 (returned 4632)
Final Words: "See ya Ozzie, sweet dreams matey."