.
Reference > Erinsborough Exits > 2005
Summer Hoyland
As Summer began to realise that she had a talent for the piano, after lessons with Nina Tucker in 2002 and further classes at school, one of her teachers, Susan Smith, approached her about the possibility of attending a prestigious boarding school, Gillard, in Wangaratta. Summer wasn't sure but after hearing a tape of her late mother playing piano and winning a scholarship at the school, she decided it was too good an opportunity to miss and left her family, though she still made regular visits during the school holidays.
Final Episode: 4767 (returned 4864-4875, 4926-4940, 4998-4999)
Final Words: (Bree tells her to email the second she gets there) "Yeah, yeah, I will."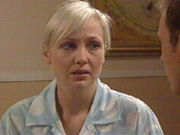 Sindi Watts
When it was revealed during her honeymoon that Sindi was mentally ill and had been responsible for several accidents in Ramsay Street as well as stalking her fiancé, Stuart, on his bucks' night and pushing Toadie down the stairs when he threatened to reveal it all, she was taken away to hospital. Although Stuart continued to visit her and vowed to stand by her, she admitted that this wasn't the first time she'd had this problem and Stuart was only making it more difficult for her to get better. And so, she told him that she would be transferring to another hospital in New South Wales. Six months later, Sindi and Stuart were reunited, as he moved home to his parents' farm in Oakey and she agreed to join him there.
Final Episode: 4795
Final Words: "I don't wanna go either, but I promise I'll get better and come back…" (Dr Levi tells Stuart it's time to leave) "Go…"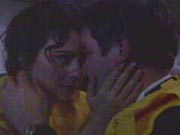 David, Liljana and Serena Bishop
When a joy flight, to the Lassiter's hotel and casino in Hobart, Tasmania, was announced, Liljana and David weren't keen on being in such close proximity to Paul Robinson, the man who had nearly destroyed their marriage for good. But when Harold gave them his tickets, they decided to go anyway. Meanwhile, Serena joined her boyfriend Connor O'Neill for the flight, during which he admitted that he was behind a recent robbery at the bikini shop, Bounce. Serena chose to forgive him, but their happiness was short-lived, as a bomb had been planted on the plane (later revealed to have been one of several despicable deeds by Paul's vengeful son, Robert) which exploded over Bass Strait. In the water, Serena struggled to hold on to a piece of the wreckage and Connor was horrified when she vanished into the water. Although neither her body nor Lil's was ever found, David was washed up on the shore a few days later.
Final Episode: 4837 (Lil and David), 4838 (Serena)
Final Words: (Lil) "Oh God, David" (David) "I love you both, alright, don't give up hope, alright… good girl, now go sit down, put your belt on…" (Serena – to Connor) "I love you too…"
Behind-the-scenes: Find out Ian Smith's feelings on the axing of his entire on-screen family in this 2006 Inside Soap article.