.
Reference > Erinsborough Exits > 2006
Stuart Parker
After his wife of only one week, Sindi, was sectioned and transferred out of the state to another psychiatric hospital, cop Stuart became increasingly disillusioned with life, risking everything in burning buildings and undercover operations. After being joined in Erinsborough by his brother, Ned, Stuart calmed down a lot but still started to hanker after something different in life. When their father hurt his back, Stuart and Ned argued over who should return to look after the farm in Oakey, with Stu eventually agreeing that it might just be the change of pace he needed. And he was in for a pleasant surprise when, after contacting Sindi with the news, she agreed to join him in Queensland to give the marriage a go.
Final Episode: 4938
Final Words: "Trouser! Trouser! Trouser! Trouser!"
Behind-the-scenes: Blair McDonough explained in this 2006 TV Week article that he felt exhausted after 4 years on Neighbours and needed new challenges.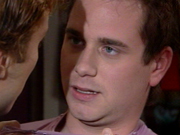 Connor O'Neill
Like his friend, Stuart, Connor O'Neill was also beginning to wonder if his time in Erinsborough had come to a natural end. After several months flitting between careers, Connor had become a private investigator, much to everyone's amusement. After his friend, Ned, found himself a new vocation as Oscar Scully's nanny, and even Connor's ex-girlfriend Carmella found her calling with God and became a nun, Connor decided that his future lay away from Ramsay Street and packed to leave and travel the country for six months. Unfortunately, at the same time, Carmella stumbled upon a man in a coma, who she believed to be Robert Robinson. Connor was aware that Robert's identical twin, Cameron, had been staying in Ramsay Street with his father, Paul, and went to tell him the news. What he didn't realise was that the new neighbour was actually the psychotic Robert, masquerading as his nicer twin, and, realising his secret was about to be rumbled, Robert invited Connor in for a beer. And that was the last Erinsborough saw of the Irishman, though, mysteriously no body was found and Mr O'Neill's wallet turned up in Beijing a few months later…
Final Episode: 4977
Final Words: (after Robert tells him to stay for a beer) "Ah, no, I really can't, I have to hit the road, I'm sure you want to phone your mum and Elle and everything…"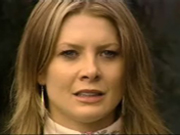 Isabelle Hoyland
Bad girl Izzy Hoyland was at her lowest point (or at least, one of them) when she started chatting to ex-boyfriend Karl Kennedy in the Scarlet Bar. Karl had been working long days and, coupled with alcohol, was in no state to drive home, so Izzy took him and gave him some sleeping liquid when they got to his flat, not realising that it was a trial drug and she'd given him far too much. A delirious Karl then mistook her for his ex-wife, Susan, who'd he'd just reunited with, and the pair ended up sleeping together. Soon after, Izzy found out she was pregnant and was stunned, having previously been told that her chances of conceiving were slim. Realising that it was a miracle and that she was in for a very difficult nine months, Izzy set about making amends with all of the people she'd wronged during her three years in Erinsborough, before leaving, her secret still intact. However, on the morning of her departure, Susan took a call at the Hoyland house and realised that Izzy was pregnant. Having found out about Karl and Izzy's night together, Susan confronted Izzy, who lied that the father was a one-night stand, before boarding a bus, clutching a photo of Karl and leaving for a new home, no doubt all set to ruin the lives of her new neighbours.
Final Episode: 5057
Final Words: "Guess it's just you and me, kid, all the way."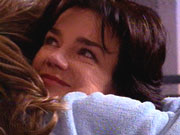 Lyn and Oscar Scully
Having spent months falling for her boss, Paul Robinson, all of Lyn Scully's dreams seemed to come true when love blossomed between the pair and, following a trip to New York together, he suddenly proposed. Lyn excitedly started planning the wedding, keeping things low key as she knew that many of her friends and neighbours weren't convinced by the relationship and feared that Paul would ultimately break her heart. Sadly their fears were correct. When Paul brought the wedding date forward, little did Lyn realise that he was battling his feelings for new neighbour, lawyer Rosetta Cammeniti. During the wedding ceremony, Paul struggled to complete his vows, but everyone breathed a sigh of relief when he finally did and they hoped that Lyn had been right to put her trust in him. But that evening, as they prepared to leave for their honeymoon, Paul dropped the bombshell that he had kissed Rosie only days before the ceremony and could never promise to be faithful to Lyn. The marriage was over only hours after the wedding, and Lyn decided that she would go on the honeymoon anyway, taking her son Oscar with her, and would then spend some time in New York with daughters Flick and Michelle.
Final Episode: 5117
Final Words: "Without you girls… I don't know what I would have done."