.
Reference > Erinsborough Exits > 2007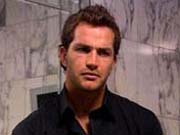 Will Griggs
Having arrived in Ramsay Street hiding the secret that his real name was Sebastian Barnes and he was the heir to a multi-million dollar hotel empire, Will started dating Carmella Cammeniti. But it wasn't long before Paul Robinson recognised 'Will' and started blackmailing him when he found out that he was also the mysterious 2% shareholder in Lassiter's. Although he didn't want Carmella to fall in love with his money, he realised that he would have to tell her the truth. Unfortunately, the truth came too late and Carmella told him that, with no trust there, she couldn't continue seeing him. Will then disappeared from Erinsborough and it was left to his older brother, Oliver, to explain that his younger brother's stories about being a free spirit and going backpacking were all lies, and Carmella hadn't been the first girl to be taken in by him.
Final Episode: 5132
Final Words: "You can tell Carmella I declined your invitation."
Behind-the-scenes: Actor Christian Clark left the cast suddenly to take on a film role in the USA, leaving producers to fill his place in the storylines with his previously-unmentioned elder brother, Oliver.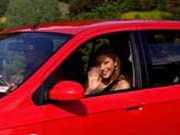 Katya Kinski
During an eventful year in Erinsborough, Katya faced numerous trials, including a relationship with the insane Robert Robinson, who was later imprisoned. When Max Hoyland mistakenly thought that Robert had escaped and was coming to get Katya, he ran him down, only later finding out that it was actually Robert's identical twin, Cameron, who died in hospital. A few months later, Katya was just recovering from her own run-in with the police, having become involved with some former criminal friends who were blackmailing her, when she was called to give evidence at Max's trial. With that out of the way, and Max having escaped with his freedom, Katya decided that a fresh start with new boyfriend Ned Parker was in order. Katya accepted a job with the medical team at the Adelaide Crows football club and headed off with Ned, though his gambling problem led to him deciding to stay behind and take part in a big poker game.
Final Episode: 5143
Final Words: "Ned, you mean more to me than any windfall, and I hope I mean the same to you."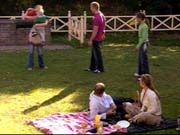 Max Hoyland
When Max befriended Katya Kinski, it was the beginning of a traumatic six months for him and his family. After mistakenly believing that Katya was in danger from her psychotic ex-boyfriend, Robert Robinson, Max ran him down, actually fatally wounding his twin brother, Cameron. Cam's grieving sister, Elle, then took her revenge by allowing Max to believe that he was losing his mind and, not wanting to be a burden on his family, he disappeared. A couple of months later, Max was spotted by Elle in Waratah Park, where it emerged that he had been staying with some people he met whilst sheltering in a church. In Erinsborough, Max's wife, Steph, had been moving on with her life and was on the verge of a new romance with old friend Toadie, when Max returned. Steph chose to give her marriage another try, but it quickly became evident that things had changed too much and it couldn't be saved. Max decided to return to his old life, on the oil rigs and accepted a job in the Bass Strait, making a new life for himself in the small city of Sale.
Final Episode: 5150
Final Words: (Max and Steph watch Janae, Boyd, Summer and Charlie) "We did pretty good, didn't we?" (Steph agrees) "Do ya reckon we can take credit for Janae?" (Steph says that she is a Hoyland now) "We'll take fifty percent then, huh?" (Steph says that they've been blessed) "Yeah."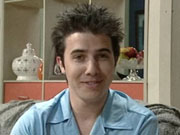 Stingray Timmins
After a year of alcoholism and a relationship with under-age Rachel Kinski, Stingray Timmins started 2007 well, attending AA meetings and beginning a new relationship with Sky Mangel, the mother of Stingray's baby niece, Kerry. When Kerry was diagnosed with leukaemia and her father, and Stingray's brother, Dylan, was found to be an unsuitable donor, Stingray stepped in. Despite a few hairy moments, the operation went well and both Stingray and Kerry were declared to be in the clear. But, during a street party for Janelle, Stingray's mum, he sat down to take a breather only to suddenly pass away from an aneurysm that had gone undiagnosed. Later, that day, Stingray's family and friends sat down to watch a video he'd made for Kerry, celebrating the day she was given the all clear, and telling her about, and paying tribute to, each of his family members.
Final Episode: 5175
Final Words: "Cop ya."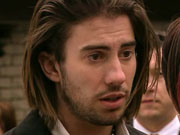 Dylan Timmins
Following the sudden death of his brother, Dylan was full of rage and desperate for someone to blame. After first attempting to lash out at Stingray's doctor, he realised that Paul was to blame for everything, having been the one who poisoned the wetlands and left Dylan with abnormalities that had caused Kerry's illness in the first place. Dylan kidnapped Paul and pushed him off a cliff, before breaking down and realising that he'd let his little brother down. After realising that Paul was alive and hanging from a ledge, Dylan helped him up, but the anger wouldn't go away. On the day of Stingray's funeral, Dylan trashed the bar and his mum's boyfriend, Senior Sergeant Allan Steiger, was alarmed when Dylan begged to be arrested before he seriously hurt someone. When Kim Timmins risked arrest to return for his son's funeral, Allan agreed to turn a blind eye and suggested that Kim could take Dylan back up north with him, giving him the chance to sort himself out. After saying his goodbyes to Kerry and Sky, as well as his family, Dylan left Erinsborough, with no idea when he'd be back.
Final Episode: 5180
Final Words: (Bree stops him and asks if he has to go) "I am so sorry, Smidge." (She asks if he'll come back) "Of course." (The second he's better?) "The second. I promise. I love you." (He kisses her on the forehead and walks away)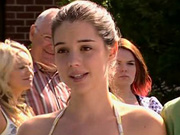 Lolly Allen
With Sandy finally out of her life, Lolly began to make new friends and get close to Lou again, however she couldn't hide the fact that she was desperately missing her younger brother and sister, Braiden and Keisha. Realising this, Lou sent her to visit them in hope that it would ease the separation, and it seemed it did when she returned telling Lou & her boyfriend, Zeke that she wanted to stay in Erinsborough as she had found her siblings to be too annoying. Lolly was just trying to spare the feelings of those she was closest to in Erinsborough however, and close friends Harold & Bree could see straight through her act. After Harold pointed out how Lolly really felt to Lou, he surprised Lolly by telling her that he'd arranged for her to return to live with her biological father, John and her siblings. Lolly was thrilled about this, but also didn't want to leave her other dad, Lou behind. Lou promised to visit regularly and told her that before she returned to the Allen fold, they were going to go to Russia to meet his long distance love, Mishka. Having said all her goodbyes to the residents of Ramsay Street, Lolly got into the car with Lou & Zeke and left Ramsay Street and Erinsborough once again.
Final Episode: 5245
Final Words: "Bye. Bye everyone, I'll see you soon!"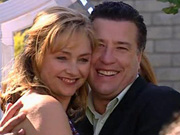 Janelle Steiger & Bree Timmins
Following the death of youngest son, Scott and the departure of Dylan, Janelle was missing the rest of her family like crazy and following the return of her long-lost daughter Anne Baxter who had been switched with Bree at birth, Janelle wanted to spend more time with her, and Bree with her biological parents. However, with the Baxters living in Queensland and Janelle, Janae & Bree being in Victoria, making visiting arrangements was nigh on impossible. Janelle's fiancé, Allan Steiger had the perfect solution, suggesting that as four of Janelle's children were living up North as well as their father, Kim, it made sense for them and his daughter, Pepper to move up there too, at least for a six month trial. Janelle, Janae & Bree agreed, however, Pepper decided to stay, she was happy with her life in Erinsborough. When the day of the move came, and Janelle said goodbye to her remaining family members, Toadie, Sky & Kerry and her friends, Allan had a big surprise for her, a wedding. The two exchanged vows in front of those who meant the most to them in Erinsborough before Janelle made a speech about how much they'd loved living there and Steiger revealed another surprise, Daryl Braithwaite, Janelle's idol to sing for them. Meanwhile, having felt ignored by best friends, Rachel & Zeke, Bree was touched when they revealed that they had been busy making a memory box of her time in Erinsborough and that she'd be sorely missed. After the bride had recovered, they headed down to the oval to make their big departure, via helicopter. Janelle had seen how sad Janae had looked and having realised how much she loved neighbour, Ned Parker told her daughter to stay and that she had a month to get her act together or join them. Saying goodbye once again, Janelle, Allan, Anne & Bree flew out of Erinsborough in true Timmins style.
Final Episode: 5255
Final Words: (Bree) (Sky tells her that they'll be soul sisters forever) "Forever." (Janelle) (Janae goes to get in the helicopter) "Sorry love, no more room" (What?) "You and Neddy-boy have got a month, if it's the real thing, you stay." (But Ned...) "Baby, I'm not blind, there's something up with you two and it's worth finding out. Ned's a good man." (They hug) "Now, scoot before I change my mind."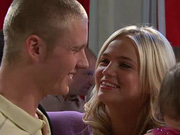 Sky & Kerry Mangel, Boyd Hoyland
Having recently returned from Port Douglas after taking Kerry to see Dylan and the departure of the recipient of Stingray's heart, Caleb, Sky was thinking more and more about giving Kerry the chance to get to know her father. Having realised that his granddaughter was unhappy, Harold told her to move up north as her visit to see Dylan had made her the happiest she'd been since Stingray had died. Initially unsure about leaving her grandad on his own, Harold reassured her that he'd be fine and he'd be visiting as soon as he could. Meanwhile, upon hearing of Sky's departure, Boyd began to re-evaluate his life in Erinsborough as things hadn't been the same since his dad and Summer had left and when Sky advised him to know what he wants and get happy by making some changes, he decided to join her on her trip, before continuing travelling. Step-mother, Steph worried that she was to blame and his career in medicine, concentrating more on Charlie, her work and new relationship with Toadie than him, but Boyd explained that it was just something he had to do and medicine would still be there when he gets back. After a surprise farewell party at Lassiter's, in which Harold, Steph made touching speeches about how Sky & Boyd had grown in their time there, whilst Sky thanked everyone for showing her that it's great to be different and making her the person she is today. Everyone then headed outside to wave Sky, Boyd and little Kerry off as they did a circle of Lassiter's and left Erinsborough for their new lives.
Final Episode: 5270
Final Words: (Boyd) "Bye guys." (Sky) "Bye Grandad! Bye guys!"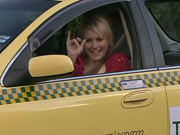 Pepper Steiger
When teacher Pepper found out that her dad, who had recently moved up north to Cairns with new wife Janelle, had suffered a relapse, having contracted malaria whilst working in the Solomon Islands earlier that year, she started making plans to go up and visit him. What she failed to tell her boyfriend Adam was that she'd also applied for a job up there and had been accepted. When he accidentally found out, he was upset and she agreed not to take the job, but couldn't quite bring herself to turn it down. As she said her farewells to everyone, Pepper was delighted when Adam turned up and agreed to join her in her new life in Northern Queensland, giving her the happy ending she'd always wanted.
Final Episode: 5334
Final Words: "Bye everyone." (Pepper waves to Ringo. Ned then comes over and says goodbye) "See ya" (and asks Pepper to give him a call if she spots Mickey as she's leaving) "Sure."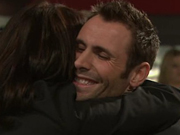 Adam Rhodes
Having joined girlfriend Pepper and gone to Cairns, police officer Adam Rhodes made a brief return to Erinsborough in order to arrange his transfer up north. After spending a couple of weeks catching up with old friends and sorting out a couple of minor crimes, he told Pepper's old housemates Rosie and Frazer to meet him for a farewell drink. He then broke the news to them that he was planning to propose to Pepper.
Final Episode: 5354
Final Words: (Rosie rushes to hug Adam and congratulate him on the engagement) "She hasn't said yes yet!"