.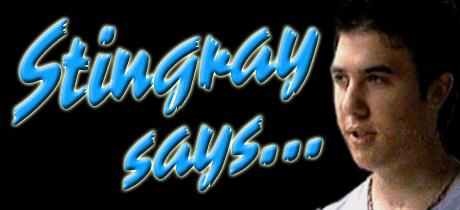 Reference > Stingray Says... by David
Throughout his three years on Ramsay Street, Scott "Stingray" Timmins bemused, shocked and delighted in equal measure with his unusual use of language. As he goes to the big trailer park in the sky, here's our guide to his own unique vocabulary.
Belgian / Belgium
-adjective
extremely bad; unpleasant; ugly; boring: Becoming an alcoholic after so few beers is totally Belgium.
[Origin: probably derived from the notion that Belgium as a country is lacking in interest or aesthetic beauty]
Caketaker
-noun
one who is selfish; greedy; unpleasant; I saw you stealing baked goods from The General Store; you cake taker.
[Origin: a mutation of the phrase "takes the biscuit"]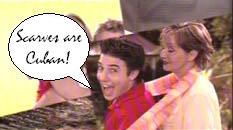 Castro
-adjective
See the more commonly used Cuban.
Cuban
-adjective
extremely good; pleasant; attractive; exciting: I love that track they were playing in Scarlet bar last night. It was Cuban.
[Origin: probably derived from the notion that Cuba is exciting and exotic]
Focaccia
-interjection
used when expressing strong anger; shock; annoyance: So you think I might be the father of your child? Holy focaccia!
[Origin: type of Italian bread inexplicably used as replacement for similar sounding swear word]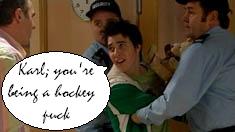 Hockey Puck
-noun
a person who behaves in a foolish way: Being sexually harassed at work makes you feel like a real hockey puck.
[Origin: as "puck" rhymes with a strong term of abuse, it's safe to assume this is a form of rhyming slang. Alternatively; the game of hockey naturally gives the puck a submissive role as a target to be pushed around, and, as an inanimate dense object, would be thought of as something lacking intelligence]
Hufter
-noun
an ignorant or stupid person; or someone who has behaved in a bad manner: Boyd, you're being a hufter.
[Origin: the "huf" may refer to huffy-ness / self-importance in the accused hufter]
Mother of pearl
-interjection
an exclamation expressing surprise or alarm: Mother of pearl! My girlfriend is young.
[Origin: Stingray possibly took it from the popular cartoon series SpongeBob SquarePants]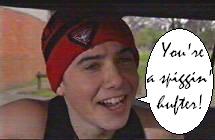 Spiggin'
-adjective
used to give more force to an expression: These fish fingers are spiggin' awesome.
[Origin: perhaps a play on the northern English word "pigging": Have a piggin' great day at work]
For some genuine Australian slang, also known as Strine, check out this site.