.
Comment > Love Thy Neighbour: Melanie Pearson (1987-2005) by David
With a laugh that could strip the paint off Helen Daniels' canvases, and a wardrobe wackier than Clive Gibbons, Melanie Pearson was one of Neighbours' quirkiest and most lovable characters. Twenty years on from her debut, we celebrate Erinsborough's premier porcelain pig procurer.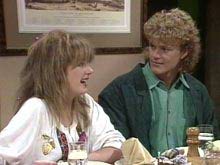 Arriving as Henry Ramsay's daffy new girlfriend, Melanie Pearson (Lucinda Cowden) made an instant impression on viewers, as well as the Ramsay family. Her squeaky voice, punky hair and unique braying laugh combined with her over appreciation of Henry's silly jokes meant she was viewed with much scepticism by Madge and Charlene. We the audience however, found her hilarious but she was only around for a couple of episodes before her relationship with Henry went pop. As such a standout novelty character, it may have been safe to assume Melanie would remain a guest designed to put in a one-off bombastic performance and never be seen again. But, perhaps due to her likeability, Melanie made several return visits to Ramsay Street - usually to stir up trouble in Henry's love life - and then, in 1989 she became a full-time character and got a permanent job as Paul Robinson's secretary.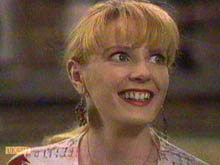 This working relationship made a great juxtaposition with Paul as the hard-nosed, suited businessman and zany Mel flapping around in her colourful outfits. It became one of several unusual friendships Melanie made, as she moved in with down to earth Des Clarke and then later shared a house with true blue Aussie bloke Joe Mangel. Mel had a habit of being simultaneously well meaning yet annoying - usually by saying the wrong thing. After she moved in with Des and Mike, she cooked them both a fried breakfast but then said she wouldn't have any as it's so unhealthy. And when she heard Paul offering Des a job in the office, Mel exclaimed her delight saying she was worried it'd be boring working with just Paul. Also, her obsession with collecting china pigs meant her housemates had to put up with countless whimsical ornaments altering their décor. It must be said, as her character became more established, her trademark laugh softened and was used less frequently. Perhaps it was felt that her housemates wouldn't be able to tolerate too much of the animal-like squawk!
Lucinda Cowden's excellent comedy talents were always put to good use as Melanie, and she's said herself that her favourite moments were playing up to the character's klutzy reputation. Highlights included her involvement in Paul and Chrissie's wedding when she had to wear the bride's wedding dress to help her get to the church on time and then ended up gate crashing their honeymoon cruise. Learning to sing with Harold and doing karaoke with Henry, Bronwyn and Reverend Richards have also been mentioned by Lucinda as particularly enjoyable scenes.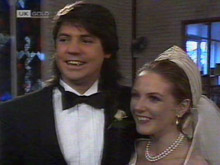 Being a romantic girl, Melanie was always looking for true love and would often consult Erinsborough's most famed fortune teller Madame Zolga to help her search. Sadly it didn't seem to help her much as she had a lot of trouble with men. Her relationship with Henry was never set to last and a few months after returning to work for Paul, they had a one night stand together which made Mel feel used. She also dated Kelvin Stubbs who turned out to be a cheat, and then when she seemed to settle with widower Roger Walsh, Melanie couldn't put up with his overly protective daughter Tania who took an extreme dislike to her. But even once Mel won Tania over, she soon came to realise that Roger still had feelings for his ex-wife, and mother to his children, so she ended the engagement. But things were set to change after moving in to the Mangel household. Mel got on wonderfully with Toby and Sky, and she and Joe soon became good friends - but it remained a plutonic relationship for a long time. The friendship was so strong that when Joe was fighting for custody of Sky with her natural father, Melanie offered to marry Joe just to help his chances. Joe turned her down; but it was a genuine example of Melanie's good nature. When Joe was having trouble getting a date, Melanie was the one who pushed him into putting an advert in the lonely hearts section of the newspaper, and even altered his letter to a prospective date to improve his chances. Over time though, Joe began to fall in love with Melanie, but as is so often the way in soap, by the time he'd realised it, she was involved with a dishy businessman called Simon Hunter. Again Mel's romantic side took pity on Joe and got him to apply for a place on the TV game show Dream Date. Joe was successful but at the last minute one of his prospective mystery dates had to drop out and Mel was forced to sit in her place. Despite her attempts to disguise her true identity, of course Joe picked her and the two housemates were sent away on a romantic weekend where they both realised their true feelings for each other. Simon was soon dumped and it wasn't long before Melanie got the fairytale wedding of her dreams to loveable Joe. Not long after that, Mrs Mangel was taken ill in England and Joe and Melanie visited her and, upon their return to Australia, settled away from Erinsborough, as number 32 was sold to pay medical expenses. As one of Neighbours' jolliest family units we could imagine the Mangels moving away to a tranquil country idyll where they could live happily ever after.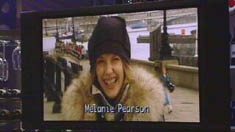 So it was a cause of sadness when we later discovered that the happy couple hadn't lasted. On Sky Mangel's return to Ramsay Street in 2003, she mentioned that Joe and Melanie had divorced in 1993. Then in 2005 we received Melanie's own view on the marriage via her video message on Annalise Hartman's documentary: "And I shouldn't have married Joe!". When we interviewed Lucinda Cowden herself in 2005, she had this to say on the subject: "Shocked and surprised! Thought they would last forever obviously the script writers didn't agree. Shame... don't think Lyn Scully is any good for him either!". So, it wasn't just us viewers who were upset then.
When Melanie left in 1991, Neighbours lost a uniquely enjoyable character but, as it turned out, also lost the ditzy funny young woman mould of character, and that wouldn't truly be replaced for more than a decade when Sindi Watts arrived on the scene. We currently have dizzy Pepper Steiger in charge of those reins, and it's good to see the Melanie blueprint of a fun and fizzy female is continuing in the new millennium.
Click here for part two of our Love Thy Neighbour tribute to Melanie.