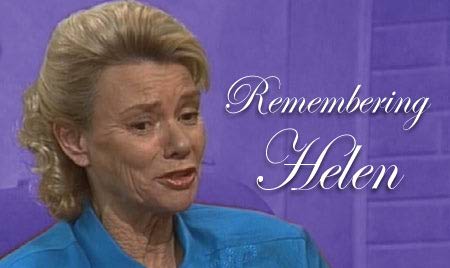 .
Features > Remembering Helen by Steve and Moe
Wednesday 6th June 2007 marks 8 years since the sad passing of Anne Haddy. From 1985 until 1997, she played Helen Daniels - mother, grandmother, surrogate parent or friend to almost everyone who passed through Ramsay Street. This feature will take a look back at Helen and at Anne, with shared memories from those who worked alongside her, and favourite storylines from the fans who watched her each week. Also included are scans of newspaper and magazines articles, showing some of the media tributes at the time.
Saturday 6th June 2009: Today marks the 10th anniversary of Anne's death. To mark the occasion, we have updated our Remembering Helen tribute to include some more words about Anne, and specifically what she was like to work with, from the interviews we have conducted over the last six years.

"Anne Haddy was a most special person. She was a fine actress and a dear friend in my private life. As my own wonderful mother was dead I used to call her 'mum' and mean it. I miss her, we used to laugh a lot as we had a similar sense of humour and there was an honesty between us. We'd practice our lines together in her car, in later years a small version of a Sports Utility Vehicle! She was sick for a long time but she had a wonderful strength. I classify her as one terrific lady. Each Christmas I stay in touch with her husband, actor James Condon whom she loved with a passion."
Joy Chambers, who played Helen's adopted daughter, Rosemary, for over 10 years
"Classy, slick, reliable and fiercely loyal to the pursuit of excellence in the show. She set the standard and didn't suffer unprofessionals gladly. The show needs that kind of staunch high standard amongst its cast. She always wanted the very best actors to be in the show and she was the mascot. I loved her and I know she loved me."
Caroline Gillmer, who played Cheryl Stark in Neighbours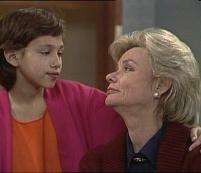 "Anne was a pleasure to work with. She had presence about her that allowed her to command an audience effortlessly. She was gracious and graceful and always incredibly professional."
Kylie Flinker, who played Helen's granddaughter Lucy in the early years of the show
"I learned so much from her. She was such a hard worker, a formidable presence on Australian television. It was a pleasure working with her on Neighbours."
Kylie Minogue, who played Charlene Robinson in Neighbours
"She was such a great actress. It was a joy to write her scenes. She'd always add something special. She had such wonderful charisma. I wrote her a letter when she left, telling her how much I'd miss her. Believe it or not, it's the only time I've ever had contact with a regular cast member. I was quite surprised when she wrote back."
Neighbours scriptwriter Helen MacWhirter
"Anne never let a scene down, never 'walked through' an episode. She always gave her all, right up to the time she had to be written out because of illness."
Neighbours scriptwriter Ray Kolle
"Anne was there from the start and helped me with my acting when I came, back in 1994. We all miss her very much."
Jesse Spencer, who played Billy Kennedy in Neighbours
"Anne set a marvellous example, not just on how to do the job, but with professional ethics as well."
Stanley Walsh, former executive producer of the show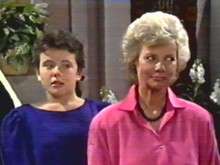 "Anne Haddy was such a delight and a very wonderful woman."
Sasha Close, who portrayed Helen's granddaughter Lucy for several years
"Your star shines brightly in the sky reminding us of what it is to be a trouper. You never missed a beat.Your professionalism, humour and inspiration remain always as a beacon to us lesser mortals who have still to tread the boards. God's greatest blessing was to give us you. May St Genesius have an easier time now you are there to help him. Thank you."
Former Neighbours actress Brenda Addie's message for Anne
"I knew and worked with Anne before Neighbours when she was Rosie in Sons and Daughters. She was a nice lady and a consummate professional, but there is a small anecdote I remember about her. Like myself, Anne first started in theatre and had a substantial theatre background. I think when you do have a theatre background you never lose the thrill of it. When we were in London together for the Royal Variety Performance in November 1988, we stayed at the Dorchester Hotel. The day after the performance, there was the Variety Club luncheon. To get to this the bus took us up Shaftsbury Avenue and I'll never forget how excited Anne was a seeing all the theatres. She was in seventh heaven and was pointing them out to the rest of the cast as we passed. I shared in her enthusiasm because I have always got a kick out of walking down Shaftsbury Avenue seeing all the theatres myself since I first saw them when I lived in London in the sixties. It was the first time Anne had been back to London since she the fifties when, like most Australian actors, she made the trek to the old country."
Neighbours' former Executive in Charge of Production, Peter Pinne
"The main thing I remember about Anne is what an incredibly dedicated performer she was. There were times in the story department when we were asked to keep her scenes to a minimum because she was in very poor health. But having done this we'd then get a call from Anne, angry at not being given enough to do. When her health was at a critical stage and she was down to zero mobility, she was still determined to continue performing. We would write scenes with her standing in the kitchen, preparing dinner or sitting in the lounge room, but we couldn't have her moving from one position to the other. Then Anne gathered her strength and decided that she could manage her death scene after all. The scene was then shot in front of the television where she nodded off peacefully, while watching videotapes of favourite Neighbours moments."
Neighbours scriptwriter Michael O'Rourke
"To me, she was the First Lady of television and always will be."
Tom Oliver, who acted alongside Anne in Neighbours as Lou Carpenter for several years
"Anne's portrayal of Helen Daniels was the backbone of the entire Neighbours saga from 1985 to 1997."
Anne's husband, James Condon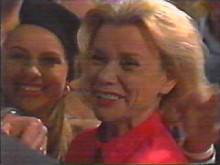 Conmen, bigamists, happiness and sadness - Helen saw it all and did it all. We remember some of Helen's finest moments during her incredible 12 years as a Neighbour.
Helen and Douglas Blake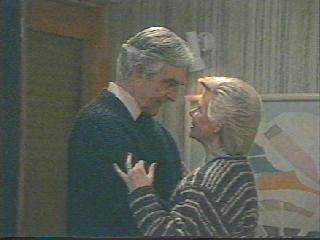 When Helen met Douglas, she was instantly charmed by him and his compliments towards her artistic ability. Before long, he was arranging an exhibition for her and she was beginning to fall for him. After their romance began, he suggested they move away to a beautiful country cottage he had found and he also proposed. Helen began to plan for her wedding and realised that all her dreams were coming true at once. Sadly, these dreams were about to be cruelly shattered. Having handed over all of her life savings to Douglas, thinking he was investing them in their dream home, Helen was shocked to find that Douglas had vanished along with all of her money. A devastated Helen tried to put the experience behind her, but decided that she couldn't simply forget this man - so she paid to have him traced. After finally tracking him down to a hotel in the city, she dragged along her friend Madge Mitchell, who eventually agreed to become part of Helen's plan after realising how much this man had hurt Helen. After managing to convince Douglas that she was a rich lady of leisure, Madge explained to him that she had some valuable diamonds but had no idea what to do with them. Of course, Douglas was quick to help Madge out with her hotel bills and he also made offers to have her diamonds valued - she said he could take only one - which happened to be the real diamond from her wedding ring. Afterwards, Douglas offered her fifty thousand dollars - the exact sum he had conned out of Helen - for the diamonds and the transaction was made. At that exact moment, Helen appeared at the hotel and informed Douglas that the diamonds Madge had given him were infact fakes. With a pure sense of satisfaction, Helen then walked away from an astounded Douglas Blake.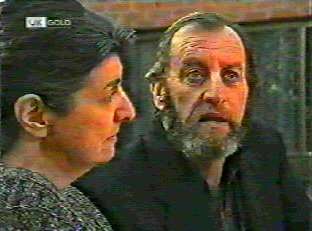 Helen marries Michael Daniels
Helen met Michael at the doctor's surgery, where they shared a joke about having the same surname, and she soon realised that he was the cousin of her late husband, Bill.
After a whirlwind romance, Michael proposed to Helen and she was thrilled to accept. She was surrounded by her family at the fairytale wedding, at which she arrived in a horse-drawn carriage. After the wedding, the couple left for a tour of Europe, something art-lover Helen had always longed to do. However, in her absence, Helen's son-in-law, Jim Robinson, found out that Michael was actually still married to his previous wife, Louise. Jim confided this news to friends Madge and Harold Bishop and all three of them found it difficult to keep the news to themselves when Helen and Michael returned from their trip. Jim was eventually forced to confront Michael and a heartbroken Helen told Michael she never wanted to see him again. However, Michael was determined to have his say and returned a short time later, asking for a few moments of Helen's time. He took her to a care home and introduced her to Louise Daniels - his wife. Michael explained that Louise was suffering from dementia brought on by schizophrenia and was unable to communicate as her condition had deteriorated so badly. While Helen no longer wanted Michael to be part of her life, this discovery went some way towards explaining Michael's behaviour.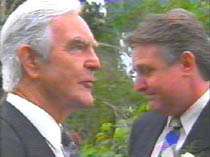 Helen marries Reuben White
After a disastrous romance with the philandering Len Mangel, Helen didn't expect to find love again. But when a set of circumstances led to a meeting with the charming philanthropist Reuben White, Helen quickly found herself falling head over heels in love. A whirlwind romance followed with Reuben whisking Helen away on a tour around the world, including a visit to daughter Rosemary in New York. They returned to Erinsborough engaged, and preparations got underway for a romantic wedding ceremony by Lassiter's Lake. However, shortly before the nuptials, Reuben revealed to Helen that he had a serious heart condition and could die at any time. Although Helen was devastated by the idea that she may not have much time with Reuben, she vowed to make the very best of every day they had been given, and was even more keen to become Mrs. White. One final obstacle had to be overcome on the eve of the wedding when Reuben's son, Garnet, accused Helen of marrying his father for his fortune. But Helen proved her love for Reuben by making Garnet aware of Reuben's condition, and consequently enabling Reuben and Garnet to properly bond as father and son for the first time ever. Helen and Reuben's wedding was a lavish occasion, with Helen looking truly beautiful in a vibrant red outfit. Sadly, only days after they became husband and wife, Reuben quietly passed away in the back garden one afternoon, and a heartbroken Helen was widowed once again. However, after hanging a portrait she had painted of him in the living room, Helen ensured Reuben would be close by at all times.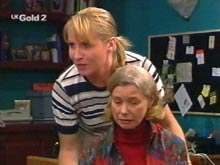 Helen's Stroke
Having suffered a stroke once before in 1988, Helen faced her toughest health crisis when in 1996, she suffered a second, more serious stroke. Hannah was shocked when she found her beloved gran collapsed on the kitchen floor one morning, and Helen was rushed to hospital, where she lay in a coma for several days. When she finally did regain consciousness a few days later, a weak and frail Helen had virtually given up the will to live - even asking Karl Kennedy to let her die. However, the love and support of her family and her indomitable spirit helped Helen regain the strength to recover. Months of intensive physiotherapy followed both in hospital, and later at home with Ruth Wilkinson, but Helen made a remarkable recovery. What frustrated her most about the stroke was that she was left reliant on her walking stick as a result and could no longer be as active in the community as she used to be. And sadly, Helen could no longer indulge in her favourite pastime of painting. But simply being at home in the house she loved so much, with the family nearby, was enough for Helen, and she treasured every extra day she was given.


Helen's Death
After suffering her second stroke in 1996, Helen's health continued to deteriorate. A bout of food poisoning after a pizza-eating contest at the Coffee Shop led to Helen going back into hospital for a lengthy period, leaving her great-granddaughter, Debbie, who was running the Coffee Shop, feeling terrible. While Helen was away in hospital, the long-running feud between the Ramsay and Robinson families was re-ignited, with the Martins claiming that the street should be re-named Robinson Street. Madge was determined that the card game won by her grandfather was legitimate and before long, there was a huge falling out between the two families. As soon as Helen heard of this, she demanded to be allowed home to repair the damage and everyone gathered at number 26. Once there, Helen treated them to a showing of the ultimate union of the Ramsay and Robinson clans - Scott and Charlene's wedding. This quickly led to everyone realising how silly they had been and making up, and a satisfied Helen sat back with great granddaughter Hannah at her side. Some time later, when none of the family could wake Helen, they realised she had passed away in her sleep and Hannah admitted she had noticed some time before. Philip's son Michael and Helen's daughter Rosemary both returned for the memorial service at Lassiter's Lake, where friends and family gathered to say their final farewell to Ramsay Street's favourite gran.
Media tributes
Magazine and newspaper articles from June 1999
Working With Anne Haddy...
"I remember Anne being very frail on set and having great difficulty walking. I was amazed at the transformation which would occur the minute the cameras began rolling and suddenly all her physical ailments would seem to disappear as she transformed before our eyes into the screen legend we all knew and loved. It was truly amazing. She was a very thoughtful person who took great personal ownership of her character and also had a strong sense of history. I remember Anne's stories about the time before actors unions in Australia when actors had to arrive in their own costumes and apply their own make-up sometimes in the gutter or pavement as there were none of the modern comforts actors take for granted today. It was a tremendous privilege working with such a fine actress."
Dean Francis (Tim Buckley)
"I still remember forgetting one of my lines during filming in the first week – the director and Anne Haddy were so nice and made me feel very much at ease. After that day, I was paranoid about learning my lines though!"
Sasha Close (Lucy Robinson)
"Anne was so easy to work with, which may have had something to do with her 30+ years experience, 10 of that being on Neighbours. I loved that Brett found such a close friend in Helen."
Brett Blewitt (Brett Stark)
"Anne was a pleasure to work with. She had presence about her that allowed her to command an audience effortlessly. She was gracious and graceful and always incredibly professional."
Kylie Flinker (Lucy Robinson)
"Anne was great, she gave me lots of good pointers from her wealth of experience. She was in a bit of pain then, having problems with her hip, but you would never have known when she was on screen because she was so professional. She was very easy to work with, and so lovely too."
Josephine Clark (Jamie Lee Duggan)
"Anne didn't suffer fools or slackers, and I really loved that about her. She taught me the wonderful phrase "if you're on time, you're late", which I must admit I have passed on to people younger than me! "
Shaunna O'Grady (Beverly Robinson)
"Anne was classy, slick, reliable and fiercely loyal to the pursuit of excellence in the show. She set the standard and didn't suffer unprofessionals gladly. The show needs that kind of staunch high standard amongst its cast. She always wanted the very best actors to be in the show and she was the mascot. I loved her and I know she loved me."
Caroline Gillmer (Cheryl Stark)
To read an actor profile of Anne, click here, to read a complete character biography of Helen Daniels, click here and to read our exclusive interview with Anne Haddy's husband James Condon, click here