.
Interviews > Lliam Amor
Not content with just being a great comedian and writer, Lliam Amor has also turned his hand to acting, appearing in two Neighbours guest roles. Here, he shares memories of stalking Carmella and missing out on becoming a Ramsay Street regular...
Can you tell us a little about your career before your first Neighbours appearance as prison officer Adam Buxton in 2004?
I had acted in quite a few theatre productions and had stints on other Aussie TV series (The Micallef Program, Blue Heelers, MDA) as well as a few ads. The majority of my work was (and still is) funneled into an improvisation company called Impro Melbourne.
How did that first role come about? Was it just a typical audition for you?
I had been to see Jan Russ a couple of times for other roles such as Max Hoyland (damn you Stephen Lovatt) when my agent rang to say I had the role of Adam if I wanted it. No specific audition was required - they must've just remembered "…who's that fat guy with the sideburns? Oh yeah…"
You returned a year later as Frank Romano? Can you tell us a little about filming that role?
That one was won through an audition (the creepy toy scene with Carmella). I'm sure everyone says this but the whole shooting schedule was a joy, the crew set up the shots quickly and without any fuss, the directors, Tony and Jovita, were great and Natalie and Patrick were very supportive, charming and funny. It was quite surreal in places as I sat in the green room trying not to mix up actor's names with their character's (forgive me Blair).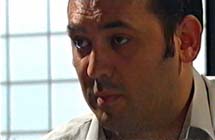 Was there anyone you particularly enjoyed working with during your two stints on the show?
Tom [Oliver] was great in my Buxton ep. He told loads of wonderful anecdotes about his days as an actor in the 50s and 60s. In the Stalker storyline Natalie [Blair] was fantastic. As we had the most scenes together we worked quite a bit on the lines and trying to get the emotional level right. I found I could make her laugh at the drop of a hat which was like waving a red flag in front of a bull. She's a lot of fun and very talented. I also keep bumping into the guys who played the cops on other shoots.
What was it like to work alongside such an established cast?
Great. I already knew a few of the cast (I had performed with Ben Nicholas and Kevin Harrington at Celebrity Theatresports) but they all made me feel welcome. There were no tantrums, diva behaviour or loud shouting at any stage - boring copy I know, but true. Everybody acted professionally and did the job. Blair and I had a bit of biffo for the sound guy (for the fight scene in the dark) which was hilarious because we got to thump each other and tear up the set (much to the art director's dismay)
Would you ever consider returning to work on Neighbours if the opportunity arose?
Of course. I mentioned the relatively short life span of the stalker role to Marisa Warrington and she said (tongue firmly in cheek) "Don't worry in two years you'll be back and be a good guy". Actually I worked out that Frank Romano was probably well looked after by Adam Buxton while inside the big house…
Are you still in touch with anyone you worked with on Neighbours?
I still see Ben and Kevin around occasionally and the lovely Patti Stiles is A.D. of Impro Melbourne. It's not hard to throw a stone in Melbourne and not hit an actor who's been on Neighbours (the hard part is explaining why you're tossing rocks at actors).
Have you ever been a Neighbours viewer yourself?
There was period of my young life where it was mandatory viewing and it culminated in the wedding of Scott and Charlene (who I saw sing a duet at the Ringwood Blue Light Disco)…ahhh heady times.
What are you up to these days?
Currently the Melbourne Comedy Festival is keeping me busy but the auditions keep coming and hopefully some work on Thank God You're Here when it returns later this year. When I'm not acting I teach Drama and Media at Deakin University and work as an illustrator. (www.lliamamor.com)
Finally, as it enters its 23rd season on Australian television, what do you think accounts for the show's enduring success?
International backers ;)
To find out more about Impro Melbourne, click here and to read a character biography of Frank Romano, click here...
Interview by Steve. Added on 14th April 2007