.
Interviews > Lesley Baker
In 1995, Angie Rebecchi made her first appearance in Neighbours as a mud pie. In 1996 Angie returned full time to the cast, remaining on the show for over six months. Due to her huge popularity with the fans Angie Rebecchi returned in 2002 causing more havoc with her outlandish behaviour. Lesley Baker took some time out after filming her new scenes to speak exclusively with us...
Can you give us some background on your career before Neighbours?
April 2003 was the 40th anniversary of my career as a professional actress. I started in a comedy revue in 1953 and was lucky enough to literally stumble my way - true, but that's another story - into getting a leading role in the musical comedy How to Succeed in Business Without Really Trying for Australia's most prestigious theatrical management. I played a constantly dieting, fast-talking secretary and of the six leading characters was the only Aussie - the others being brought in from America.
From there I did a year on the top Aussie variety television show, In Melbourne Tonight, which was hosted by a man called Graham Kennedy who is an absolute legend over here. I was part of the comedy team and did sketches with Graham, hosted bits and sang.
I went back to the stage to understudy the leading role of Fanny Brice in Funny Girl. It was a huge show for the lead and I was fortunate enough to play the role almost fortnightly during the Sydney season of our Australian tour, as it was winter and the show took its toll on the star. I then played the lead, Madame Rose, in the first ever Australian production of Gypsy in a dinner theatre in Sydney. I was lucky with that one as I was only 24 - miles too young to play the mother of two grown-up daughters, but the older actresses who could have played it were unavailable and so I got the chance.
I then really went from television to stage and back again, doing all kinds of musical comedies on stage, television variety and then got into drama productions, which were mainly all police shows. The first television crime show cast me as a nymphomaniac garage mechanic, who happened to be a murderer, and from there on I was cast as prostitutes, senior prostitutes, gangster's wives - always on the wrong side of the law until I complained one day and was cast as a goodly nun!
I hosted my own television morning programme, The Incredible Lesley Baker Show, for the top-rating television network in Melbourne over the Christmas and New Year holidays in 1971. I was asked to continue and host some of the nighttime variety shows, but there were some internal politics that prevented all that from coming to fruition.
I went to London in 1971 and didn't worry too much about trying to work there, as I really wanted a holiday and to see the United Kingdom and Europe. I worked as a secretary for the National Magazine Company, who did Harper's Bazaar, Vanity Fair and other top magazines. I loved it and did all the usual touristy things, returning in 1973 to get married and start playing criminals on television!
I also returned to the stage to understudy and play my earlier role of Madame Rose in Gypsy. I was married in 1974 and had my son Ben in 1977. My husband left when Ben was 18 months old and I went into Prisoner to earn some money. Ben has a disability, but at that point he was too young to accurately diagnose. I knew that he had problems and I had a feeling that I would have my hands full in a short time. I know Prisoner was popular in the United Kingdom - I played Monica Ferguson, who appeared around episode 18 and was Bea's mate. I worked the steam press and Bea and Monica tried to make an officer, ≥Vinegar Tits≤, appear to have hit Bea, so we could get rid of her. I left the show after eight months as Ben needed physiotherapy and other treatments - it was time to be a mum.
I managed to guest-star in episodes of most of the Australian dramas while Ben was younger and did guest appearances on various television variety shows around Australia when I could get time. I've also done some feature films, of which Eliza Frazer and Spotswood - with Anthony Hopkins - are the better known. There is little I haven't done, although in recent years there has been less work that I have been able to do, given the situation with Ben, and the fact that older actors are not used much here.
How did the role of Angie come about?
As I am fairly well known, I am lucky enough to be offered roles without auditioning most of the time. I received a call from casting director Jan Russ offering me Angie for what was initially only three weeks. Stonie (Anthony Engelman) had been in the series for about six months and they wanted to establish a family background for him, although the family was not planned to stay in the show. I turned up on the show at the auditions for the local drama society's Christmas pantomime, and auditioned for the part of a mud-pie. In the following episodes, I had to wear a brown ballet tutu and Angie was born. The producers loved it and I was written back into the show a couple of months later.
Did you have any specific input in developing the character - how did you approach her from the start?
Angie's first scene was the audition to be a mud pie, and the character just flowed from there. She was a totally out-there person who had to be played that way. The greeting of Big Kev when he arrived on the show from his truck was my idea. It was perfectly obvious to me that I had to sweep him off his feet - he is rather small - rather than vice versa. I guess she just evolved and the writers were very astute in picking up on the natural vibes of the actor and employing them. I had a no-holds-barred attitude to Angie and they went with it.
What were your first impressions of Neighbours and its production?
This is a memory test for me! My overall memory of my first day - then as a three week guest artiste - was that the cast were very tight knit, and although very friendly, took a while to invite guests or new actors into the circle. The production itself was, and is, very professional - it has to be to get through that amount of work in the time allotted.
Angie was a pretty outlandish character for Neighbours - where do you think her appeal lies?
Angie certainly is outlandish and I do think that is the essence of her appeal. She does what other characters wouldn't dare to do because of their own inhibitions. With Angie there are no such complications and, in that respect, most people would love to be able to be like her. For Angie, life is for living and being who you are, rather than trying to be what others regard as acceptable. With all that, she is always aware of other people and hasn't got a nasty or bitchy bone in her body.
Who did you enjoy most working with on the show?
Undoubtedly, my favourite to work with was Moya O'Sullivan (Marlene Kratz). She is an actress who really knows her craft, and so you played to the character, not the personality. We also struck up a great friendship from the moment we met, which was a bonus. I also really enjoyed working with Anthony Engelman, as it was just us two as family members for a long time until Ryan Moloney (Toadfish) joined us. We worked well as a unit and felt very much like a family. Both the boys are excellent actors. Needless to say, Anne Haddy (Helen Daniels) was too, and a great loss, to the show and personally.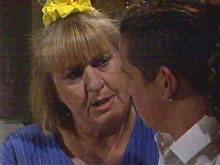 Do you have a particular favourite episode or story?
I had quite a few that I particularly enjoyed, but the one that stands out was the Melbourne Cup episode, which then led to Angie wanting to be like Cheryl. I felt it showed another side to Angie and brought some reality to the character.
I also enjoyed the romance with Mick the 'Possum Man', which pre-empted my departure - partly because it was an enormous challenge, and partly because I got so much from working with Mike Bishop, who played him. I confess to being very nervous when I read the scripts. I have always played character parts and romances have never been included, let alone a screen kiss. Mike - who is now a drama coach on the show - is a really giving actor and very good at his craft. The romantic scenes were a first for him too, and it was great to explore a side of my ability that I had never called on before.
What was the most rewarding aspect of working on Neighbours?
The most rewarding aspect for me was being given the opportunity to mould a multi-faceted character and stay with her for some time - to allow Angie to develop, and to achieve that without her becoming a cartoon.
How did the return of Angie and Kev in 2002 come about?
Madeleine West (Dee Bliss) was in Sydney to appear at a charity function. She went to a local store early in the evening and was on the footpath talking to some fans while waiting for the traffic lights to allow her to cross back to her hotel. When the lights changed, she took one step off the kerb and was hit by the overhang on a bus - the driver saying he did not see her until her head hit the windscreen. She was thrown 40 feet and was lucky that she missed being tossed into a brick building by inches. Her eye socket and cheekbone were completely smashed and she was unconscious for some time - her wallet was stolen from the ground while waiting for the ambulance to arrive. Her identity was a mystery until she regained consciousness and gave her mother's phone number.
Grundy were notified late on Saturday night and were left with three weeks worth of episodes where Toadie and Dee had most of their scenes with each other. It was almost impossible to drag other characters out of other scenes and storylines and so they had to find a way to fill in Toadie's scenes. A family reunion came to mind and I was contacted on Tuesday morning. We started the following Monday. The doctors told Grundy that Madeleine would be back on set in three weeks, but no one was convinced of that - hence, you may have noticed that we left and then turned up at Lassiter's and generally hung around.
Was it easy to resume the role after so long? Did you watch any old episodes or trust your instincts?
I was a little concerned about being accurate, but time didn't permit viewing of old episodes. The first rehearsal I opened my mouth and there was Angie. As Anthony described it when he returned for our upcoming storyline, it was like slipping on an old t-shirt!
The new scripts replacing Madeleine's scenes were written at breakneck speed - were there particular elements you were pleased or disappointed with?
You have certainly aptly described the speed of the scriptwriting - breakneck! I was not terribly happy with the opening scene at the pub, where I flashed the lotto ticket and got rather nasty with Kev. I felt it was too full on for an early scene, although hardly surprising given the short time in which we had to appear and disappear. I was a little concerned that the fun Angie was missing, but when we actually got to playing the scenes, they worked.
Had much changed behind the scenes during the time you'd been away?
In many ways, nothing had changed. The directors were all there, with only one I didn't know. The production staff, make-up, camera and floor crew were the same, and the atmosphere generally was unchanged. However, the mix of actors had changed and it was, on the whole, much more welcoming. With the appointment of Mike Bishop as drama coach, the new talent were studying their craft and much easier to work with.
Would you consider returning to the show full-time if you were asked?
I would love to return, but it would be extremely difficult given the situation with Ben, my son. He is older and more set in his ways, and my mother is now 93 and unable to assist as she did all those years ago. Ben's welfare is of the utmost importance, and I am also very involved in fighting for right for the disabled. I have no idea whether there are thoughts of a return, although it may be that they could bring me back on frequent short-term visits. I must be honest and say I have not given my thought to how or why Angie could return - I tend not to do that.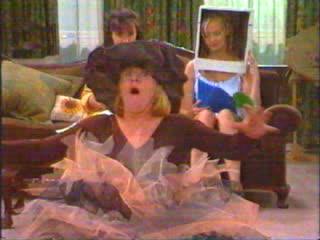 It's just been confirmed that you've recorded some new episodes - what's that been like and can you give any hints of what's in store?
I have only just finished a block of six weeks, [followed by] two weeks off, then one more week [of recording]. Let me say it has been the most satisfying time I have spent on any show, as so much has been packed into such a short time. Comedy and drama feature heavily and I suggest that you do not miss any of the episodes, as you will see an absolutely astounding performance from Ryan. The production team were so impressed with it that they held a special viewing for cast and crew as soon as the final scenes were cut and edited. Other than that, my lips are sealed!
To read a full character biography of Angie Rebecchi, click here
Interview by Stuart. Added on 21st June 2003