.
Interviews > David Clencie
As Neighbours celebrates its 35th Anniversary, original cast member, David Clencie, speaks to us again about the show, his career and where he thinks his character, Danny Ramsay, is now...
It's been 12 years since we last interviewed you, at which point Neighbours was on its way to its 25th Anniversary, now as it celebrates its 35th, can you believe that the show you spoke the first words on in 1985 is still on air and still breaking new ground in 2020?
12 years! Time flies doesn't it? Golly, well, yes of course I can believe it as I am constantly reminded by friends and fans both personally and on social media. I guess everyone is aware of Neighbours and the general knowledge of the show is very wide spread, particularly in Australia and the UK. The show also has a large presence on social and online magazines and digital information hubs so it's still everywhere which is great for the current series.
The 25th Anniversary was relatively understated on screen, but the 30th and 35th have seen larger celebrations and recent years have seen a large number of returnees from the show's early years such as Geoff Paine as Clive Gibbons and Annie Jones as Jane Harris. Have you been asked to return at any point since your appearance for the 20th Anniversary in 2005?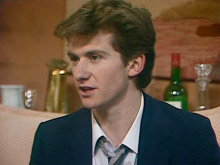 Yes, I was invited back for the 30 year celebrations however was unable to commit to it at the time.

Where do you think Danny's living now and what do you think has become of him?
When we last saw Danny he was in Brisbane with Max building pools, it's a good question...
I would like to think the outdoor life was fun for Danny for a while, the sun and water, beautiful climate, and all that Queensland has to offer however, I honestly think he may be pursuing a more corporate business career in Melbourne which was the way he was going in 1986 when he departed Ramsay Street.

Danny, you may remember, had left school and had a job in the Pacific Bank with Des Clarke and Julie Robinson. He was most interested in computers and the possibilities of them. They (computers) were new in those days and he was very interested in the corporate opportunities they provided and was way ahead of Des and Max and Paul Robinson in his thinking and progressive too.

I loosely based him then on Alex in Family Ties, a Michael J. Fox type, small in stature but funny, and whip smart. Danny would also I think be very successful, he would have grown up. He may have been married, had 2 or 3 children, concentrated on his work and career, but his marriage may have failed because of that. He would have maintained a close relationship with his children as he was determined to not be like Max and constantly scream, rant and rave, and put his children down. I think he would be a tough but loving father and may have also found fathering quite difficult.

He would have maintained a very strong relationship with Shane and Mum, Maria. He has shared his wealth with them and of course Max!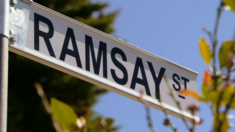 The Ramsays have returned to Ramsay Street a few times in the past decade or so, first with the children of Jill - Max's love child with Anne Robinson, then with Scott & Charlene's children Daniel and Madison and now with Roxy Willis - granddaughter of Danny's Uncle Tom who returned himself in 2015, followed by a brief visit by Roxy's Mum, Gemma in 2019. How would you see a return from Danny working? Would you be open to a permanent return or perhaps a recurring role like Geoff has as Clive?
I would like to think Danny had a strong sense of family and was very loyal to the Ramsays. He may be a supporter of charities and have a strong sense of social justice and equality. He may also be a paradox and complicated. Real Estate would be his form of investment and living in the community he did growing up I think that influence may have stayed with him. The sense of community that he has may be compromised by his competitive streak. Danny is a survivor shrewd and ruthless when need be, also having an eye on the main prize, Ramsay Street!
He has has ideas, a vision of making it an exciting, more modern, commercially viable hub of offices, shops and apartments. They would be (more) World renowned and very lucrative. He is dangerous to the status quo as he has the money and the know how but most importantly the motivation and discipline. Ramsay International Inc, (laughing loudly) that would certainly set a cat amongst the pigeons wouldn't it?! (laughing again)
Paul Robinson may have different ideas however, Danny would say "Bring it on Paul," grinning "go on make my day!" There's no love lost there, he's a Robinson! Ramsay Vs Robinson! (laughing again and again) Maybe Shane has to keep the peace! I don't know, but there's some good ideas here that seem logical.
As for returning, not on a permanent basis, maybe a cliffhanger at Christmas or a way to close the show so it does a full circle. All of course when the time is right and would depend on a number of factors.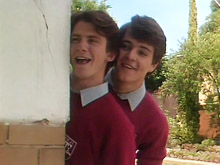 2019 saw some sad losses to the Neighbours' family, with the deaths of your friend - the original Scott Robinson, Darius Perkins, the show's creator Reg Watson and director, Gary Conway. Can you share a little about your interactions with them and your thoughts on their loss?
Yes, 2019 was far from a great year, I guess it made me reflect greatly on my own mortality and that of family and friends.
Darius Perkins was a close friend and our birthdays are only a month apart and being born in the same year 1964 it's was saddening and a shock that he was taken so young to cancer, just horrible and it still seems surreal like it couldn't of happened.
Gary Conway I first met at Crawford Productions as he was a resident director on The Sullivans when I was only 17 years old. Gary was a friend and great guy who had directed more television than any other in Australia's history. He also did Neighbours in the beginning of 1985/86 and was the leading director of the show at the time of his passing In 2019. Again this was tragic and unforeseen and many many people were shocked and saddened by this, it again still seems unbelievable as he still had so much to give.
Reg Watson was sad however at least he lived a very full and varied life, of course he created Neighbours and many other successful series and he is no longer with us, and I think probably the world and particularly the Australian Television industry will be worse off as he was a true pioneer and genius in his conceptualisation and the making of Australian TV drama. I was very fortunate to have been cast twice by Reg in two different series so I feel honoured to have known him and work for him as I did.
My thoughts are still with the families of Darius, Gary, and Reg. May they rest in peace.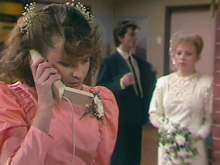 You recently caught up with Maxine Klibingaitis (Terry Robinson) and Vikki Blanche (Julie Robinson). How are they doing and what are they up to now?
They are both very well and doing just fine. Maxine has written a book and won an award for a short film that she appeared in and Vikki is back in Melbourne after a long stint in Europe and the UK where she was directing Television commercials as a freelance. I will stay in touch now and not leave it so long as it had been a long time, although actors have funny radar skills; with both ladies it seemed like I had only seen them yesterday!
You're well known as an an actor from your early years and also as a Voice Artist in Australia. How's life treating you personally these days, David? Do you miss the limelight?
Pretty good thank you, I guess it's been fairly well documented that I have had some issues In the past and I must say I was most disappointed in the reporting of these as there were many untruths and misconceptions that arose from this, however it was also a long time ago and I never really did much about defending myself at the time so that's that.
I am a father and I do okay from my Real Estate endeavours and have many interests and hobbies. I do a bit of acting here and there, and the voice work ticks along so life's pretty sweet.
The limelight?
I'm not sure if I miss it or not, there's good and bad that comes with that territory.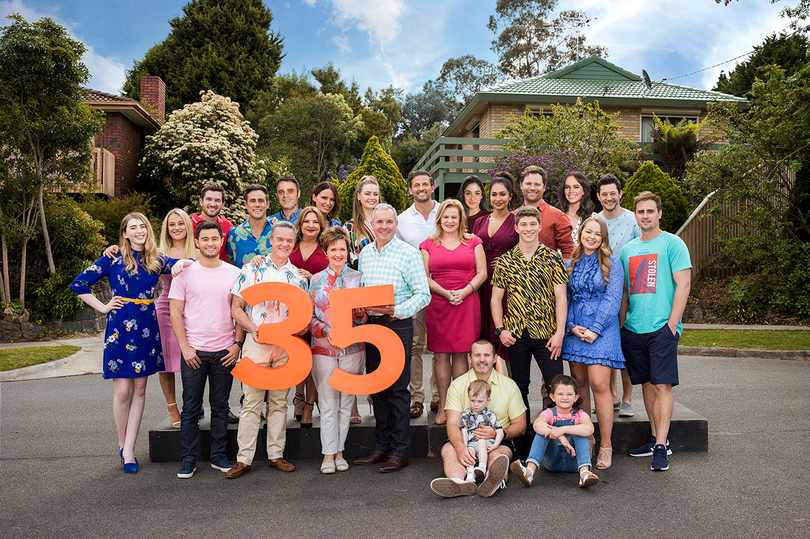 Neighbours has been the most successful series in Australian television history, what are your thoughts on Australia's view of the show and its current home on digital channel, Ten Peach? How important do you think Neighbours is to the Australian TV industry?
Well to be frank it is not the same show that we started so long ago. In Australia I think their audience is fairly small because of the move off mainstream. To it's credit, because it is an institution, the awareness is still large and being 35 years old now it is a bit hard to miss. I am glad for the industry and particularly the Melbourne industry because there is not a lot being produced to say 20 years ago, so it's particularly important for working actors and crew and production people to have something to work on and develop their craft and gain experience.
I hope it lasts another 35 years and the new look and storylines are a credit to the team now and I wish them all the best in the future!
Interview by Callum. Added on 18th March 2020