.
Interviews > Judith Colquhoun

Judith Colquhoun worked on Neighbours in the 1990s and 2000s, as a scriptwriter, script editor and script producer, and here she shares some of her memories of her time with the show, as well as telling us about her latest project, a series of novels based on A Country Practice...

Can you give us some background on your career and involvement in the television industry prior to Neighbours?


After I graduated from the National Institute of Dramatic Art, where I studied production, I worked in film, television and radio in various capacities for a couple of years and then got the opportunity to try out as a scriptwriter on Bellbird, which was Australiaís first proper television soap. I was 23 and I just kept going for the next forty years, writing mostly for the ABC, Crawford Productions and for a show called A Country Practice, produced by JNP.

How did you first come to work on Neighbours?
When A Country Practice ended in the early 1990ís I applied to work on Neighbours. I started as a writer, then became an editor/writer and finally script producer.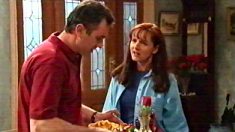 Who were your favourite Neighbours characters to write for?
I always loved writing Harold, and of course the Kennedys. I enjoyed the Scullys too, especially when they first arrived. And Toadie became a favourite.
Were there any characters that you found difficult to write for?
I donít remember finding any character particularly difficult. There were a few I found a bit tiresome, like some of the teenagers Ė when youíve had kids of your own, you want to say, no, donít go there! But of course the drama is in the fact that they do go there.
Did you find it difficult to write Drew's death and funeral within the space of one episode? Were you pleased with how it turned out on screen?
Regarding Drewís death and funeral Ė itís often better to compress time and do these things in one emotion-racked story. I am actually known for doing a nice death, Iíve killed dozens of characters in many different shows. Itís a challenge hitting the right note but one I quite enjoy, even though I end up weeping over my computer. Maybe I would have made a good funeral director.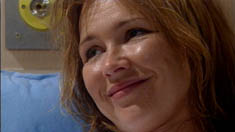 With Campaign Charlie Ė the episode in which Steph gave birth to baby Charlie Ė you had the rare opportunity to write an episode solely based around one storyline. Did you enjoy breaking from the norm and having more space to tell the story?
With Stephís baby story, yes writers always enjoy the chance to write what is virtually a short one-act play instead of following the normal soap format. Itís harder Ė any flaws are a lot more obvious Ė but if it comes off itís great.
Of all the Neighbours episodes you were involved with, do you have any scenes or moments you wrote that you were particularly pleased with?
Itís quite a long time now and Iíve done a lot of other things since Neighbours. Itís hard to look back and pick out individual scenes or even stories Ė there were so many of them, lots that we loved at the time and also many that we felt didnít come up to expectations. Thatís always the way, given the pressure of making two and a half hours a week.
How important do you think the core characters - for example, Harold, Lou, Karl, Susan, etc - have been to the series over the years?
I think the core characters are vital to any series or serial television. They are the ones that keep devoted viewers tuning in week after week, who become the extended family for a surprisingly large part of our audience. Without the appeal of those characters, I donít believe a show will ever achieve longevity.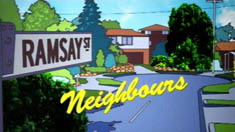 What do you think are the strengths and weaknesses of the Neighbours format?
The main weakness of the format is that quality will always be sacrificed to some extent when you have to produce two and a half hours of television a week for over forty weeks a year on a limited budget. One the other hand, the fact that Neighbours, and other shows like it can keep going for decades proves that the format has a lot going for it. So the strength has to lie in the power of good stories well told Ė and in the end, that is down to the writers, actors and directors. If you can engage your audience, they will forgive a lot in the way of less than perfect production values.
How important is the comedy in Neighbours, in your opinion? Was it something that you were particularly conscious of when writing for the show?
Comedy is very important in Neighbours. I think at times we ventured perilously close to slapstick and then it didnít work but in general, itís vital to the overall feel of the show. Jim Davern, who pretty much invented the Australian scriptwriting team process, used to say on Bellbird that the perfect formula was laughter and tears. I still think heís right.
What did you most enjoy about your involvement with Neighbours?
I loved my time on Neighbours. I especially enjoyed working in house, which I did for many years. It was hard, exhausting, maddening but huge fun and I feel privileged to have been part of it.
Do you still keep up with the events on Ramsay Street, even though you're no longer writing for the series?
Iím afraid I have rather lost touch with Ramsay Street. We moved to the country for many years and it was on at the wrong time of day and then I stopped working in television altogether. But I still have friends who are involved with the show so I do get news now and then.
What do you think accounts for the huge success Neighbours has continued to enjoy over the past 30 years?
I think Iíve already answered the question about what accounts for the success of Neighbours. Itís the fact that the show provides an extended family for many viewers; they become intimately involved with the lives of the characters. Itís the fact that this little show speaks of life, love and death, not so much as it is but as weíd all like it to be, in a calmer, sunnier, more friendly world than we read about in the news everyday.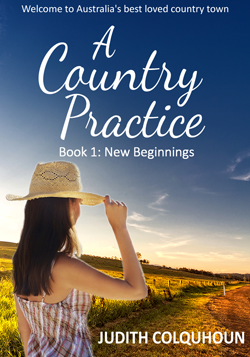 You've recently been writing a series of books based on A Country Practice. Can you tell us more about that project?
I wrote a hundred episodes of A Country Practice. Last year I was asked by Jim Davern, the producer and an English publisher, Ian Skillicorn of Corazon Books, to write a series of books based on stories from the show. The first comes out at the end of June. Theyíll be published as e-books and also in paperback on Amazon. Itís been quite a challenge but great fun going back to Wandin Valley and revisiting all the characters I once knew so well. I have finished the second of these and am busy on the third.
What's next for you?
What next? Who knows. Since 2011, Iíve not written for television at all. My first novel, Thicker Than Water, was published early in 2014 (yes, Neighbours gets quite a mention!) and I have a second novel I should get back to eventually. I would really love to just sit in the sun and read for a while.
For more information on Judith's books based on A Country Practice, visit www.acountrypractice.info
Interview by Callum and Steve. Added on 14th June 2015