.
Interviews > Jason Herbison
Jason Herbison is well known to Neighbours fans, not only as a scriptwriter and storyliner, but as the Australian Correspondent on the UK's soap bible, Inside Soap. For years, it was Jason's monthly, and later fortnightly, reports from Australia that kept us in anticipation of what was to come on Neighbours with his sneak previews of upcoming stories, cast news and (can we ever forget) in 1996 the amazing news that Madge and Harold were returning to the series! In this exclusive interview, we spoke to Jason about the various parts he's played in the Neighbours saga and discovered he's just as much a devoted fan of all things Erinsborough as we all are...
Can you give us a little background on your career?
I started my career as a storyliner on Neighbours, back in late 1990. I stayed for about two years, except for a six month period when I was seconded to work on Shortland Street. After that, I worked on shows such as Paradise Beach, Home and Away, Echo Point, Pacific Drive, Breakers, Flipper, Above The Law and Always Greener - the last of which was sadly axed here the other week. I also wrote Neighbours scripts at the same time as working on many of those shows, but as a freelancer. On top of all of this, I have been covering Neighbours and Home and Away for the UK magazine Inside Soap since about 1994. These days, I also file stories for All About Soap and other magazines from time to time. I also provided the material for Neighbours.com for a while, and covered the soaps for the Aussie mag TV Week from about 1999 to 2003.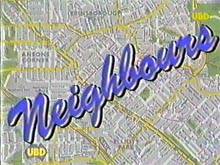 Have you always been a fan of the Aussie soaps? How long have you watched Neighbours, for instance?
Strangely enough, I wasn't into Aussie soaps as a kid - I always preferred Dallas and Dynasty! I can even remember writing a letter to the producers of Prisoner, telling them to make Wentworth look more appealing because nobody would possibly want to visit Melbourne if they thought it was like that! How sad is that?
My outlook changed around 1987 when Scott and Charlene took over the world, and it was clear that I would have no friends at school if I didn't know who was pashing who behind the coffee shop.
You first worked on Neighbours in 1990 as a storyliner. What are your memories of that time?
I was eighteen, fresh out of school and knew everything. Well, I thought I did, and very quickly realised I didn't. Back in those days, the show was written in Sydney, far removed from the set in Melbourne. We worked on the top floor at Grundy House, and very little happened, except for the day when a bullet came through a window - apparently a duck shooter, very unhappy about the way we killed Kerry Mangel off! In professional terms, it was an incredible learning experience. Just to sit in the same room as people like Ray Kolle, Don Battye and Valda Marshall was amazing. I can still remember Valda saying "that's a lovely idea, Jason, but we already did it in episode 848 with Mike and Jane". I wonder how the writers of today cope with that particular dilemma!
Can you explain the role a storyliner plays in what we finally see on screen?
The Storylining process is unique to Neighbours - well, Grundy soaps, of which Neighbours is the last remaining. Monday usually began with discussion of what everyone did at the weekend and who was on the cover of TV Week (not bloody Home and Away again!), then it was down to business. We'd obviously pick up some story strands from the week before, and create new ones for characters that weren't doing anything. It was a very democratic process, and everyone was free to pitch in with an idea, however lame. From memory, it was only ever us three or four Storyliners and the Story Editor at the table - producers were rarely involved back then. By Wednesday, we'd have enough material to start structuring the episodes. As you probably know, actors are contracted to do a set number of episodes every week, so this usually dictated how the stories fell. Then one by one us Storyliners would peel off and write a scene breakdown, which would then be sent out to freelance writers, who would add the dialogue.
As a scriptwriter, who have been your favourite characters to write for, both past and present?
Harold, Madge, Lou, Karl, Susan, Toadie... all the usual suspects, I suppose. It's much easier (and fun) when you write a character who has a distinctive voice. Sometimes this is clear from the beginning, sometimes it takes a little time, depending on the actor. I also like writing characters who walk the final moral line - Darcy and Sarah Beaumont are two that stand out. If I was writing for the show now, I'd be right into characters like Jack and Izzy.
Are there any memorable scenes or episodes that you wrote and which you're particularly pleased with?
I'm reminded of my first stint on the show, back in the early 90's. I loved Michael Martin trying to bump off his evil stepmother Julie, by letting her drown in the spa. I remember coming up with that idea during a toilet break, and then having to fight and fight to get it through, because nobody thought we could have one of our characters entertain such murderous thoughts! I also loved the scene - which I wrote the storyline for, but not the actual script - when the Willis family finally convinced meddlesome Aunt Faye to move out. They waved her into the car, and Doug said 'where to?' She said 'I'll tell you when to stop'. He started the engine, and she said 'Stop'. To their horror, she had bought the house next door and was to become their neighbour! Actually, that character was a lot of fun to plot for because she was written as a bitch, however the actress chose to play her as zany instead. I have no idea why that came to mind, but it did!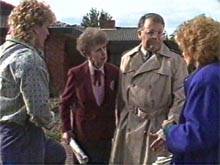 Do you have a favourite era of the show?
Like everyone, I loved the days of Mrs Mangel - her spats with Madge were legendary. But to be honest, I think we're coming into the best era. While I'm sad that I'm no longer writing for it, it also allows me to enjoy it purely as a viewer. I'm thrilled that the writers are delving into the past, bringing back the likes of Sky Mangel and David Bishop. I would've loved to have seen this happen years ago. I'm also pleased that they're upping the drama stakes. While I hope it remains a character driven show, I've always felt there was room for more to happen. I've never believed that Neighbours has a finite life, and the UK soaps are evidence of that. With the right combination of storylines and promotion, it could be as big as it ever was. I'd put money on it!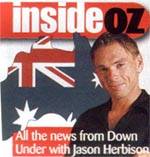 You're well known to Neighbours fans in the UK from your weekly column, Inside Oz, which, as you say, has been appearing in Inside Soap magazine since 1994. Do you enjoy this role?
Very much. I fell into it quite accidentally, but they are a lovely bunch of people to work for. I was in London last month and caught up with them all, which was great. They all love the soaps, which is different to here, where most people my age tend to cringe. I'm also one of the only people still out there promoting Aussie shows in the UK, and proud to do so.
How closely do you work with the Neighbours production team in liasing with them for cast interviews, upcoming plots for the soap magazines etc.?
I've been doing it so long now that it all just happens. I get the storylines well in advance, request the interviews, and before you know it , it's in print. Beating the Internet is the hardest thing these days - you guys get a hold of things so fast!
Having interviewed several Neighbours cast members over the years, have you any favourites?
I'd rather not single anyone out. But I will say this - they are a pretty down to earth bunch. It's been a long time since I've heard of any major dummy spits or inflated egos.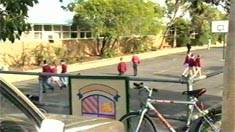 In 2000, a reunion of the show's cast from all eras of the show took place for a photo spread in TV Week to mark the 15th anniversary of the show. Having been involved in that, can you tell us about that experience?
I'm breaking into a sweat, the twitch is starting... yes, it's all coming back to me now! It was all my idea so I have nobody but myself to blame. Tracking everyone down was hard, getting them to commit to one of two days - one in Melbourne, the other in Sydney - was even harder. So many people said no, simply because they had other commitments - people like Annie Jones (Jane) and Craig McLachlan (Henry). But I was so thrilled to contact names such as Darius Perkins (the original Scott) and Sally Jensen (Katie Landers). Talking to everyone was really interesting - literally like seeing 15 years of the show flash past you all at once. The thing that really stood out was the genuine affection everyone had for the show. I also made a point of asking everyone if they would consider coming back - if only for a cameo - and just about everyone said yes. I feel an Erinsborough High school reunion coming on.
What are the differences, if any, between writing for Neighbours and some of the other soaps that you've written for, such as Home and Away and Shortland Street?
Neighbours is very different. I think this is partly to do with the affection I have for the show, and also because of its distinctive blend of comedy, romance and drama. I also love spending time with the older characters, which you don't always get on other shows.
Putting you on the spot now - Neighbours or Home and Away?!
I have a sentimental attachment to Neighbours, so my vote has to go to Erinsborough. I do, however, think they are very different shows and offer the audience a different experience. Neighbours is very character driven, and the adults are given equal weight to the kids. Home and Away also has strong characters, but they go for the big storylines - which works for their audience. I think they're both fantastic shows, and great for Australia.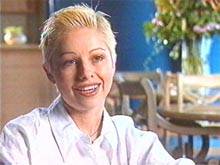 Melissa Bell, who played Lucy Robinson on the show, co-wrote a novel with you back in the 1990s. Can you tell us a little about that experience? Have you plans to write any more novels?
Mel and I were sitting in a cafe at Bondi, shortly after our show Paradise Beach had been axed, wondering what to do with our lives. So I said why don't we do a diary of a soap star? We went back to my place (funnily enough, I was living with Isla Fisher from Home and Away at the time, who was also writing her novel) and churned out a couple of chapters. Melissa had an agent in the UK, so we faxed it over... and to our surprise, we had something like six publishers after it. We eventually gave it to Hodder Headline, who were terrific. The book did okay (well, I think it did, but you never really know with book sales). I was then asked by Hodder to come up with a series of teenage fiction, which I did, called Bondi Place. There are six novels in that series, and I even saw one of them in a Borders book shop when I was in London last month. That was much more exciting than finding one in the two dollar bin over here not so long ago...
We've already witnessed an exciting and dramatic start to Ric Pellizzeri's overseeing of the show. What do you think the future holds for Neighbours under Ric?
I think the future is an exciting place for Neighbours. Ric is a fantastic producer - you only have to look at his track record to know that. That's not to take anything away from everyone else in there - I also think script producers Ben Michael and Luke Devenish are brilliant at what they do - and Peter Dodds deserves credit for holding it together so long. But the combination of all of them together seems to be paying huge dividends. Whenever I get the storylines these days, I genuinely can't wait to read what's going to happen. I also can't wait for the response from the audience, particularly in the UK. I'm sure they will love it.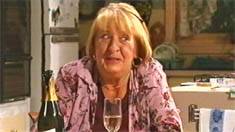 How do you feel about the show's history and roots coming to the fore more under the new EP? (i.e., the return of Sky, David and the promise of more returning characters on a regular basis...)
Fantastic. I'm not sure why they haven't done it earlier, because the opportunities have been there and fans have been screaming out for it. From a viewer's perspective, I've felt frustrated at the number of 'loose cannons' - characters coming in, with no connections to anyone - so I'm excited that this is changing. If we see Lou's kids again, I'll die a happy soap fan. And the more we see of Angie Rebecchi the better!
What have you most enjoyed about being associated with Neighbours?
I'm really proud of my involvement with the show - whether it be the storylines I came up with back in the early days, the scripts I wrote or the promotion I did with the actors. And on a purely financial level, I can't complain either.
What do you think accounts for the huge success of Neighbours over the last 18 years?
Which way to go - the simple answer or the complicated one? Well, simply, I think the concept of the show is great. It's not tied around one family or one static location, as people are always moving in and out of the street. It lends itself to change, which allows it to stay fresh. I'm not going to give you the complicated answer, but I'll say this: for a show that gets almost no promotion in the UK, it's doing bloody well. And for that, we have all you loyal viewers in the UK to thank.
Interview by Moe. Added on 4th October 2003