.
Interviews > Jason Herbison

A few months ago, Jason Herbison, after a long history with the show, was announced as the new producer of Neighbours. Here, he talks to us about some of the changes we saw in 2013, and what's to come this year...

Spoiler Warning! Please note that this interview contains spoilers!

It's over 10 years since we last interviewed you. How do you think Neighbours has changed in that time?


Neighbours is constantly evolving, which makes it a little tricky to compare one period to another. Elements such as tone, pace and character balance shift in different ways and sometimes come full circle! Perhaps I would say that the show of today is more similar to the one from ten years ago than, say, five years ago. The biggest changes have come behind the scenes, with the move from producing five to six episodes a week. The production model is faster and brings new challenges.

What's been your overall vision for Neighbours since taking over as Series Producer?
I see Neighbours as a celebration of life in the Australian suburbs. It's a world that is comforting and familiar to everyone, whilst at the same time being entertaining. So as your site name suggests, it's about the perfect blend of reality and fantasy. 2013 was a huge year of change, with respect to redressing the multi-generational balance and introducing nuclear families to complement the blended and share households. 2014 is about stability, with a priority on bringing diversity back into the show. I'm also keen to lift the production values, as I'm sure every producer before me has set out to do.

How does the role of Series Producer differ from that of the Executive Producer role that the previous show runners had?
It's essentially the same role.

Long term fans have been thrilled by the frequent returns of Lucy Robinson while Melissa Bell has said that she would love for Lucy to return permanently. With Lucy's life in the past 18 years being relatively unknown to viewers, is there a chance she has a family of her own waiting in the wings to join her?
I'm big fan of Lucy and Mel Bell. I think she's been greatly under-used over the years. We have given her a job in the Lassiters chain so that she has a natural reason to pop in and out, as well as her connection to Paul. I expect her personal / family life to be explored in the not-too-distant future.

When we last interviewed you in 2003, you told us "If we see Lou's kids again, I'll die a happy soap fan. And the more we see of Angie Rebecchi the better!" Almost 11 years on, we now have Lauren firmly re-established on Ramsay Street and last year we had brief visits from Lolly and Angie. Are there any plans for either character to stop by again soon?
It was such a delight to bring Jiordan Tolli back as Lolly. Angie also remains one of my favourite all-time characters. I'd love to see them again. As always with guest and returning cast, it's a question of budget and availability. If we can only bring someone in for a brief appearance, we have to ask ourselves - will the long time fans enjoy it or will they feel the visit is unsatisfactory? Also, will new viewers feel engaged?

This year has already seen Brennan and Rebecca come back to Erinsborough, and news has just broken about Zeke and Sophie's returns. Can we expect to see any more old faces returning to Ramsay Street in 2014?
We are marking Karl and Susan's 20th anniversary with a number of storylines that celebrate their past throughout throughout the year, so you will see further returnees connected to them. We will also be announcing another pair of much-loved returnees in the very near future.

Who would be your dream characters to bring back, were money and actor availability not a problem?
Well, I'd love to see Scott and Charlene now that we have just brought Daniel into the show – it would make sense to old and new viewers. Uncle Henry too. There's probably a long list, but for the purposes of this question, maybe I'll say - I wish Madge hadn't been killed off so I could bring her back. I think she is one of the most iconic characters the show has ever had.

It's been announced that Naomi Canning and Daniel Robinson will be joining the regular cast this year. What will these newcomers bring to the show?
More on Naomi below. It's a little early to talk about Daniel, but I think viewers will enjoy him and he will bring out a different side of Paul. He's a very defined character.

Do you think there's any kind of character the show is lacking?
A good old fashioned, pot-stirring minx - which is what you will get in Naomi! She's a smart woman who, unfortunately, has hinged her self-esteem on the validation of men, which leads to all sorts of problems. She also has a complex and volatile relationship with Sheila, yet there's a lot of love between them. I couldn't be more thrilled with the casting of Morgana O'Reilly. She hits the ground running and I think viewers will love her.

Are you happy with the current look of the show? Are there any changes you'd like to make to any of the sets?
I'm in awe of our production design team and crew, who manage to bring it all together. That said, there are always improvements to be made. We have just re-done Charlie's and it's looking great. We're now in the process of looking at Harold's. One house will get a newly painted fireplace, breaking up the present colour. I'm always keen to make the interiors lighter and brighter and encourage flow from inside to out.

The living room and front door at number 32 mysteriously vanished last year, in favour of the new living, kitchen and dining area. What was behind that decision, and will we ever see it again, or has the set been retired completely now?
With the introduction of the Turners, we felt that the six characters (including Lou) needed a bigger playing area than the living room allowed. As there had recently been a story where Troy (before my time) was doing renovations, we felt there was an opportunity to give the kitchen an upgrade. We often talk about seeing the living room again. It will happen - but it needs an upgrade first.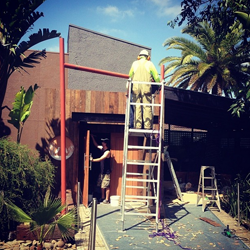 Photos have appeared online of the new look bar, with the logo by the door suggesting that we may see a return to The Waterhole name. What can we expect from replacement for Charlie's?
You will indeed see a return to The Waterhole name. After the appearance of Jack Lassiter last year, we felt it was a natural time for Paul to feel inspired to revert to the old name. It's always been my favourite - it's timeless, evocative of the nearby lake and very Australian. Our brilliant Production Designer, Peta Lawson, has created a modern take on a local pub. I was very keen to get natural light in the space, which she has achieved in a clever way.
Over the last year, there have been a few stories and events which have affected most of the street and triggered lots of new stories, such as Toadie and Sonya's wedding explosion, the eclipse, and Robbo's hit and run. Are there any more stories like this in the pipeline?
Absolutely. We aim to do major events throughout the year. It's a chance to surprise long term viewers and also attract the attention of new viewers.
Chris has become one of the show's most popular characters. Would you ever consider introducing another gay character into the regular cast, to give him more of a meaningful relationship than the ones he's had with guest characters?
Definitely. Aside from diversity, bringing in a regular love interest for Chris is a priority. You will also see a return appearance from Hudson in future episodes.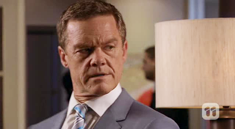 Paul's 50th birthday has recently been marked on screen with Lucy playing almost a 'Ghost of Christmas Past' role in the episode. Will we see a noticeable change in Paul?
Yes. When Priya died - and Andrew and Sophie departed - we began an arc with Paul which basically saw him behaving badly. He missed his family and while he has Kate, she does not have the fibre to challenge him. Jack Lassiter forced him to take a good look at himself. With this in mind, Paul thought about legacy and campaigned for mayor. His full reasons for going down this path will be revealed around the time that Rebecca returns. Paul is his own worst enemy. We always strive to have him learn lessons. But, true to form, an old dog never truly changes its tricks.
Karl and Susan are rattling around at Number 28, are there any plans to bolster the household with any long-lost relatives or a new waif or stray?
We will see a lot of traffic in the Kennedy house this year. We may see a 'waif or a stray' in the future, but after a long run of such characters, we felt Karl and Susan needed a break from being the resident foster parents. The terrific thing is, with Karl at the hospital - and Susan at the school - they are always busy. Also, we see them very much as the surrogate parents of Toadie and Sonya.
Over the last year, we've seen special webisodes produced, showing Steph's experiences in prison and Brennan's time in witness protection. Were you pleased with how these turned out, and would you consider commissioning more in the future?
Very pleased. Our digital producer Ric Forster is a huge talent. He has several new webisodes in development.
And finally, Neighbours has two big upcoming milestones, with the 7000th episode later this year, and the 30th anniversary next March. Have you started planning how these will be marked on screen?
Absolutely. We are having exciting discussions with both our UK and Australian broadcasters at present. We are the longest running Australian television drama in history and we will be celebrating that in a big way.
Can I finally just say to you guys – thank you for your ongoing support of the show. It really means a lot. We love your site and appreciate the love and hard work that you put into it. Long may it continue! All the best, Jason.
Interview by Callum and Steve. Added on 21st February 2014