.
Interviews > Janine Maunder
Janine Maunder is a Melbourne-based singer/songwriter who as well as a solo artist performs as part of the Naked Raven band. Janine's solo projects have included a number of television appearences on programmes such as Good Morning Australia, as well as recording background tracks for television and films. Janine took some time out to chat with us about her Neighbours connections...
Firstly, can you give us some background about yourself?
I was born in Perth, Western Australia, into a musical family. The whole family sang and/or played musical instruments, so I guess you could say music was in my blood! I started classical piano lessons when I was five. I can't remember a time when I didn't sing. I always loved music, although practicing the piano wasn't my favourite pass time. I just wanted to PLAY! I was awarded a music scholarship (on the flute- of all things!) for my five years of high school. Choirs, concert bands, musicals, tours, vocal ensembles...an inspiring, busy time.
I started doing piano bar gigs during my final year of high school on the weekends. Under age and working in bars and earning pretty good money for a 17 year old. Cool! I decided to take a year off from study after I graduated, and I continued gigging. I moved to Melbourne when I turned 18, seeing more long term opportunities for a singer/songwriter in a larger population. Good move. I love living in Melbourne, and over the last decade I've been fortunate enough to work with and learn from the best. There are so many talented musicians, singers, writers, composers, living in this town. However, the music industry here is going through a bit of a slump right now. Unfortunately Australia is obsessed with sport, it's like a religion here. A lot of funding goes into sports, and the arts just seem to get left out. Hopefully the government will wake up and realise that music and the arts is a crucial element for a balanced society.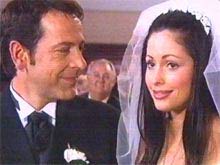 You recorded the song Flowers for Neighbours in 1999. How did this come about and did you know it would be later released as a Neighbours promotional single?
"Flowers" came about like a lot of recording sessions...recommendation. Someone suggested me to Chris Pettifer (songwriter) and he liked my voice, so I got the gig. As far as I knew, the song was just going to be used for Sarah's wedding. I had no idea it would be released, or even that there was a whole world of Neighbours music fans out there. I've sung on a couple of other songs that are used for incidental purposes (background). I recorded them several years ago, so the names of the songs escape me.

In 2001 you recorded the current Neighbours theme tune. Can you tells us how you were approached for this?
Yep, a couple of years ago I put on my "session" voice and recorded the current Neighbours theme, a song I'd grown up knowing without being a fan of the show. It was recorded with a friend of mine, Steve Wade, a fantastic Melbourne singer/songwriter. (www.stevewade.com) I actually sang on 3 different submissions for "the new" Neighbours theme. Steve's production was chosen out of quite a few other versions. A worthy choice, don't you think? Earlier this year Sony Music released the Neighbours: The Music CD, which included the new Neighbours theme. It was rumoured that there was to be a full 3 minute version on the CD, but instead it was the TV closing credits version. Were you ever asked to re-record it, and would you for a later release?
No, I was never asked to re-record the theme song for the Neighbours album. I didn't even know an album existed until you told me! I would have been happy to record a "full" version though. You are close friends with Wendy Stapleton who co-sang the 1999 - 2001 Neighbours theme, and now plays Trixie Tucker on the show. Like her, would you ever consider a part on the show?
Wendy and I have done the occassional gig together and she is one of the loveliest people to work with. Ask anyone in the Australian industry about Wendy, and you can be sure they would only sing her praises. I think all my connections with Neighbours are proof that the world really is a small place, a lovely coincidence. And no, I would never consider a part on Neighbours. I'm a musician, definately not an actress. Although it could help my music career...! You have just launched your brand new website, JanineMaunder.com. What can we expect from the site over the coming months?
My website is something I've been wanting to get up and happening for a while. I'll be letting people know about gigs I'm doing, and future recordings. I'm hoping to start work on a new solo album in the next 12 months. Also, you have to try the muffin recipes. They are the best!

Interview by Karl. Added on 6th December 2003

Flowers and Janine's version of the Neighbours theme are available on the Neighbours: The Music CD. To download the BBC version of the theme Click Here