.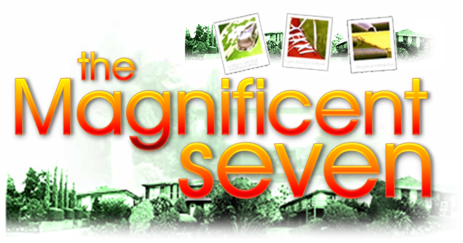 Features > The Magnificent Seven by Callum & Steve
As today marks seven years since Neighbours: The Perfect Blend hit the internet, we thought we'd take a look back at our favourite interviews, features & comments from that time…

Top of our list is the second of our three interviews with Neighbours' then Supervising Story Editor, Luke Devenish. Luke caused controversy in November 2006 when he advised fans to "get over it and jump on the fun bus" and called for Neighbours' iconic Brush Script logo to be replaced. He also advised us to "never say never with Libby" - was he predicting what was to come the following year, or did he really just know something that we didn't? In perhaps our greatest feat to date, July 2006 saw us launch our vote to find who you thought were the 50 Greatest Neighbours. Three months of voting ensued, followed by a great deal of counting before the results were announced between November & December that year. The results certainly brought their fair share of surprises, but despite a close run race for many of the top spots there was no surprise when Susan Kinski was announced as the clear winner, except for the following message we received from Jackie Woodburne...

"Thank you to everyone involved in the recent poll on the PerfectBlend website! What a thrill! It just shows that if you stick around long enough, you will eventually wear people down! My time playing 'Susan' on Neighbours has been the happiest and most rewarding of my career. I've had an enormous amount of fun and worked with some great actors in some challenging and at times unlikely storylines! In short, it has been a blast!! To be acknowledged by the viewers and fans in this way is so gratifying and I appreciate the encouragement and support more than I can say! I look forward to guiding 'Susan' through many more adventures in the future!!
With love and gratitude,
Jackie"

3. 20th Anniversary Celebrations


It's hard to believe that five years have passed since Neighbours was celebrating 20 years on our screens, welcoming back dozens of past characters to the screen and revamping the Lassiter's complex. We marked the occasion with numerous features and interviews over the course of the year, beginning on the actual anniversary in March, and continuing as the birthday episodes hit UK screens in October 2005. Highlights included our series of 20 features, looking at top 20s including biggest tearjerkers and fashion disasters; our four-part Eras of Erinsborough comment, looking at Neighbours over the years; and our interview with Reg Watson, the creator of Neighbours.

4. Perfect Blend's Fifth Birthday


With Perfect Blend turning five in February 2008, it was decided that, to mark the occasion, Neighbours would be moved from BBC One, its home of 22 years, to channel Five. OK, we had nothing to do with it, but it was a nice coincidence, and we took advantage of it during our fifth birthday week with a competition to win one of Toadie's shirts and a look at the similarities between Neighbours and its new television home, not to mention an interview with Lisa Opie, Five's Managing Director of Content, earlier that month. Our birthday celebrations also included several features relating to the number five, as well as the results of our fifth birthday vote, counting down our readers' top five arrivals, departures, births, deaths and weddings. An international campaign by fans to reinstate Reverend Rosie Hoyland, played by Maggie Millar, which gained press attention sparked us to discuss why Ramsay Street was missing a matriarch. Looking back at characters such as Helen Daniels & Madge Bishop and comparing them to Neighbours matriarchs of the day, Rosie was felt to be the missing link, not only to continue to represent the elder woman following the death of Madge, but to go some way into filling the void left by Helen. Six years on from that discussion it sadly continues to be as relevant now as it was in 2004 and many agree that Ramsay Street is still missing a matriarch. When it comes to an interview, you can always rely on a writer to deliver in-depth & insightful answers, none more so than Ray Kolle in this 2003 interview. Ray revealed that as well as being the creator of much-loved Neighbours characters such as The Mangels, Dorothy Burke and the current longest-serving regular character, Lou Carpenter, he was also the brains behind the return of Madge & Harold in 1996. He also provided us with an insight into the writing of key episodes such as the death of Helen Daniels & the logistics surrounding the funeral of Madge Bishop & those absent faces. It may have taken us six years, but 2009 saw us complete this favourite of the Multimedia section. With clips of every title sequence from Neighbours 25 year history, you can compare & contrast the titles from episode 1 to episode 5870 or just see how the faces have altered, particularly those who've stuck around or reappeared over the decades.
Whilst the titles & the faces that feature on them may have changed, not to mention the tune from which this site gets its name, one thing still remains the same - good neighbours become good friends.

The Best of the Rest
There are some features of The Perfect Blend that we felt were just too good not to receive an honourable mention - and if we're quite honest we struggled to pick just seven - so we thought we'd give a nod to a few more of our favourites...
With full, detailed overviews of over 450 of Neighbours defining episodes, our Magic Moments section is a quick & easy way to relive the key points in the lives of your favourite Ramsay Street residents and we're sure the 25th Anniversary year will produce many more.
Following the revamp of both Neighbours and The Perfect Blend in 2007, we felt it was time our Neighbourhood section got an overhaul, with all new pages for the businesses of Lassiter's Complex as well as our ever expanding Places section, with details of almost 50 locations where the neighbours have worked, loved & played joining those of Erinsborough's six most sought after properties, which feature images & descriptions of the ever-changing decor as well as key moments, details of past & present residents and plans of the houses themselves.
Finally, when Joe Mangel burst onto our screens in 1988, he soon showed us that he wasn't afraid to say what he thought, so when we interviewed actor, Mark Little in 2007 we quickly learnt that he wasn't all that different as he spoke out about the continuous tragedies that touched the life of his comic character and revealed why his second stint in 2005 came to an end, not to mention saying what we all were thinking about Ned Parker.