.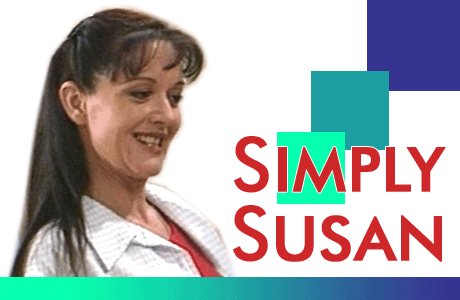 Features > Simply Susan by Moe
As a new era on Neighbours begins, one constant remains. Susan Kennedy has been a regular fixture on the series since 1994, appearing in over 3,000 episodes, gradually becoming a firm favourite amongst viewers, and even being voted the Greatest Neighbours Character by this very site in 2006.

This year, Susan becomes the longest-serving female character in Neighbours history, a position previously held by Helen Daniels, who had been with the show from the first episode in 1985 up until her death in 1997. Susan and Helen shared only three years of screen time together but share a lot of the same qualities and it is only fitting that the character who eclipses Helen in terms of longevity be the one who has become to the Neighbours of today what Helen was to the Neighbours of yesterday.
A wife, mother, teacher, principal, friend and confidante, Susan has seen it all since she first arrived in Ramsay Street in 1994 with hubby Karl and kids. Initially something of a background character to the exploits of her three teenage children, Malcolm, Libby and Billy, Susan quickly established herself as a prominent character in her own right and probably first reached something of an iconic status in the show when the Kennedys were involved in the lengthy Karl/Susan/Sarah love triangle which culminated in Susan memorably slapping Karl across the face upon learning of his infidelity.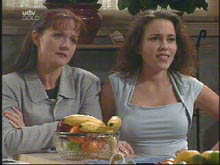 Susan has also become the show's modern matriarch. Erinsborough had been in need of a mother figure who troubled teens could go to in times of crisis or who could lend a shoulder to cry on to her neighbours when trouble loomed. Not since Helen had Ramsay Street seen such a character, but Susan grew into the role and is now regularly sought out by virtually all the other characters for advice and a cuppa when the going gets tough. Like Helen, Susan has shown a particular interest in helping the youngsters of Erinsborough – she has opened up her home to various waifs and strays over the years, and now that her own three kids have grown up, married and moved away, has become a mother all over again to Rachel and Zeke.
In recent years, Susan has also moved centre stage in some of the show's more ambitious, far-reaching storylines starting with the amnesia storyline of 2002 which saw Susan slip on some milk, knock her head and wake up thinking she was a 16-year-old in 1972. More drama followed, including the breakdown of her marriage to Karl following further philandering, this time with Izzy Hoyland, her Thornbirds-esque romance with Fr. Tom Scully and her short-lived marriage to bumbling university lecturer Alex Kinski, who died on their wedding night and left her with his teenage kids to raise all by herself.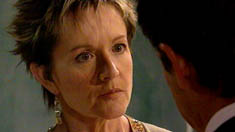 Of course, she hasn't had to raise the Kinski kids alone for the much anticipated reunion with Karl finally happened in 2006 and they were remarried in London earlier this year before being thrust straight into another drama – Izzy giving birth to Karl's child Holly. It was difficult for Susan at first to accept that Karl was father to a child with someone else, but being Susan, she was soon accepting of the child and even agreeing to Izzy's invitation to be godmother to little Holly.
Of course, Susan is not just beloved for being a shoulder to cry on and a character constantly in the thick of all the Ramsay Street drama. She is also an incredibly entertaining character, and her legendary banter with Karl has been amusing viewers for over a decade now. Their scenes of playful bickering, ribbing and light-hearted exchanges where they talk over each other are a running theme and have been dubbed "ad-libby-over-lappy" by the actors, who clearly have great fun with these moments. Examples include Susan's witty comebacks whenever Karl tries to get the better of her, her merciless teasing of Karl over his miserly ways and constantly reminding him of his various mid-life crises which have included buying a thunderbird and cycling in lycra shorts.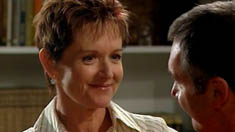 A large part of Susan's success is undoubtedly down to the writers and storyliners, amongst whom Susan is an incredibly popular character. It was they who grabbed the character by the scruff of the neck in 2003 and really re-shaped her into the matriarchal and central figure she is now. But throughout the last 13 years and 3,000 episodes, actress Jackie Woodburne has made the role her own. Jackie has played Susan with just the right amounts of compassion, conviction and comic timing to turn her into one of the most enduring characters on Australian television and she has always been visibly proud of her character and involvement in Neighbours.
So, as Susan Kennedy becomes Neighbours' longest serving female character, we salute her and say only one thing. Goodo.

Cast Tributes
Jackie has always been my favourite actress to watch and work with. She brings an achingly powerful honesty to her work that affects viewers deeply. It is no wonder that Neighbours fans have taken her to their hearts. I have no doubt that the legendary Anne Haddy would be pleased it was Jackie who replaced her as longest serving female cast member. Long may she reign.
Alan Fletcher (Karl Kennedy)
Playing Susan's nephew Darcy gave me the wonderful opportunity to work with Jackie a lot. Working with a great actor like her in a scene always makes you look better. Jackie's always fully prepared, totally in the moment and is an incredible listener. Definitely the best actor I ever worked with on the show.
Mark Raffety (Darcy Tyler)
Jackie is funny, kind, and wonderful! She is a great support and the sound of reason. She taught me so much during my time on the show. I miss her.
Dichen Lachman (Katya Kinski)