.


Interactive> Bring Back Angie! By Stuart and Rhys

The Campaign
Bring Back Angie! was a Perfect Blend campaign organised in 2003, when the site launched, with the aim of bringing back Lesley Baker, as Angie Rebecchi, on a permanent basis. The character had left in 1996 and made one guest appearance in 2002, but we felt that she was needed back to stay. Since the campaign, Angie has made three further guest appearances, in 2003, 2004 and 2006, but we're still living in hope that she'll be back by Toadie's side for good one of these days...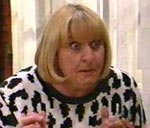 "I am really knocked out by it all. How wonderful of you to put up a website. One of the main reasons I was so flattered but thrilled is that while television is a great medium, the actors have absolutely no sense of how the audience is receiving their performances - or whether what they hope to convey in the character is, indeed, coming across. Now, after six years, it is really nice to know that the Angie I tried to convey actually worked. I really love the character - and, as you already know - was pretty devastated when she went.

Regardless of whether I return or not, I have had a great deal of pleasure out of Angie - and to know that people out there have understood what she is about is the icing on the cake. Thank you, and an enormous hug for setting up the website."
Yours gratefully and sincerely
Lesley Baker

Congratulations to Lesley on her 2002 return to Neighbours! While Madeleine West recuperated following an accident, Angie helped bridge the gap, with over a month of brand new appearances. We're very proud that this page was cited repeatedly by BBCi's Pure Soap website in their coverage of the revival of Angie's character. Neighbours have confirmed that the character will return during the 2003 season, so look out for Angie and the rest of the Rebecchi clan later in the year.

Introduction
Let's face it, great though Neighbours often is, its producers are capable of making some inexplicably bizarre decisions on occasion... One notable lapse came in 1996, when in spite of her widespread popularity and unique character, Angie Rebecchi, Toadie's eccentric and bawdy mother was hastily written out of the show to pave the way for such exciting characters as erm... Well quite. Throughout all her episodes, Angie embodied the very best of Neighbours - a truly unique individual who was an asset to her community and consistently faced life's dramas with humour, compassion and genuine mettle. Lesley Baker's performance was consistently stunning, ranging from the broadest of comedy to many genuinely moving moments. Simply, Angie Rebecchi was a star!
In spite of her poor treatment, actress Lesley Baker has remained staunchly supportive of Neighbours and is proud to be associated with it. Despite her showing great interest in reprising her role, and strong support from the online fan community, there are no plans to bring back Angie.
Angie's return in 2002 was a genuine highlight, greatly celebrated by many fans, and so we'd like to give a few reasons for why now is exactly the right time for Angie to make a permanent return to the land of Ramsay Street...

The Time is Right!
A few reasons why now is the time for Angie to return to Ramsay Street:
Ramsay Street needs a larger-than-life eccentric character, and the Coffee Shop needs its matriarch!
Angie would make a great comedy foil for Harold, and a wonderful friend (or possible love interest) for Lou.
Poor Lyn Scully could do with a friend, as all the other Ramsay Street women have decided she's too common to hang around with them. Angie would make a great gossip pal and occasional rival for Lynnie.
Does Toadie even remember that he has a mother? Angie needs to return and whup that boy of hers into shape, in preparation for his upcoming law career. She'd be so proud... awwwww...

Magic Moments
Highlights from a year in the life of a classic character...
"Jarrod! Well I've seen it all now. Unfortunately so has everyone else!" Angie learns that Toadie has been streaking

Pink Shirts! Angie's attempts to revamp the Coffee Shop (not to mention the... ahem... funky new uniforms) proved to be for acquired tastes.
Angie's attempts to smarten up her image, which involved referring heavily to Cheryl... no, really. This pastime eventually graduated to Angie 'borrowing' clothes from Cheryl's washing line. Seriously. We're not making this up.
Who could forget Angie's heartbreaking eulogy at Cheryl's funeral, so much of which was true of Angie herself: "She was strong... ambitious... she liked her own way... and so often, her way was right... It was usually safer to go with her than fight her... I still blush when I think of the day that young Dannii caught me snooping around the clothes line. I so admired Cheryl's presentation, on all levels. Here I was with my notebook and pen scribbling down the names of the labels she wore. Cheryl had a presence and a style on all her own. All her children, wherever they were in the world and whatever they did, always knew that they could count on their mother to be there for them. None of us can feel the way they must feel today..." And finally, breaking down into tears, "I will miss my friend. But not a day will go by when I don't thank God for having known her."


The Evidence
Inside Soap: Issue 72, 5-18 April 1997. I'm so sad to be leaving: Ramsay Street bids a sad farewell to Angie this fortnight, but actress Lesley Baker still hopes she can make a comeback...
She's loud, brash, over-the-top, but with a heart of gold. We're going to miss larger-than-life Angie Rebecchi very much. Stonie and Toadie's mum bids farewell to Ramsay Street this fortnight, as she goes to rejoin her Jack Spratt of a husband, Big Kev, up North. But the woman who burst onto our screens as a tutu-wearing mud pie, now leaves as a successful businesswoman with the friendship and respect of all her neighbours.
And while Angie and Stonie pack their bags, Toadie stays on to keep the Rebecchi name alive in Ramsay Street. "At the last minute he changes his mind and decides to live with the Kennedys," says the chatty Lesley Baker, who plays Angie. "Angie agrees, but without even talking to the Kennedys. I defy any good mother to leave their child with another family without talking to them first! I begged for at least one good scene with the Kennedys but the scriptwriters disagreed. So I expect a lot of people will be outraged and thinking that Angie is a bad mother!"
It's more likely people will be outraged that Lesley is being written out. She's become a firm favourite, not least with all the viewers. So how does she feel? "Very sad," she says. "I love Angie. I would probably have had a break because of my son Ben, but I didn't want to make it permanent." "I'll miss working on a regular basis with the cast, but there are big personnel changes going on, with the new broom sweeping very clean indeed. I think they feel that the show had lost its family feel so they're trying to go back to that."
As for Lesley, there's no denying her family comes first. Her son Ben, who's 18, suffers from a rare condition called chronic sleep apnoea, which means he needs round-the-clock care. As the treatment is expensive, it's not easy for Lesley working and looking after Ben. "At first, he hated me going to work," she says. "But he got used to it. I had to get my mother to stay over so she'd be there to wake him up. Someone has to do this as he may choke himself in his sleep if he doesn't wake up."
"It will be difficult to pay for his care when I'm not working, as the pension is only $260 a week. When I left, Caroline Gillmer [Cheryl Stark], who I'm quite close to, gave me a card which contained $200 - to pay for babysitting once a month. We both burst into tears - she was crying, I was crying. It was the most beautiful thing."
Lesley would love to return to the show: "It's conceivable that they might write me back in. My idea is that things don't work between Kev and Angie, so Angie returns to Ramsay Street, because Toadie is there. And to keep her busy, she could set up a community support programme and do some work with teenagers, the elderly and the disabled." In the meantime, we'll never stop missing her. She's taken a piece of our heart with her. Goodbye Angie - or is it just au revoir? Let's hope so."
To read a full biography of Angie, click here
Captures by Karl