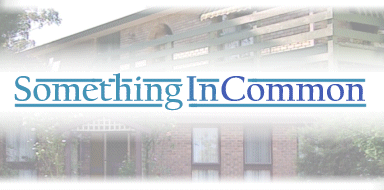 .
Interactive > Something In Common by Ryan
Some Neighbours share more than just an address… see how well you know the show by working out what these trios of Ramsay Street residents have in common - highlight the grey area for the solution:

Paul Robinson – Helen Daniels – Joe Mangel

They were all married three times – Paul to Terri, Gail and Christina; Helen to Bill, Michael and Reuben; Joe to Noelene, Kerry and Melanie.

Terry Inglis – Susan Kinski – Karl Kennedy

They've all killed someone. Terri shot Charles Durham, Susan performed euthanasia on her mother, and Karl accidentally killed Cheryl Stark with a painkilling injection.

Shane Ramsay – Gail Robinson – Toadie Rebecchi

They've all survived fatal car crashes – Shane the crash that killed Jean Richards, Gail the crash that killed Daphne, Toadie the crash that killed Dee.

Des Clarke – Harold Bishop – Jim Robinson

They were all widowers (or in Harold's case, still is).

Cathy Alessi – Ruth Wilkinson – Liljana Bishop

They all gave up children for adoption (although Lil didn't know her baby had lived).

Jane Harris – Sam Kratz – Boyd Hoyland

They all lived with their grandmothers.

Mrs Mangel – Annalise Hartman – Teresa Bell

They all moved to the UK.

Zoë Davis – Beverly Marshall – Izzy Hoyland

They've all suffered at least one miscarriage.

Shane Ramsay – Joel Samuels – Caitlin Atkins

They were all Olympic hopefuls.

Rosemary Daniels – Gail Robinson – Tad Reeves


Maria Ramsay – Cheryl Stark – Izzy Hoyland

They all lied about the identity of their child's father (Maria with Danny, Cheryl with Louise, Izzy with the child she miscarried).

Lucy Robinson – Madge Bishop – Stuart Parker

They've all suffered from blindness.