.
Interactive > Shrugalaro Competition
To celebrate Neighbours moving home in Australia, the show have kindly donated one of Donna Brown's all original shrugalaros for us to give away to one lucky reader.
The shrugalaro comes with a Donna store bag, two store logo stickers and a signed Margot Robbie fancard and was worn by Declan Napier (James Sorensen) and Ringo Brown (Sam Clark) in episode 5829 as seen in the pictures below.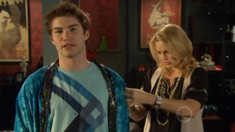 ..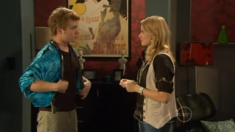 To be in with a chance of winning, simply answer the following question: On what date will Neighbours first air on Eleven?
The competition is now closed. The answer was Tuesday 11th January 2011 and the winner was Libby Mewes from Somerset, England.