.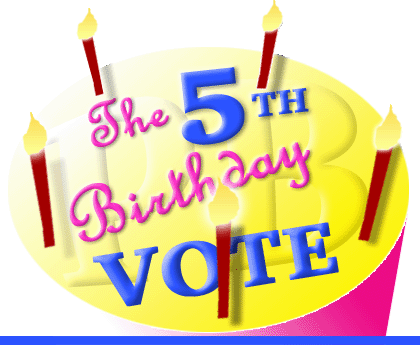 Interactive > The Fifth Birthday Vote: Departures by Ryan
February 27th 2008 sees Neighbours: The Perfect Blend turn 5, and we launched a new vote, to find out the fans' favourites in five categories: wedding, birth, death, arrival and departure. Here are the results.

1. Janelle, Bree and Allan


When Neighbours bosses decided one too many psychos had terrorised Erinsborough and it was time to go back to basics, a new family unit was needed – which meant curtains for an old one. Following Stingray's sad passing and Dylan's move to Port Douglas, Janelle and Bree Timmins were deemed surplus to requirements, much to the anger of many fans. However, the disappointment was negated by the fact that the pair, along with Janelle's new love Allan Steiger, got one of the most uplifting Neighbours exits in years. As the trio prepared to head off to Cairns so Janelle could be closer to Anne – the daughter who was switched with Bree at birth – Allan romantically turned their goodbye party into a surprise wedding, complete with an appearance by Janelle's favourite singer, Darryl Braithwaite. After a touching farewell speech, the new Mr and Mrs Steiger and the girls left Ramsay Street via helicopter in a truly happy ending – and one that was a runaway winner in our poll, scoring 28 points more than its closest rival.

2. Izzy


As the first real full-time bad girl on Ramsay Street, Isabelle Hoyland was never going to go out with a whimper, and it's no surprise to see her departure rank so highly in our poll. While a sudden, violent death or one last evil act evil before fleeing the country may have seemed obvious ends for Izzy, Neighbours scriptwriters went down a less conventional route, devising an exit almost as complex as her character. As good as Izzy's final scenes were, it was the future drama they set up that really got viewers excited. Having once done all she could to convince Karl Kennedy she was having his baby, Izzy found herself desperate to do the opposite; once happy to see Karl and Susan's marriage fall apart, she was now ready to leave town to save their reconciliation. Just to make things more complicated, viewers – and half of Ramsay Street – were convinced she was dying! In the end, the bad girl had turned good; by depriving Karl of his unborn child, Izzy knew she was giving him back the woman he loved. A bittersweet, memorable departure, made all the better by Izzy's brief return and all its repercussions six months later.

3. Libby


While most Neighbours teens hang around for a year or two before the actors head off to try their luck at a pop career, Libby Kennedy bucked the trend, staying on Ramsay Street for an impressive ten years. Viewers watch Libby grow up from an earnest country girl to become a wife, mother and a tragically young widow, fitting in careers in journalism and teaching along the way. Maybe that's why Libby's departure had such resonance with fans, sealing third place in our poll by 20 points. Her exit storyline in itself was unremarkable; actress Kym Valentine had been unexpectedly offered the lead in musical Dirty Dancing, meaning Libby's decision to reunite with former love Darren Stark and her departure all took place within one episode. What made it special were the performances of Valentine and her on-screen mum Jackie Woodburne, the obvious real-life closeness of the actresses translating into a hugely touching goodbye scene. As Libby and Ben drove off, we all hoped they'd be back someday – and happily, that day has now come.

4. Sky, Boyd and Kerry


Although their relationship had ended in 2005, and failed marriages, babies and deaths had changed their lives beyond recognition since, the bond between Sky Mangel and Boyd Hoyland was never really broken. Therefore with both Stephanie McIntosh and Kyal Marsh departing Neighbours in 2007, it made sense for the characters to leave together. With Boyd getting over his disastrous 'marriage' to Janae and Sky still grieving for dead boyfriend Stingray, they didn't actually leave as a couple, but the tender look the two shared as they drove off to Port Douglas gave fans hope of a happy off-screen reunion in the future. Like the Timmins family a few episodes earlier, Sky, Boyd and baby Kerry got a refreshingly happy ending, much needed after a traumatic few months that had included a spell in jail for Sky and the disappearance of Boyd's dad. Their goodbye party was a heart-warming event, full of happy memories of two young kids we'd all enjoyed watching grow up.

5. Charlene


While four out of the five departures you voted as your favourites came from the last two years, one screened in the UK over 19 years ago, proving truly great moments are never forgotten. The phrase 'end of an era' is used all too often, but when the neighbours lined up in Ramsay Street to say goodbye to Charlene Robinson, that really was how it felt. As much as Scott and Charlene / Kylie and Jason as a pairing summed up the show for legions of fans, it was Kylie Minogue who was the true iconic Neighbours figure of the 80s, more so than her on-screen husband and former off-screen boyfriend. Because an 18-month gap between Australian and UK episodes still existed in 1989, viewers had continued to watch Charlene for nearly two years while Kylie established herself as a huge pop star; as 'Lennie' departed, that changed forever. In a sense, Neighbours was no longer the part of British consciousness it had been. On-screen Charlene's goodbye was fairly low-key – would such a big character simply move to Brisbane today? – but it did set up an honourable tradition of street farewells. This exit was perhaps unique in that the off-screen impact was far greater.