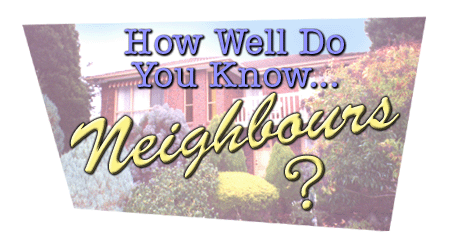 .
Interactive > How Well Do You Know... Neighbours? by Moe
The 20th Anniversary Quiz

1) How many times was Jack Ramsay mayor of Erinsborough?
2) What was Erinsborough's original name?
3) Who did Jack Lassiter build The Waterhole for?
4) What did Paul Robinson study at university?
5) Who did Helen Daniels' late husband have an affair with?
6) What was the name of the band the Ramsay Street residents formed for the 50s night?
7) Where did Madge live before coming to Erinsborough?
8) What was the name of Jack Scully's character in the Mission: Erinsborough play?
9) What was the name of the young Italian boy who used fake references to get a job with Daphne at the Coffee Shop?
10) What were the names of Lucy Robinson's pet parrot, egg and dog?
11) What was the name of the magazine that published an article on the Kennedy's marital woes?
12) Name the long-time Erinsborough childminder.
13) What was the name Charlene Robinson gave to her clapped out old mini?
14) What was Charlene's nickname for Scott?
15) What do Sandra Llyod, Lizzy Bryant and Bill Merchant have in common?
16) Name Len Mangel's brother.
17) Where did Amanda Harris hide the money she drew out of her husband's business?

18) Which member of the Clarke family won a holiday on a TV game show?
19) Where did Annalise Hartman and Beth Brennan first meet?
20) Name the town in Idaho that Erinsborough was twinned with.
21) What was Eileen Clarke's maiden name?
22) Who was manager of the Pacific Bank before Philip Martin?
23) Who was Pam Willis' boss at the hospital?
24) What subjects did Wayne Duncan teach at Erinsborough High School?
25) Who became the principal of the high school after Vince Roland?
26) Where did Kristy from the Coffee Shop have her wedding reception?
27) What name did Harold Bishop adopt when he joined the scouts?
28) What was the name of the band Karl Kennedy formed while at med school?
29) What is Valda Sheergold's middle name?
30) What was the name of Rosie Hoyland's brother?
31) Which teacher at Erinsborough High had a crush on Dorothy Burke?
32) How many votes did Julie Martin get when she ran for a seat on the Erinsborough Council?
33) Who was David Bishop planning to go into business with when he returned to Erinsborough?
34) What did Sindi Watts blackmail Darcy Tyler into buying for her?
35) What was Melanie Pearson's favourite animal?
36) Name Louise Carpenter's godparents.

37) Who did Cheryl Stark share a birthday with?
38) What was the name of the pop star Nina Tucker was alleged to have been dating?
39) What was the name of the illegal immigrant Michelle Scully and Leo Hancock hid at No.22?
40) What is Lyn Scully's favourite soap?
41) Where did Joe and Lyn Scully spend their honeymoon?
42) Which deceased member of the Robinson family played a part in the weddings of both Paul and Scott?
43) What was the name of the nudist retreat Lou took Madge to?
44) Where had Lana Crawford been living before she returned to Australia?
45) Name the woman Madge hired to test Lou's fidelity.
46) Who was Bradley Townsend's real father?
47) Where was Noelene Mangel living when she was killed?
48) Name the woman Len Mangel left Mrs.Mangel for.
49) What was the TV quiz show Hannah Martin appeared on called?
50) Who did Paul Robinson hire as his very first secretary?