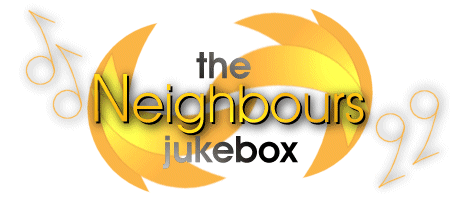 .
Interactive > The Neighbours Jukebox
The Neighbours Jukebox is a fortnightly feature on our sister site, the Neighbours Message Board. Every two weeks, we ask our readers choose the songs which reflect a character's personality and storylines and their playlist is added to this page.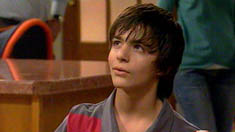 Freak Like Me - Sugababes: Because his nickname's Zeke the Freak.
You Should Have Lied - Stephanie McIntosh: He could never lie to his dad.
Silence Is Golden - The Tremeloes : He refused to speak after Alex died.
Trying To Be Cool - Agent Felix: After winning the footy, he briefly thought he was popular...
Hot for Teacher - Van Halen: ... and has fallen in love with his teacher, Pepper.

Thanks to: shamrock, anfield, Freak Girl, Malm and david1979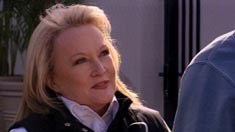 Hard Working Woman - BB King: She bought a 49% share of Lassiter's.
Maneater - Nelly Furtado: She tried to get her claws into younger man, Ned...
Let's Get Physical - Olivia Newton-John : ...by investing in his personal trainer business.
Cordial Invitation - Giant Drag: Her friendship with Harold was caused by a shared cordial addiction.
Protect Ya Neck - The Wu-Tang Clan : She loves to wear a polo neck.

Thanks to: shamrock, anfield and david1979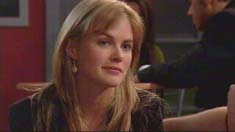 Alice Cooper - Poison: She tried to poison her dad's new girlfriend (Izzy).
Fake - Alexander O'Neal: She faked a terminal illness to keep Dylan.
Plastic Fantastic Lover - Jefferson Airplane: She loves credit cards
Revenge - The Kinks: What she took on Max
Guilty # Barbra Streisand: How she feels about Max

Thanks to: Gareth, smurfy and david1979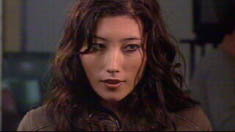 Left Outside Alone - Anastacia : She was thrown out of home at 16 by her father, Alex.
Stepmother - The Eels: And struggled to get along with new stepmother, Susan.
Bad Boyfriend - Garbage: She had a relationship with psychotic Robert Robinson...
Centrefold - J. Geils Band: Zeke's blood ran cold, his memory has just been sold - his sister is a centrefold (sister is a centrefold), na na na na na na...
Can't Escape the Past - Donalie Sheldan: However much she tries, she can't seem to move on from her past drug addiction...

Thanks to: Edward Skylover, shamrock, smurfy and XxXPeteXxX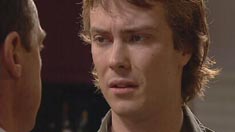 My Evil Twin - They Might Be Giants : For obvious reasons.
Coma - Guns 'N' Roses: We first met Cam in a coma.
Mistaken Identity - Delta Goodrem: Robert impersonated him for several weeks.
Son Of Your Father - Elton John : He and Paul both had a reputation with the ladies...
Killer Cars - Radiohead : Cam was run down and killed by Max Hoyland.

Thanks to: Gareth, david1979, Ramsay Street and shamrock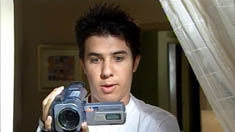 Nobody Likes A Bogan - Area 7: Indeed.
Naked - Louise: His arrival involved streaking at a football game.
Sweet And Tender Hooligan - The Smiths : He was a hooligan with a heart of gold.
Movies - Alien Ant Farm : Now he's at film school...
Young Girl - Union Gap and Gary Puckett : Because Rachel is 'much too young' and his love for her is 'way out of line'.

Thanks to: AndyB2003, david1979, smurfy, tmfox and shamrock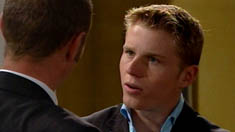 Boy Genius - Kathy Mar: He's supposed to be one, though it's sometimes debatable.
Son of Your Father - Elton John: Well he is, they are both as stubborn as each other.
Macho Man - The Village People : Also known as The Boyd Hoyland Song.
I Love You But You're Boring - The Beautiful South : Sky loved him, but he was never really quirky enough for her.
Puppy Love - Donny Osmond : And now he's married to Janae.

Thanks to: Ramsay Street, smurfy, XxXPETEXxX and shamrock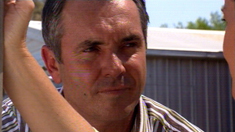 Not The Doctor - Alanis Morissette: After Cheryl's death, Karl doubted his medical abilities.
I Just Don't Love You Anymore - Jann Arden: The famous quote that put the final nail in the coffin of the Kennedy marriage.
Forever Young - Bob Dylan: Maybe it was this song, by one of his idols that inspired Karl to leave Susan, in a bid to be "Forever Young".
As Always You Were Wrong - UB40: But Karl soon realised he'd made a mistake, and as we know, Susan loves to say I told you so...
Many Rivers To Cross - Jimmy Cliff : It took a while for them to reunite, and he sang a lot whilst he was waiting.

Thanks to: Ramsay Street and shamrock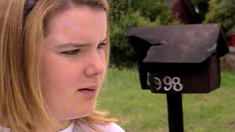 We Are Family - Sister Sledge: Despite not being a real Timmins, she still loves her family.
Shame and Scandal in the Family: Let's face it, there's always some kind of shame and scandal in the Timmins family. .
Puppy Love - Donny Osmond: Bree and Zeke, love's young dream.
I Put A Spell On You - Nina Simone: She won the spelling bee.

Thanks to: shamrock, Malm, david1979 and smurfy

She's In Fashion - Suede: Gail's early days involved the fashions of Kamizole.
Mrs Robinson - Simon & Garfunkel : And she became the second woman to marry Paul Robinson.
9 To 5 - Dolly Parton : She and Paul made a formidable business team.
D.I.V.O.R.C.E. - Dolly Parton: Before she walked out on him, pregnant with triplets.
Eighties Coming Back - Ruffus: 2006 saw her back in Erinsborough to deal with dangerous son, Robert.

Thanks to: shamrock, david1979 and smurfy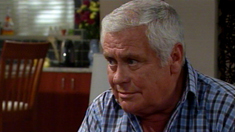 Cars - Gary Numan: Upon his arrival in Erinsborough, he was a used car dealer...
My Place - Nelly: Then ran Lou's Place pub between 1996 and 2004.
Annie I'm Not Your Daddy - Kid Creole and the Coconuts: In 2001, he found out he wasn't Louise's real father.
Baby Come Back - Pato Banton & Ali Campbell: After losing Louise, his third wife Trixie also walked out on him.
From Russia With Love - Matt Munro: He found Russian love interest Mishka on the internet.

Thanks to: AndyB2003, smurfy, Ramsay Street, eldest Kinski boy and shamrock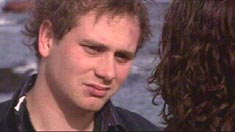 Michelle - The Beatles : He started dating Michelle soon after arriving...
Oh Lori - The Alessi Brothers: Before moving on to Lori and getting her pregnant.
Carmella - Beth Orton: He had an on-off relationship with Carmella for two years.
Oh Serena - The Distillers : Then moved on to the next 'love of his life', Serena Bishop.
Anything by Dead Or Alive: Because he could be. Dead or alive, that is.

Thanks to: shamrock and david1979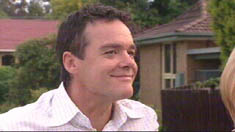 Bang Bang - Cher : First wife Terry was a murderer who shot him.
Mrs Robinson - Simon & Garfunkel : And he went on to have two more unsuccessful marriages, to Gail and Chrissie.
Runaway - The Corrs : He disappeared to South America in 1993 after setting up brother-in-law Philip for fraud.
Light My Fire - The Doors : And returned in 2004, coincidentally at the same moment the pub and coffee shop burnt down.
Baby You're A Rich Man - The Beatles : And now he's Ramsay Street's resident money bags.

Thanks to: tmfox, Ramsay Street and david1979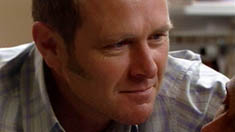 North Sea Oil - Jethro Tull : He arrived in Erinsborough after working on the rigs.
Son Of A Preacher (wo)Man - Dusty Springfield : And had a strained relationship with his mother, Reverend Rosie.
Boom! Shake The Room! - DJ Jazzy Jeff and the Fresh Prince : He narrowly avoided injury when the Coffee Shop blew up.
Happy Hour - Housemartins : And he part-owned the pub with Lou before that too was destroyed.
Milk and Alcohol - Dr Feelgood : And now divides his time between looking after his young baby Charlie and running the Scarlet Bar.

Thanks to: shamrock, wobblechopsharold, Billy L and anfield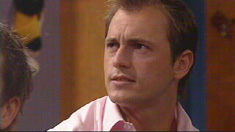 You're In The Army Now - Status Quo : Soon after arriving, he left again - to join the army.
Believer - Rogue Traders : And he later got involved with the Life Mechanics cult...
Hero - Mariah Carey : ...before deciding to join the police force.
Blinded By The Light - Manfred Man : He was temporarily blinded in the Lassiter's explosion.
Your Missus is a Nutter - Goldie Lookin' Chain : Only days after marrying Sindi, she was admitted to a psychiatric hospital.

Thanks to: shamrock, david1979, Malm and Jayne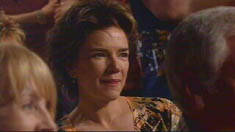 9 to 5 - Dolly Parton : Lyn's been a working mum since she arrived in Erinsborough.
Pray - Take That: Being Catholic has always been very important to her.
Hey Joe - The Jimi Hendrix Experience: After splitting up with her husband, Joe Scully, she went on to date Joe Mangel.
Come And Stay With Me - Marianne Faithfull : Since her family left she's let the Timmins family stay in her home.
Now You Know - Hilary Duff : Because she ends every other sentence with the words 'you know'.

Thanks to: shamrock, david1979, wobblechopsharold and Jayne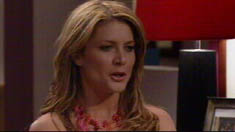 Bad Girl - Madonna: It was obvious from the start that she'd be trouble.
Doctor, Doctor - Thompson Twins : Her relationship with Karl caused trouble from her arrival...
My Name Is Not Susan - Whitney Houston: Her jealous feuds with Karl's ex were the stuff of legend.
I Will Lie - Wesley Carr. : Her lies about the baby eventually proved to be her undoing.
The Bitch Is Back - Elton John: But before long she was partnered up with Paul and her behaviour was worse than ever.

Thanks to: smurfy, Adam, Toadie's Tie and Billy L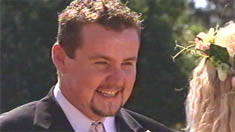 The Joker - Steve Miller : As a teenager, he was the street's practical joker...
I Fought The Law - Green Day : Before he grew up and became a lawyer.
Goodbye My Lover - James Blunt: He lost true love Dee on their wedding day.
All By Myself - Eric Carmen : And he's failed to find long-lasting love since...
House of Fun - Madness: He's a founding member of the House of Trouser.

Thanks to: shamrock, david1979, wobblechopsharold and Jayne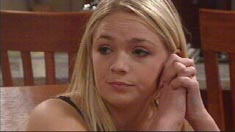 I Am Without Shoes - The Stone Roses : She first appeared with hippy mum Kerry back in 1989...
Hippy Chick - Soho : And as a teenager she proved that it was Kerry she took after.
Individual - Bad Religion: Sky takes great pride in her individuality.
Meat Is Murder - The Smiths : And she's a vegetarian, like her mother and grandfather...
Girls & Boys - Blur : A relationship with Lana brought confusion for Sky.

Thanks to: david1979 and Jayne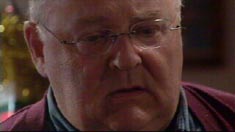 Driftwood - Travis: He spent a while floating around the Bass Strait...
Memories - Barbara Streisand: And ended up with amnesia.
Losing My Religion - REM: He lost his faith several times after losing those close to him.
Kinky Afro - Happy Mondays: Afro Harold amused and irritated in equal measures.
Strange Hold - Ted Nugent: In the depths of despair, Harold tried to kill Paul...

Thanks to: david1979, Jayne and wave 103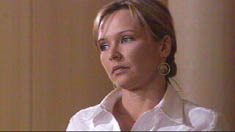 I Want The One I Can't Have - The Smiths: She had a crush on Drew, her best friend's husband.
Girl All The Bad Boys Want - Bowling For Soup: And her relationships with Woody, Mitch and Marc were no less problematic.
Easy Rider - Jimi Hendrix: Though not so much these days.
Why Does It Always Rain On Me? - Travis: Why indeed.
Baby Love - The Supremes: She had quite the baby obsession...

Thanks to: david1979, Billy L and velbelle14


Gypsies, Tramps and Thieves - Cher: She's all three rolled into one.
Trouble - Pink: Wherever she goes, it's sure to follow.
Paperback Writer - The Beatles: Janelle surprised everyone, not least herself, by becoming an author.
Hairdresser - ZZ Top: But she still has the hairdressing to fall back on...
Crazy - Patsy Cline: ... and she's just a bit bonkers.

Thanks to: Andy, Samantha, AndyB2003, wobblechopsharold and Ramsay Street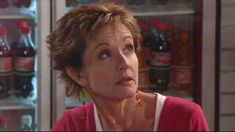 Spilt Milk - The Cure: Well, this one speaks for itself.
It's All Coming Back To Me Now - Celine Dion: As does this one.
D.I.V.O.R.C.E - Dolly Parton: They survived Kate, Sarah and even retro-grade amnesia, but it was Izzy Hoyland who ended the Kennedy marriage.
Rise - Gabrielle: She soon bounced back following the end of her marriage...
I Will Survive - Gloria Gaynor: ... then survived a plane crash and found new love with Alex Kinski.

Thanks to: Billy L, Andy, Ramsay Street and craigisazippy