.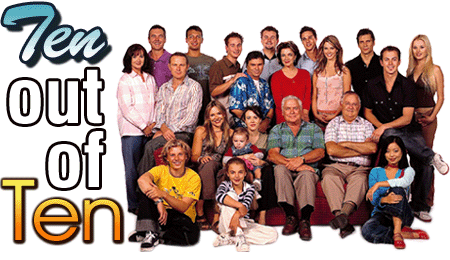 Interactive > Ten Out Of Ten > Places 50-30

Between February and June 2013, we asked you to vote for your favourite Neighbours characters from the last decade, to mark Perfect Blend's tenth birthday. The votes have now been tallied, and below are the characters who came in places 50 to 30.

50 - Max Hoyland (70 Points)

Middle-of-the-road dad Max finishes in a suitably middle-of-the-road position, coming 50th in our poll. One half of a popular pairing with the younger Steph Scully, Max was nice and reliable, with many of his stories centring around his struggles to connect with his mum and his kids. His years living in Erinsborough certainly weren't without their fair share of drama, however, particularly in his final year on screen, as he ran down and killed Cameron Robinson, and ended up suffering a breakdown and disappearing completely. And with his kids Charlie and Summer both still living on Ramsay Street in the years after he'd gone, Max was a character that we weren't allowed to forget in a hurry.

49 - Georgia Brooks (71 Points)

An impressive finish for newcomer Georgia, who'd only been living on Ramsay Street for a matter of months when the poll took place. Some say she's irritating, and some love her positive outlook on life, but clearly Toadie's cousin has gained some fans, as she's struggled with the news that her long-term fiance, farmer Scotty, was more interested in blokes. She's since managed to move on, and into a new relationship with the well-matched Kyle, but it looks like she's headed for a broken heart all over again, as he's already managed to cheat (OK, technically they were, like Ross and Rachel, on a break) with her best friend, Kate.

48 - Liljana Bishop (83 Points)

Formidable Serbian Liljana proves to be the most popular of her family, coming in 48th place, and beating husband David and daughter Serena. Lil certainly made a big impact on viewers during her two years in Erinsborough, thanks to some big storylines and some wonderful performances, both comedic and dramatic, from actress Marcella Russo. After being reunited with her long-lost son Luka, Lil went on to become one of the many women to have an affair with Paul Robinson, and then regret it. A rather stupid decision in 2005 saw Lil, David and Serena wiped out in a plane crash, losing some strong and interesting characters and leaving poor Harold without a family.

47 - Joe Scully (88 Points)

Taxi driver Joe Scully may not have been a trailblazer in terms of stories, indeed for most of his five years he was simply the support network for his wife and kids as they went through dramas of their own, but he was still a wonderful character played very well by Shane Connor, and fondly remembered by many of our voters. He was caught in a bushfire, struggled to bond with daughter Flick and had father issues of his own when dad Pat turned up, but sadly Joe will most likely be remembered for being unceremoniously dumped from the cast in 2004, as a result of Shane Connor being sacked. Connor went on to sue for unfair dismissal, and won the case.

46-45 - Valda Sheergold and Oliver Barnes (89 Points)

A tied finish for two very different characters - larger-than-life Valda Sheergold, and nice guy Oliver Barnes. Valda had only been on our screens for a few months in a recurring capacity when Perfect Blend launched at the beginning of 2003, and she continued to pop in and out, bringing chaos, family secrets and some sexual tension with Lou, before joining as a regular for a few months in 2007. Oliver, meanwhile, turned up as a last-minute replacement for his adoptive brother, Will Griggs, when actor Christian Clark left suddenly, his story unfinished. Oliver proved to be much more interesting, and had popular relationships with both Carmella and Elle, and was also responsible for the introduction of the Napier family, when he tracked down Rebecca, the woman who'd given him up for adoption as a baby.

44 - Darcy Tyler (95 Points)

Bad guys don't always last long on Ramsay Street (Paul Robinson being the obvious exception) but Darcy Tyler had a little bit of a heart to balance out his ruthless streak, and of course, being the nephew of the ever popular Susan Kennedy did him no harm either. At first, Darcy seemed like a nice guy, but as his ambition and desperate need to make money became more obvious, he started to trample anyone in his path in order to get what he wanted. Cheating on girlfriend Dee with her best friend, Tess, won him no friends either, but it was during his final months that he caused the most damage, stealing from his own family and putting pregnant Lyn Scully in hospital was a step too far, and he ended up in prison. 2004 saw Darcy return for a guest stint, going head to head with the equally ruthless Izzy Hoyland, ending up in a coma, then returning a year later to blackmail her. Although it's been almost a decade since he last appeared, Darcy clearly still has quite a few fans.

43 - Pepper Steiger (96 Points)

One in a long line of Neighbours' trademark dizzy blondes from the past ten years, Pepper had enough little quirks to separate her from the crowd, and Nicky Whelan won a lot of fans with her fun portayal of the popular PE teacher. Pepper's stories included being kidnapped by crazy Mary Casey, a lesbian kiss with best friend Rosie, ending up with the brash Janelle Timmins for a stepmum, and she bowed out after finally finding love with Englishman Adam Rhodes. Although she almost married him just so he could stay in the country, he ended up going with her when she got a new job up north, and later proposed to her for real.

42 - Kate Ramsay (102 Points)

A disappointing finish for one of the current cast, particularly one who's been around for a few years now, is often at the forefront of stories and is related to both the Ramsays and the Robinsons, two of Neighbours' key families. Although quite a lot of people voted for Kate, she was mostly near the bottom of their top tens, meaning she struggled to pick up the bigger points to put her higher in the ranking. We'd like to hope that Kate will be around for a while to come, as she has some important links to the past that are yet to be explored, but we think that Kate could do with a bit more fun and happiness in her life, having gone from constantly being unhappy about having to look after her younger siblings, to constantly being unhappy about her relationships with a series of unsuitable men.

41 - Dylan Timmins (111 Points)

Part of both the popular Timmins family and a well-loved pairing with Sky Mangel, Dylan is still fondly remembered, more than six years after he left Ramsay Street. One of the more interesting young male characters to grace Ramsay Street in the last decade, Damien Bodie gave Dylan an edge that meant he was never quite one of the good guys but even when he was doing wrong, his heart was always in the right place. As well as fathering a child with Sky, Dylan also committed a few dirty deeds as the right-hand man to Paul Robinson, and was presumed dead and stranded on a beach with Connor O'Neill, following a plane crash.

40 - Vanessa Villante (119 Points)

A strong finish for Vanessa, who'd been around for less than a year when the vote took place, but clearly the feisty Italian chef has won a few fans with her cupcakes, one-liners and some big storylines. Originally a one-night-stand of Lucas, Vanessa quickly managed to fit in when she returned, pregnant with his child, and started working at the store, and has proved to be a likeable character who works well in scenes with almost all of the cast. Vanessa's stories have already included a love triangle, a sham wedding and a serious heart condition for son Patrick and it was that variety, along with some great performances from Alin Sumarwata, that earned her some big points in the final tally.

39 - Rosetta Cammeniti (121 Points)

Highly-strung lawyer Rosetta 'Rosie' Cammeniti turned up in 2006, as one of a group of new twentysomething housemates designed to breathe new life into the show, and into 30 Ramsay Street. By and large, they succeeded, and Rosie proved to be very popular in her relationship with gambler-turned-taxi-driver Frazer. The pair's wedding was the occasion used to mark the show's 'back to basics' revamp in 2007 and, after believing that she'd suffered from a phantom pregnancy, Rosie then found out that she was pregnant for real, just before Rosie and Frazer got their happy ending and set off on an extended trip to Europe.

38 - Bridget Parker (122 Points)

Just one point ahead of Rosie is Bridget Parker, one half of one of the most popular teen couples from the last ten years. Bridget, or Didge as she was known, may have divided opinion when she was on-screen, but she still clearly has a lot of fans, four years after her death. Didge's two years on Ramsay Street saw her pack in lots of stories, as she was hit by a car and had to learn to walk again, traced her birth mother, fell pregnant, got married and then died, leaving behind husband Declan and their baby daughter India. Bridget also has the distinction of being the most popular of the four members of the Parker family introduced in 2007.

37 - Stuart Parker (138 Points)

Just ahead of Bridget is her Uncle Stuart, the first of the Parkers to set foot on Ramsay Street, way back at the beginning of 2002, little did we know then just how many Parkers were yet to grace our screens. Played by Blair McDonough, who'd only just been crowned runner-up of the first series of Australia's Big Brother, Stuart was a likeable guy who drifted around for a while, before becoming a police officer and entering a relationship with Sindi Watts in his final couple of years on-screen. He was also one third of the popular House of Trouser trio, with Toadie and Connor. Connor came back just last year to pay Toadie a visit, so perhaps Stu might take a break from the farm in Oakey to pay a return trip to Erinsborough too?

36 - Andrew Robinson (144 Points)

The youngest of Paul's children (that we know of) finishes in 36th place, proving less popular than both Summer and Tash, the two girls he dated at various points during his time on the show. Andrew was born on screen back in 1991, before leaving with his parents the following year. He then returned as a teenager, with an unusual Scottish-Australian accent, at the end of 2009. Andrew's love life dominated many of his stories, as did his attempts to win the affections of his father. After dating Tash for a while, Andrew's story came full circle, as they ended up back together again, leaving Erinsborough and escaping Paul's poisonous influence on his son, by going travelling together.

35-34 - Callum Rebecchi and Mark Brennan (145 Points)

They may have briefly shared a house, but teenager Callum and Detective Brennan had little else in common, until now, as they find themselves finishing with the same score. We've seen Callum grow up on Ramsay Street since his arrival in 2008, when he was adopted by Toadie and ended up providing him with an entire family, when Callum's mum Sonya joined them. Originally a 'mini Toadie', Morgan Baker has done a great job recently as Callum becomes an awkward teenager and faces his first heartbreak with Rani. Brennan, meanwhile, was only around for less than a year, but clearly made an impact with many viewers, even managing to score more points that on-screen girlfriend Kate Ramsay. His good looks, and the fact that he 'rose from the dead' just as voting was coming to a close, probably helped him to pick up a few extra voters.

33 - Jade Mitchell (146 Points)

Jade Mitchell had only recently left our screens when our poll began, and was clearly still on the minds of many of our voters. Sonya's younger sister Jade first appeared at the end of 2010, and was the catalyst for Sonya revealing that she was actually Callum's long-lost mum. Strong-minded Jade then went on to be one half of a very popular pairing, as she and housemate Kyle danced around their feelings for many months, with Jade particularly reluctant to commit to a long-term relationship, after the abuse she'd suffered at the hands of Troy Miller earlier in her life. After making a permanent move to Los Angeles in late 2012, she almost popped back for Sonya's wedding to Toadie, but ended up stranded in Seattle due to the snow - probably a lucky escape for Jade, given how that particular wedding ended.

32 - Carmella Cammeniti (147 Points)

The delightful Natalie Blair had several guest stints as daughter of the Italian mafia Carmella Cammeniti, but it was her 2005 win of the Most Popular New Female Talent at the Logies that eventually saw her signed up for a permanent place in the Neighbours cast. Carmella's stories were many and varied - a stalker, facial scarring and even a brief stint as a nun were amongst the more outlandish ones, and she later ended up settling down with Marco Silvani, only for him to die after being trapped in a bushfire. Carmella's true love, however, seemed to Oliver Barnes, the father of her daughter Chloe. Though they never really got their act together on screen, they later reunited in Europe, returning briefly in 2011 - and Natalie Blair ended up marrying David Hoflin, who played Oliver. So that's nice.

31-30 - Summer Hoyland and Dione Bliss (160 Points)

Summer had only just arrived when Perfect Blend first launched, and she'd just left our screens (with a new head) when we celebrated our tenth birthday. During that decade, she went from a mini scam artist and troublemaker, to a socially aware journalist, winning lots of fans along the way, if our votes are anything to go by. By contrast, Dione Bliss, or Dee as she was known, was just coming to the end of her time in Erinsborough, back when Perfect Blend launched. Madeleine West had turned Dee into one of the most popular members of the cast, thanks to some brilliant comic timing and an inspired pairing with Toadie. Indeed, it's been ten years now since she disappeared into the ocean, only hours after marrying Toadie, and we still get regular emails asking when the producers are going to bring back Dee.